Experience true Jamaican bobsledding on this adventure in Montego Bay. Ride through the Jamaican rainforest on a warm-weather bobsled attached to a track. Buckle yourself in to enjoy the beautiful jungle scenery and the thrills on a ride honoring the famous 1988 Olympic bobsled team from Jamaica.
Highlights
Jamaica bobsled ride from Montego Bay

Enjoy an unexpected adventure in a warm, tropical climate

Race through the jungle like the Jamaican bobsled team or enjoy a leisurely ride - you control the speed of your adventure

What You Can Expect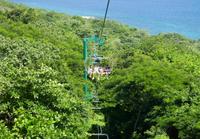 Either opt to be picked up at your Montego Bay hotel or make your way to the departure point for this exciting activity. On the way to Ocho Rios, pass through the historic town of Falmouth, home to many Georgian-style houses. On the way, listen to your guide as he details the travails of the 1988 Jamaican Olympic bobsledding team, the inspiration for the 1993 movie 'Cool Runnings.'

Arrive at the eco-park and for your first look at the bobsledding track, which starts at Dunn's River Falls and winds through 3,200 feet (975 meters) of rainforest. Get some instruction from your guide about how to easily operate the bobsled and its speed.

Hop into your seat and take off. View the local flora and fauna that surround this attraction, which was built with minimal impact on the jungle environment in mind. Speed up or slow down at your whim, pausing to take a look at any wildlife or interesting plants you may pass.

At the end of your 3-hour adventure aboard the real-life version of Cool Runnings, enjoy drop-off at your hotel in Montego Bay (if option selected.)

July 2015
Mystic Mountain is unique and has plenty of activities to keep you entertained. Bobsledding was fun! Great phot ops from the infinity pool and as you ride up the mountain to head to your destination.
May 2015
Short but worth it. Recommend doing the zipline as well beautiful view from infinity pool
January 2014
November 2013
How can you go to Jamaica and not go on the Bobsled!!! This was a fabulous tour. You can buy additional runs once you get there as one may not be enough!. Might want to check to see how long you'll be on the bus from your resort as it maybe 5+ hours travelling total depending on the amount of stops to pick up people from different hotels.
August 2013
If you're a big fan of Cool Runnings then you must ride the bobsled! However, there's not much to do at the top of the mountain besides have lunch. There is a small infinity pool and waterslide upstairs. We ended up adding on the Dunn's River Falls tour to this after the fact because if we didn't we had to wait for the rest of our tour group for 2-3 hours. Our tour guide Torrianne was awesome, very informative and had a great sense of humor.

June 2013
The bobsled (roller coaster) is pretty cool. Lasts about 90 seconds. Take swimmers even if you only plan on doing the Bobsled as there is plenty of time to swim or Zipline.
November 2015
The bobsledding itself and Mystic Mountain were great. It was so much fun! However, be aware that's is particular tour is not three hours as noted in the description. Because they throw you on the same bus as people doing other longer tours, you will spend several hours sitting around. We left at 9am and got back after 8pm, which was very frustrating especially when we anticipated being back around noon. Mystic Mountain has a restaurant with good guava margaritas, infinity pool and a great display, which help pass the time, but you might be better booking an different excursion with a few different activities added in. Follow me on bylandandsea.me.
April 2016
It was a ok tour. They bob sliding is only less then 5 mins long. However, when you sign up for this tour it not 3 hours its 6 hours because when they take you to bob sled, you have to go to dun rivers tour as well. They will not go and drop you, back until everyone has completed their tours even though you may have signed up for only the Bob sledding.
Advertisement
Advertisement