Where else in the world can you experience the thrill of bobsledding without the icy conditions of a snowy mountain? For the adventure of a lifetime in Jamaica, book yourself a seat on a bobsledding tour from Montego Bay. Buckle up, hold on and get ready for a thrilling ride through the Jamaican rainforest you won't want to miss!
Highlights
Jamaica bobsled ride from Montego Bay

Enjoy an unexpected adventure in a warm, tropical climate

Race through the jungle like the Jamaican bobsled team or enjoy a leisurely ride - you control the speed of your adventure

What You Can Expect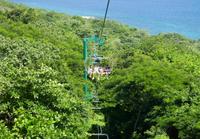 In this unique Jamaican vacation activity, you'll get a taste of being on the world-famous Jamaican bobsled team. The exciting sport of bobsledding grabbed international headlines in 1988 when 4 guys from Jamaica donned their lycra bodysuits and hurtled down the mountain at the 1988 Winter Olympics. The unlikely-but-true story of a team from sunny Jamaica competing in the icy, winter sport of bobsledding captured the world's attention in the 1993 movie Cool Runnings. Now you have the chance to join the fun in the sun!

Departing Montego Bay, you'll travel through picturesque countryside towards the eco-park in Ocho Rios. The scenic drive along the north coast passes through the historic town of Falmouth, known for its Georgian style houses and links with Christopher Columbus.

On arrival at your bobsledding destination, you'll be intrigued by the layout and design of the park. Stretching from Dunns River Falls at a height of 700 ft (215m), the winding 3,200 ft (975m) course is an exotic habitat for local flora and fauna. With natural springs, indigenous plants and diverse species of birds, the landscape you will ride through is a great introduction to Jamaica's beautiful jungles. The track was built into the existing natural landscape, ensuring the least amount of impact on the local wildlife as possible.

Your Jamaican bobsled adventure begins with a little instruction, and you'll soon find that the bobsled is simple and easy to operate. A hand brake allows you to control your speed at all times. It's up to you if you want to slow down and enjoy the scenery, or get your heart pumping as you let go of the brakes and speed down the hill! Hotel pickup and drop off from Montego Bay is included on this fun day trip.

So what are you waiting for? Book your seat today for a truly unique adventure in Jamaica and enjoy some cool runnings of your own!
July 2015
Mystic Mountain is unique and has plenty of activities to keep you entertained. Bobsledding was fun! Great phot ops from the infinity pool and as you ride up the mountain to head to your destination.
May 2015
Short but worth it. Recommend doing the zipline as well beautiful view from infinity pool
January 2014
November 2013
How can you go to Jamaica and not go on the Bobsled!!! This was a fabulous tour. You can buy additional runs once you get there as one may not be enough!. Might want to check to see how long you'll be on the bus from your resort as it maybe 5+ hours travelling total depending on the amount of stops to pick up people from different hotels.
August 2013
If you're a big fan of Cool Runnings then you must ride the bobsled! However, there's not much to do at the top of the mountain besides have lunch. There is a small infinity pool and waterslide upstairs. We ended up adding on the Dunn's River Falls tour to this after the fact because if we didn't we had to wait for the rest of our tour group for 2-3 hours. Our tour guide Torrianne was awesome, very informative and had a great sense of humor.
June 2013
The bobsled (roller coaster) is pretty cool. Lasts about 90 seconds. Take swimmers even if you only plan on doing the Bobsled as there is plenty of time to swim or Zipline.
November 2015
The bobsledding itself and Mystic Mountain were great. It was so much fun! However, be aware that's is particular tour is not three hours as noted in the description. Because they throw you on the same bus as people doing other longer tours, you will spend several hours sitting around. We left at 9am and got back after 8pm, which was very frustrating especially when we anticipated being back around noon. Mystic Mountain has a restaurant with good guava margaritas, infinity pool and a great display, which help pass the time, but you might be better booking an different excursion with a few different activities added in. Follow me on bylandandsea.me.
Advertisement
Advertisement