Ride the rapids on this river-rafting adventure down Jamaica's Rio Bueno. On this 3.5-hour excursion, follow your professional adventure guide's instructions to shoot Class II rapids safely and enjoyably. Cruise to Bengal Bay, enjoying time to relax on the white sand beach and swim. This family-friendly excursion does not require rafting experience, and includes round-trip transportation to your hotel.
Highlights
River-rafting tour on the Rio Bueno in Jamaica

Paddle through class 2 rapids with your professional guide

Fun water adventure for the whole family

No river-rafting experience necessary!

Complimentary hotel pickup and drop-off

What You Can Expect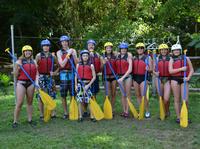 Following pickup from your hotel, travel to the Rio Bueno, one of Jamaica's scenic rivers. Listen to a short safety briefing while you receive your equipment, including a lifejacket and helmet, as well as basic paddling instructions.
Take a short trek through the jungle to the edge of the river, the launching point for your adventure. Jump in the raft with your guides and follow their lead as the boat moves out into the river's swift current.
Raft through the river's rapids, eddies and curves. Pause for a break under a stand of bamboo trees, relax on the river bed and try out the rope swing. Re-board your raft and run some more small rapids before being whisked under an old stone bridge.
At the river delta, paddle a bit to make it over the last rapids and land at Bengal Bay's white sand shores. After a day of adrenaline-filled adventure, relax on the bay's sandy beach and bask in the tropical sun or take the opportunity to do some more swimming.
When your 3.5-hour adventure has come to a close, enjoy transportation back to your hotel.
Please note: this tour is unable to accommodate passengers from Royal Caribbean Cruises.
June 2016
We went to do Rover rafting but the guide talked us into doing the river tubing. It was fun, the guides were fun and helped us a lot. Shout out to doogee.

islandflower73 United States of ...
February 2015
I had an awesome time with my friends. We were suppose to do the rafting, but ended up doing the tubing. I totally recommend it. Our guides were helpful and knowledgeable. My friends and I felt safe the entire time.

February 2014
Amazing tour guide! Beautiful sights!
July 2013
our guides were very friendly and helpful, and the adventure was spectacular, I highly recommend this
adventure if you visit Jamaica
January 2013
June 2012
We loved our River Rafting adventure!! Robert and Andrew were wonderful tour guides and made the adventure perfect. Rope swinging was a great experience. Have to give a shout out to the driver that picked us up from hotel promptly, Basil Evans, he was a great tour guide as well.. He was the BEST!! Highly recommend the tour to everyone.
February 2015
This was fun because we made it fun. Upon arrival, it was suggested that we switch from a raft to a tube. We ended up enjoying the switch. The boat ride back to shore was bad for me. It caused me to get sea sick. Ultimately, I enjoyed my self because it was something different for me.
June 2013
Waiting on the other groups was boring and uneventful. Also, I would have enjoyed a more active river.
January 2013
We had trouble locating the guide at the port and ended up leaving 1 hour later than we were advised.The port staff said this was a common occurence! .The staff at the rafting base were very friendly and instructive.The ride itself was somewhat tame.
October 2013
Don't do this trip! The photo is super misleading. There is only one rapid on the whole trip and it wasn't much of one anyway. 2 seconds and that rapid was gone and barely moves you in the boat.You will be paddling the whole time! The river hardly moves. The staff are friendly but with a river hardly moving and not much scenery to look at- just tall grass,I would not recommend this at all.
Advertisement
Advertisement