Go river tubing down Jamaica's Rio Bueno on this 3.5-hour, adrenaline-filled excursion. Follow your expert adventure guide down the rapids on an inner tube, then relax on the beach or take a dip at Bengal Bay. Admire Jamaica's jungle landscape and keep an eye out for local wildlife. A life jacket, helmet, and round-trip transportation to your hotel is included.
Highlights
River-tubing adventure in Jamaica
Float down the Rio Bueno to Bengal Bay with your expert guide

Admire the jungle landscape while tubing through river rapids towards the Caribbean Sea
Complimentary hotel pickup and drop-off

Recent Photos of This Tour
What You Can Expect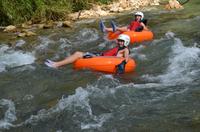 Following pickup from your hotel, travel to the Rio Bueno, one of Jamaica's scenic rivers. Listen to a short safety briefing while you receive your equipment, including a lifejacket and helmet.
Take a short trek through the jungle to the edge of the river and the Irie Bridge, the launching point for your adventure. Pick a tube, hop on, and get whisked away by the current.
Ride your tube through the river's twists, turns and rapids. Pause for a break under a stand of bamboo trees, relax on the river bed and try out the rope swing. Jump back on your tube and run some more small rapids before being whisked under an old stone bridge.
At the river delta, paddle a bit to make it over the last rapids and land at Bengal Bay's white sand shores. After a day of adrenaline-filled adventure, relax on the bay's sandy beach and bask in the tropical sun or take the opportunity to do some more swimming.
When your 3.5-hour adventure has come to a close, enjoy transportation back to your hotel.
Please note: this tour is unable to accommodate passengers from Royal Caribbean Cruises
April 2016
Was fun!, a lovely, more laid back excursion that we certainly enjoyed!

September 2015
We picked this one because of the clear blue waters. Other tours start from a muddier river.
First and foremost - make sure to call before 5pm local time to confirm your reservations. Otherwise you have to reschedule your pick-up time. I was on another tour and didn't get back until after 6pm and there was no one there to take the call and then they don't open the next day until after 9am therefore we didn't get picked up in the earlier time slot. Other than glitch to the plans, this was an AWESOME experience. Unlike other tours where your party is mixed with other groups, the tubing excursion allows you to just be with your group and the tour guide. Our guide Big Benn was so pleasant and friendly. The river tubing was great...relaxing and exciting all at the same time. Then there is a place that has a dive platform to jump into the river and then the boat ride to the ocean was so fun. It was such a great excursion.
August 2014
This tour was awesome! A friend and I went and we were given a guide that took us all the through the tour. Best part was at the end when we boarded rafts and a small boat towed us to the ocean and dropped us out at the beach! Great ride!
August 2014
It was an awesome time! Started off with a little educational hike with our guide to the beginning of our tube ride. The water was perfect...not too cold, clear and clean. During the calm part of the river it was nice to take in the beautiful scenery. There was plenty of moments where we would go threw some cool rapids. The best part was swinging off the Tarzan rope into the river. At the end of the river a boat came for us with a raft and pulled us into the ocean and onto the beach. I'd definitely do it again if I decide to go back to Jamaica, Yeah mon!
July 2014
I have to be honest and admit that I was a felt a little uneasy when we got to the location where the river tubing adventure began. We were told to leave everything with our driver who would be waiting for us at the beach at the end. I did so and LOVED it!! I can't wait to go back! Excellent guides!
May 2014
This tour was excellent! So so much fun!! Our guide was absolutely fabulous! Definitely wear water shoes. You get to climb up some mini waterfalls! A must do!
April 2014
Enjoy the great landscape, river is kind of quiet but with amazing views
The road to the starting point is kind of scary and crazy, but it worth
February 2014
We spent the day cruising down the rios buenos on an inflatable tube. We experienced very minor rapids. The mood of the river changed constantly. Playful, to deathly still. There were small children diving into the river and a woman washing herself. We saw an array of plants and trees. The place was teaming with life. We swung from a rope into the warm river, which was jungle green, shamrock, persian and emerald. I discovered I have absolutely no upper body strength as a swung on a rope into the river. The river opened out into the bluest ocean I've ever seen...
Our tour guide (Everton) was one of the nicest guides we had during our stay in Jamaica. Really sweet, friendly and very professional. If he is your guide, not only are you in safe hands, you'll have a fantastic time.
July 2013
I lived this tour. We walked a bit and held on two at a time then jumped from a swing. It was real nice.
April 2013
Our favorite part was the extra walking/climbing we did on the rocks and in the water prior to the actual raft ride. Staff was great! Enjoyable day.
Advertisement
Advertisement