Soar high above the Jamaican rainforest for breathtaking views of exotic Ocho Rios. There's no better way to experience the beauty of Jamaica than from 700 feet (215 meters) above sea level in a state-of-the-art chairlift!
Highlights
Soar above the heart of the Jamaican rainforest canopy

Breathtaking views during both your ascent and descent

Water slide and pool

Option to include an exciting zipline tour

What You Can Expect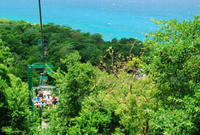 If you're looking for things to do in Ocho Rios, riding high above the Jamaican canopy should be at the top of your list. This chairlift tour is a unique experience and family-friendly fun for all ages. Both the ascent and the descent provide stunning panoramic views of Ocho Rios, the rainforest and the sparkling Caribbean Sea. Make sure you have your camera ready to capture postcard-perfect pictures! This chairlift tour of Ocho Rios is an unforgettable Jamaican experience.

Zipline option
You also have the option to fly on an incredible zipline course and venture deeper into the rainforest. Sharing their knowledge of Jamaica's natural world, your informative guides will ensure you have a fun and safe jungle zipline experience. Covering a distance of over 550 feet (170m), you'll jump from platform to platform and experience an adrenaline rush and a near-vertical descent! Also included is the option to travel down the exciting water slide!

Explore the wonders of Jamaica's unique tropical seaside forest on this environmentally friendly Jamaican ecotour.
September 2014
September 2013
This was totally awesome. I recommend doing all 3 rides at mystic mountain. Ziplining was so much fun! You got to see an incredible view of the rainforest and beach with the canopy ride. The bobsled was also fun!
January 2012
September 2015
The Sky Explorer was nice. It's a 15 minute ride up a mountain with some spectacular views. The zipline tour was very exciting. The tour guides were great!
December 2011
The staff didn't really take enough time to explain things and didn't observe enough safety when sending one person too soon after another who wasn't quite disconnected and out of the way yet.....
Advertisement
Advertisement