Special Offer
Book this Super Saver to save more than 27% compared to booking the tours separately
Sightsee in downtown Montego Bay, glide through the waters of the Luminous Lagoon and explore Rose Hall Great House. During this Jamaica Super Saver tour led by an expert guide, visit attractions like the St James Museum Sam Sharpe Square. At Rose Hall, a stately historical mansion, learn the scandalous story of the house's ghostly past. Hop on a boat to float on the glowing waters of the Luminous Lagoon to finish off your evening, jumping in for a luminous swim if you're brave. Round-trip transportation from Montego Bay, Grand Palladium and Negril hotels is included.
Highlights
Jamaica Super Saver to Montego Bay and surrounding attractions
See Montego Bay's top sights, including Sam Sharpe Square and St James Parish Church
Tour Rose Hall Great House and keep your eyes open for ghosts!
Hear the story of the 'White Witch of Rose Hall,' who is said to haunt the mansion
Take a 30-minute boat ride on Luminous Lagoon
Stare in wonder at the lagoon as it lights up from the natural glow of microscopic organisms in the water
Save more than 30% by booking this Super Saver compared to purchasing the tours separately

Go for a dip in the vibrant water (it's safe to swim in!)
Recent Photos of This Tour
Jamaica Super Saver: Montego Bay and Rose Hall Tour plus Luminous Lagoon Night Cruise
What You Can Expect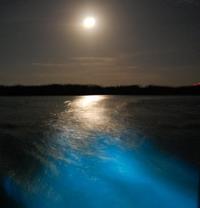 Following pickup in Negril, Montego Bay or at the Grand Palladium Resort in Lucea, board your comfortable vehicle for the trip to downtown Montego Bay. If you're picked up in Lucea or Negril, enjoy your relaxing ride down the scenic Jamaican coastline on the way into town.
When you disembark in Montego Bay, follow your guide on a 1-hour sightseeing tour that takes you through the city highlights. Visit the St James Museum and Sam Sharpe Square, named after the slave who led the 19th-century Christmas Slave Rebellion. Walk through the neighborhood's blocks of impressive colonial buildings and learn about Jamaican history from your guide. Back on the bus, drive through some of the residential neighborhoods featuring stately Georgian homes funded with money from the island's once-thriving sugar trade. Stop by St James Parish Church, the home of stained glass pieces by English sculptor John Bacon.
At the conclusion of your tour, spend about 45 minutes perusing Rainbow, a local shop selling local Jamaican goods like coffee, rum and jerk seasoning. Pop out to a local restaurant for dinner (own expense), before continuing on to Rose Hall.
Rose Hall Great House is known for the legend of the 'White Witch of Rose Hall', about a woman named Annie Palmer who killed her three husbands and several slave lovers before taking her own life. Follow your guide on a 1-hour tour through the graceful Georgian mansion, full of historical artifacts.
Back on the coach, travel 30 minutes to the Luminous Lagoon, one of Jamaica's most famous attractions. Climb aboard a boat to see this eerie body of water up close. Learn about the harmless microorganisms that cause the glowing phenomenon. If it's a warm night and you're adventurous, take a break from the 30-minute boat ride with a swim in the fluorescent waters.
When you return to shore, you'll head back to Montego Bay, Grand Palladium or Negril for hotel drop-off. During the drive back to Grand Palladium and Negril, a stop is made to purchase food and drinks (own expense).

June 2016
Tony Montana our tour guide was the best. He took the great pride in his job and country. We had a blast! Definitely happy we booked this tour.
April 2016
The house was fantastic we took the night tour .the guide was fantastic the actors and freights were brilliant .our best excursion .The lagoon was special we jumped in and the creatures lit up a very weird experience overall loved this tour .highly recommended.
March 2016
We did the evening tour and when we arrived there were big groups of people arriving and we had a small wait. Our tour guide, Curley, was animated, funny and made the tour great. Not to give anything away but I was spooked a couple times but good for families with teenage children or older. I would recommend this to friends and family
February 2016
Our driver Michael was fantastic...very friendly and accommodating. As there were only four of us on the tour, he customized it to our needs and gave us the time we required at each location. Favorite part of the tour was the Luminous Lagoon!
December 2015
Our tour guide Tony was very knowledgeable and witty. He made sure all the tourist had a wonderful, and exciting time, the van was very neat and clean, and comfortable.....thank you.
September 2015
My wife and myself had a really great time on this trip ,the fact that it was a private tour made it better and our driver Sydney yes that is the correct spelling was both very informative and funny
We had the tour of mo'bay first then on to the lagoon this was amazing you have to see it to believe it.
On to the great house and white witch,the staff involved have worked well to create this,it is a interactive tour so expect the unexpected,overall agreat tour..
August 2015
The tour was great and the guide Tony was a lot of fun!
July 2015
Amazing tour, great value. Luminous lagoon was breathtaking. Rose Hall was fantastic fun, the staff put so much effort in to making the experience very enjoyable. Definitely worth going.

April 2015
We had a great time on this tour! Our driver arrived at our resort right on time and we shared a shuttle bus with a family of 4. Our guide had a great sense of humor and ensured that everyone was having a good time. He started by driving us through the hills of Montego Bay to see the wealthier side of the city, and then we drove to a gift shop. The shopping experience for me was the worst part of the trip. The gift shop was huge, but it was basically all of the same items that you'll see in every other shop on the island, but with marked up prices and there was an added 15 in tax at the end which I didn't pay anywhere else. Fortunately, the shopping part was only 30 minutes because they basically only let you go in 1 store. The driver then took us over to the bay where we had a complimentary rum punch and then took a short boat ride to the Lagoon. The glowing water was amazing, but I'd suggest bringing a bag with some water shoes and a towel if you plan to swim the ground is very murky. After drying off, we drove over to the Rose Hall Great House. By this point it was getting late and was very dark. One thing we did not know was that on top of the natural creepiness of the place, they actually have actors dressed as ghosts there to scare you. There was a small child on our tour who was terrified, so this is one thing that might have been good to know. Personally, I love haunted places and I thought this tour was actually the best part of our excursion. All in all, we had a great time and it was fun to get away from the hotel and see Jamaica.
March 2015
I thought it was going to be a larger tour but to my surprise it was a private tour we had a wonderful tour guide named Junior that made the whole experience that much greater!
Special Offer
$112.00 Save $33.01
Advertisement
Advertisement