55 Reviews
Location:

Montego Bay or Negril, Jamaica

Duration:

2 hours

(approx.)
Follow the call of the wild with this exhilarating ATV (all-terrain vehicle) off-road adventure from Montego Bay or Negril. Travel to a safari ranch in beautiful Sandy Bay, and board your rugged four-wheel bike for a thrilling tour of Jamaica's lush countryside. Zip past citrus groves and farming villages, bump through puddles, rumble through a colonial-era estate and climb to a mountain viewpoint for spectacular views. Stop for photos, see Jamaica's flora and fauna on route, and perhaps finish with a tasty lunch (own expense) at the ranch restaurant.
Highlights
2-hour ATV safari tour from Montego Bay and Negril
Explore Jamaica's beautiful countryside on a rugged, four-wheel bike
Follow dirt trails through a colonial-era estate, forests and hills
Pass by farming villages and stop at a mountain viewpoint for photos
See and learn about Jamaica's flora and fauna on route
Enjoy lunch and refreshing drinks (both at own expense) at the ranch on your return
Get a full safety briefing and instructions on handling your ATV
Recent Photos of This Tour
Jamaican ATV Off-Road Adventure in Sandy Bay
What You Can Expect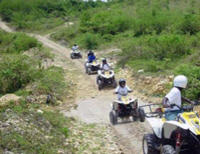 Start your safari experience with a pickup from your Montego Bay or Negril hotel. Board your air-conditioned minibus or coach and travel to the safari ranch in Sandy Bay.
When you arrive, get a safety briefing and tour rundown from an instructor. Learn how to drive your ATV, watch a demonstration, and strap on your helmet for a practice ride. Once you feel confident on your four-wheel bike, set off on your adventure with an experienced guide leading the way!
Rumble through the rugged countryside and as you gain confidence, pick up speed on your bike. Splash through puddles, speed past citrus plantations, roar up and down hills, and thrill as you bump along the twisting dirt trails.
Journey through the lush plains of the Blue Hole Estate, pass the beautiful community of Cascade in the parish of Hanover, and trundle by the farming village of Smithfield. Pause at one of the island's oldest Presbyterian churches, built by slaves in 1840; and climb through forested slopes to a mountain viewpoint, at 2,200 feet (670m) above sea level, to admire the panoramic views.
Along the way, discover some of Jamaica's native flora and fauna, and hear from your guide how some plants are used in the island's beloved herbal remedies.
When the time comes, return to the safari ranch. Leave your ATV and perhaps revive your energies with a meal or drinks (both at own expense) at the ranch bar and grill.
Then, relax on your return journey, where your tour ends with a hotel drop-off.
October 2015
We were sent to a Dune Buggy place but still had a great time.
June 2015
This trip was awesome!!! We had the best tour guide Jamal.

puga725 United States of ...
May 2015
Well the ATV tour in Sandy Bay was Awesome. It had rained earlier in the day so it made for some extra mud which was great. The Chukka Tour guide Bobby was great and knowledgeable. the Pulaski ATV were fantastic and felt safer than the normal open top ride ones. These models were single sit in type ATV's with a roll cage and mesh doors, so everyone felt safer.
April 2015
Well worth the money! Great views of the island and funny tour guide.

January 2015
This tour was a blast! The drive from Montego Bay was fairly quick, and Herbie, our driver, was an awesome addition. Once we got to the Chukka Ranch in Sandy Bay, we filled out a form or two, and then we were off to the tour. We didn't get ATVs, but single-seat, Polaris Dune Buggies. Aside from some folks going too slow, the tour was filled with sights, history, fun terrain and lots and lots of mud. Be prepared to get rid of the clothes you bring; we simply threw the shoes out. Definitely worth doing.
Oh, and the jerk chicken and festival in the entrance area is excellent and worth the $8.
Overall, awesome trip and excursion; highly recommend.
October 2014
AWESOME!
Previous reviews had indicated it was slow, but it was fast enough and so much fun. The ATV's were like new and handled perfectly over the sometimes rough and almost always muddy terrain. We drove through areas of Jamaica we'd never have been able to see otherwise.
The leaders, Jamal and Bobby were excellent at their jobs. Very strict about safety and making sure everyone behaved themselves, but this was a good group, and the leaders really let us have a lot of fun. And lots of mud. Jamal was very knowledgeable and respectful about his country, and he was a lot of fun as well.
Also, our bus driver, Teddy, was also fun, knowledgeable, and an amazing driver through the crazy traffic to and from Negril. The photographer did a good job of keeping ahead of us in order to take many shots of everyone. The photos are put onto a CD, and expensive. We'd decided ahead of time to limit ourselves to just 10 pics ($30), which allowed us some photos we'd never have gotten otherwise.
The staff at the restaurant/gift shop, was good as well. We had cold beer and Jerk Chicken (excellent) after we returned from our ride. The only complaint was that the gift shop was out of many items we might have bought, and what they did have was very expensive, much more so than hotel and other gift shops we visited.
We are going to visit Jamaica again, as soon as possible, and we definitely plan another ATV excursion. We wanted to go again immediately after we got back from the ride, and I'm sure this will be a part of any future trips we take there.
.
July 2014
We went into the fields and rode the Dune Buggy. It was fun. We ended up all dirty with sand but had fun.
January 2014
Great experience! A must do if u want to TRULY see Jamaica.
January 2014
Awesome! We had a great time. It had just rained before our tour so we got to ride through puddles and really test the ATV in all terrains.
Tips for this trip:
- Wear water shoes so your shoes don't get ruined
- If you are traveling with stuff make sure it can fit into a small locker you can rent at the site. The trail is dirty, dirty, dirty and fun
- Don't grip the life out of the handle bars. Hold both to keep you steady, but relax your arms. You'll thank me later
December 2013
It was AWESOME! Just know that you will get a bit muddy by the time it's over. It's great for beginners OR experienced riders. Wonderful tour guides. Great photo opportunities!
Advertisement
Advertisement