Learn about the life and times of Bob Marley on this full-day excursion to Nine Mile, the King of Reggae's home. Explore the tiny village and learn about its Rastafarian roots, then visit Marley's boyhood home and burial place. Round-trip transportation from Montego Bay is included in this tour.
Highlights
Visit Nine Mile and learn all about Bob Marley's lfe
See Bob Marley's birthplace, his house and final resting place
Enjoy the breathtaking scenery that surrounds Mt. Zion and Nine Mile
Complimentary hotel pickup and drop off from most Montego Bay hotels
Recent Photos of This Tour
Jamaica's Spirit of Reggae - the Bob Marley Experience from Montego Bay
What You Can Expect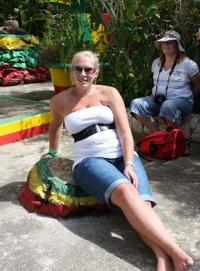 Following pickup in Montego Bay, board your vehicle for the drive to Nine Mile. As the vehicle traverses the hills, curves and back roads of St Ann, the 'garden parish,' learn about the history and culture of Jamaica from your friendly tour guide, who will keep everything 'irie' during this full-day excursion.
Bob Marley, the King of Reggae, was born in this tiny village in the interior of the rugged Jamaican mountains on February 6, 1945.
Walk through his boyhood home, which now serves as a photo gallery and museum dedicated to his life and music. Learn little-known facts about his life, childhood and musical career from your knowledgable guide as you tour the building.
Visit 'Mt Zion Rock,' where Marley frequently meditated, and rest your head on the 'pillow' that he sang about in his track 'Talking Blues.'
Finally, pay your respects at Bob's final resting place. Pause to consider how much Marley taught the world about reggae music, Rastafarianism and the island of Jamaica before climbing back into your vehicle for the trip back to Montego Bay.
January 2016
funny and awesome learning experience and a nice lunch too!
July 2015
A must see! Our tour guide who picked us up from the resort was awesome and kept everything Irie. I cannot remember his name but I think it started with an E. He was very informative and took care of everyone in his group. If you're a Bob Marley lover, you don't want to miss out on this excursion.
June 2015
I had a great time with my husband on a trip of a life time.
December 2014
This experience was amazing. It has been a childhood dream of mine. 7 of went on the day trip. We had Ras Wayne as our tour guide and Mark (driver). It was such an informative and smooth tour. I would recommend this to anyone who loves BOB and or wants to experience culture!
- Sabrina
July 2014
Wonderful tour! Entertaining tour guides and very memorable experience.
June 2014
Loved the tour. A bit of stairs and hills on this trip
January 2014
Great tour! Our guide, priest Jerome, was very entertaining and also informative. A rather long drive was turned into a fun and enjoyable one. Nine Mile is as expected quite commercialized, with t-shirts and all types of goods for sale, but the guide there was also great!

December 2013
Absolutely awesome day out and learned lots about Bob Marley's life and career. The staff were very friendly and our guide, Captain Crazy was absolutely fantastic. A must-do trip for anyone who is interested in Bob Marley or the Rastafarian culture and the jerk chicken place we stopped off for lunch was lovely. Great trip to compliment our honeymoon.
July 2013
Loved this tour! We got to see the country-side of Jamaica and our tour guide was very informative. The
Bob Marley Tour was excellent and I would highly recommend this trip for anyone who is a fan of Bob Marley or the Rastafarian culture. The gift shops and drinks are over-priced, but other than that everything was amazing
June 2013
Loved it great tour guide would recommend this tour for all BOB MARLEY fans learned alot of info very fun
Advertisement
Advertisement