Enjoy access to the Club Mobay departure and arrival lounges with this pass. Get fast-track service through immigration, customs and security with personalized assistance. Travel like a true VIP when you relax in the private lounge to wait for your flight, using the high-speed Wi-Fi and enjoying the beverages and snacks. This pass allows the stress-free Jamaican atmosphere to follow you to Sangster International Airport.
Highlights
Access to Club Mobay at Montego Bay's Sangster International Airport
Separate arrival and departure lounges are available — choose one or both
Skip the crowded airport terminals for the relaxing atmosphere of a comfortable lounge
Enjoy cold and hot beverages, as well as tapas, sandwiches, fruit and other snacks
Take advantage of the included Wi-Fi, and catch up on the latest magazines and newspapers
Receive fast-track service through security, immigration and customs lines
What You Can Expect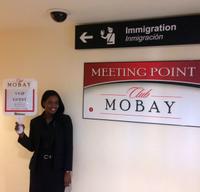 Purchase this pass for use during both your departure from and arrival in Sangster International Airport.




Departure Lounge:

After checking in for your flight, make your way to the Club Mobay information booth, next to the entrance for security and immigration. Check in for your lounge access here, and then sail through security and immigration with your fast-track service.

On the mezzanine level, enter the Club Mobay departure lounge. Unwind before your departing flight; snack on the provided fresh fruit, sandwiches, tapas and other light fare, and sip on a refreshing drink (either alcoholic or non-alcoholic) or cup of coffee.

Read magazine or newspaper, use the high-speed Wi-Fi, freshen up with a shower, play electronic games on the provided tablets or enjoy a mini treatment at the Mango Spa (own expense).

Kids can play in Pickney Place, a sound-proof playroom, or if you are sans kids, hang out in the adults-only lounge. If you must catch up on work before returning to the real world, take advantage of the fully equipped business center. Capture some final souvenir shots at the fun Tropical Shotz photo booth (additional cost).

When it's time for your flight, you'll board your plane refreshed and relaxed.




Arrival Lounge:
When you get off your plane at Montego Bay's Sangster International Airport, head to the Club Mobay meeting point, where your club representative will be waiting to greet you.

Fill out your immigration forms (your representative can help if needed), and breeze through customs and immigration with your fast-track access. Your host will help you retrieve your luggage at baggage claim and escort you to the Club Mobay arrival lounge.

In the arrival lounge, use the high-speed Wi-Fi, catch up with the news on the flat-screen cable TVs, enjoy snacks and beverages, read the provided magazines and newspapers or freshen up in the private restroom while the lounge's relaxing reggae music puts you in the island spirit.

When you're ready, you'll be escorted your ground transportation.

lavonne7213 United States of ...
May 2016
This was a great experience no waiting on long lines food and drinks were delicious. Friendly and knowledgeable staff. Will use again.
May 2016
We have used the Club MoBay before our last few trips to Jamaica.
This is the first time I used Viator. Everything went smoothly. Club MoBay has also added another lounge upstairs in the airport.
April 2016
Fantastic service, Highly receommended. I had booked the Combo package and was fast tracked through immigration on arrival and departure. The lounge on departure provided the perfect relaxing environment, the food was lovely and even had a couple of cocktails. Time passed quickly and the whole process was hassle free, perfect start and ending to my holiday. Thanks
April 2016
April 2016
We did Club Mobay for our departure, and it was worth the price. We got through security quickly, and had a nice place to relax and enjoy snacks and beverages prior to our flight.
April 2016
I booked this for arrival. My flight came in at 10:30 and my check in time was 3:00 so I opted to stay 2 hours at the lounge. The process coming in was very easy although the lines were not long so the expedited process didn't really add much value however the guide made it very efficient. The lounge was excellent. I had a cold drink and small sandwich and snack which was delicious. Sitting in the A/C well appointed lounge was perfect as I relaxed and read the newspaper. The staff got me a cab and by-passed a long line. All in all this was definitely worth the value.

April 2016
Beautiful, relaxing area. Service was amazing. Food was fresh and replenished very often. Worth the money for sure. Wifi worked perfectly. Would partake again.
April 2016
This was my first using Club Mobay and it was great!!!
Will definitely use your service again on my next visit to Jamaica!!!
April 2016
comfy easy and stress free
April 2016
Great way to wait for your flight. Our flight ended up be cancelled and rescheduled for 5 hrs later and we were able to return to Club Mobsy and relax. Highly recommend.
Advertisement
Advertisement