Sightsee in downtown Montego Bay and explore Rose Hall Great House during this tour led by an expert guide. Visit attractions like the St James Museum Sam Sharpe Square. At Rose Hall, a stately historical mansion, learn the scandalous story of the house's ghostly past. Round-trip transportation from Montego Bay, Grand Palladium and Negril hotels is included.
Highlights
Combo tour of Montego Bay and Rose Hall Great House
See Montego Bay's local attractions on a 1-hour sightseeing tour
Visit Sam Sharpe Square and learn about its namesake, who led a slave revolt in 1831
Shop for coffee, spices, cigars and other island goods at Rainbow, a popular gift store
Take a 1-hour candlelight tour of Rose Hall Great House, a 17th-century Georgian mansion
Learn about the 'White Witch of Rose Hall' who is said to haunt the mansion
Hotel transport available from Negril, Montego Bay and the Grand Palladium resort in Lucea
What You Can Expect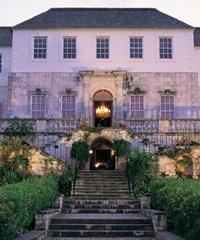 Following pickup in Negril, Montego Bay or at the Grand Palladium Resort in Lucea, board your comfortable vehicle for the trip to downtown Montego Bay. If you're picked up in Lucea or Negril, enjoy your relaxing ride down the scenic Jamaican coastline on the way into town.
When you disembark in Montego Bay, follow your guide on a 1-hour sightseeing tour that takes you through the city highlights. Visit the St James Museum and Sam Sharpe Square, named after the slave who led the 19th-century Christmas Slave Rebellion. Walk through the neighborhood's blocks of impressive colonial buildings and learn about Jamaican history from your guide. Back on the bus, drive through some of the residential neighborhoods featuring stately Georgian homes funded with money from the island's once-thriving sugar trade. Stop by St James Parish Church, the home of stained glass pieces by English sculptor John Bacon.
At the conclusion of your tour, spend about 45 minutes perusing Rainbow, a local shop selling local Jamaican goods like coffee, rum and jerk seasoning. Pop out to a local restaurant for dinner (own expense), before continuing on to Rose Hall.
Rose Hall Great House is known for the legend of the 'White Witch of Rose Hall', about a woman named Annie Palmer who killed her three husbands and several slave lovers before taking her own life. Follow your guide on a 1-hour tour through the graceful Georgian mansion, full of historical artifacts.
Your tour ends with hotel drop-off in Montego Bay, at the Grand Palladium and in Negril.


greenhouse USA
May 2015
Remembering this tour just makes me want to laugh again. The city tour included a stop for shopping, Sam Sharpe Square, St. James Anglican Church built in 1775, and a visit to a local restaurant where real jerk chicken, pork and sausage was being prepared. Yum! Our guide, Tony, the president, was wonderful. The Rose Hall tour was fun and silly, but I have to admit they got me to jump about 6 feet. Well done and bravo!
April 2015
Picked up from hotel in Montego Bay on time. Sightseeing tour of Mobay was good/an eye opener. The star of the show was definitely the Rose Hall Candlelight Tour though - very highly recommended. Sudden bangs and people jumping out etc - but all extremely funny at the same time/everyone screaming out but then laughing like kids. Only thing is that with everything going on, you don't tend to be listening to everything the tour guide says, so would love to go and see the house and hear about it on the daytime tour now as well.
May 2015
Had a great time. Our diver, Howard, was very fun. He taught us Jamaican slang and took us to see some of the 'real Jaimaica' and introduced us to beef patties. The Rose Hall tour was very fun as well. The whole day was a little longer than we thought coming from Negril but Howard made it entertaining the whole way.
February 2015
It was more like a theatrical spook house. I would've prefer the historical aspects, not some actors who pop out from hiding places to try to frighten you. This tour was at night... in the dark. I would like to see it in the day time. No photos allowed.
April 2016
We were disappointed that the church was not availabe to visit. The Rose Hall tour was cool but there was to many people on the tour so it made it hot and hard to hear the tour guide
Advertisement
Advertisement