Special Offer
Book and save 20% compared to another travel site
This half-day tour to the Rastafari Indigenous Village brings you in contact with local artisans, musicians and farmers in the shaded hills of the Montego River Gardens. Learn about the Rastafarian lifestyle and philosophy, which reflects reverence for nature and humanity. With the assistance of your guide you'll take part in activities like cooking, drumming and crafts as you interact with community members. Round-trip hotel transport from Montego Bay is included.
Highlights
Rastafari Indigenous Village half-day tour from Montego Bay
Hike across a stream to the village in Montego River Gardens
Experience the Rasta way of life and learn about the Rastafarian belief system
See cooking, drumming or crafts demonstrations and join the local community in daily activities
Round-trip hotel transport included
What You Can Expect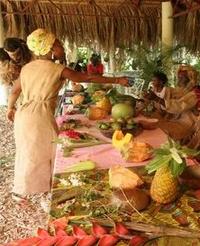 Upon hotel pickup you'll drive to the Rastafari Indigenous Village, located approximately 20 minutes away in the cool hills of the Montego River Gardens. Disembark and hike to the village with your guide, including a possible river crossing on foot. Opposite the clear stream you'll find verdant paths edged with medicinal herbs and healing plants.
When you arrive in the shaded Rasta village, you'll be welcomed by the sound of drums. Meet the local craftspeople and farmers who follow the Rastafarian way of life and 'one love, one heart' philosophy, which embodies healthy living in harmony with other species, including equal rights and justice for all of humanity.
Throughout your tour you'll be invited to participate in daily activities, including Rastafarian culinary demonstrations with vegetarian dishes, making crafts with village artisans and joining the drumming circle. Amid natural surroundings, learn about the history of the Rastafari movement in Jamaica as you are immersed in its unique culture.
Enjoy a snack or refreshment break during your tour (own expense) before returning to Montego Bay with drop-off at your hotel.
June 2015
Horrible experience for my wife but my husband had fun. I just kidding we loved it.
April 2015
Learn about Rastafarianism from the source. Genuine and charming.
September 2014
Ricky and Nicolette - my driver and the owner - were amazing! They got late picking me up because their previous pickup's flight had been delayed and then the passengers got lost, but they called and let me know and were so lovely and sincere. To make up for it they took me out to lunch, but more than that they were just fantastic company. They made me feel so safe and I had so much fun with the two of them, I definitely recommend 'Jamaica Customized Vacation and Tours' - they made me feel like a friend, and I never felt like they were trying to get more money from me.
August 2014
Thoroughly enjoyed my tour - very relaxed and casual in beautiful surroundings. Extremely informative - have a far better understanding of the Rastafari culture and traditions.
August 2014
Beautiful drive to get there. Beautiful location. Very informative and friendly. We've been to Jamaica twice and have done 10 tours to date, and this is one of our favorites.
Anonymous
May 2014
Such a cool tour! It was great to do something different in Jamaica and hop on an excursion that takes you to the real Jamaica where you can experience the island's culture first-hand. Definitely recommend for those wanting something different than your average touristy trip!
April 2014
My 18 year old son and I did this trip and we loved it. It was a breath of fresh air to get away from the more touristy excursions and just learn more about rasta culture. For some reason I had expected that cooking was part if the trip. Not sure if I made that up but thought I had read it so was disappointed that this wasn't the case. However that said, it was just a delightful experience and definitely one to recommend.
Special Offer
$75.00 Save $15.01
Advertisement
Advertisement