Paddle down the Rio Bueno in a two-person kayak on this exciting Jamaican adventure. Follow an expert outdoors guide for 3.5 hour down the twists and turns of this river, viewing native plants and animals in the jungle that lines the riverbanks. Arrive at Bengal Bay for swimming and relaxing in the sun at the end of your boat ride through Jamaica's scenic landscape. No kayaking experience is necessary, and round-trip transportation from your hotel is included.
Highlights
Kayak on the Rio Bueno in Jamaica

See lush greenery while kayaking on the Rio Bueno towards the Caribbean Sea with your expert guide

Lounge in the sun and swim in the warm waters after your kayaking adventure
No river kayaking experience necessary!

Hotel pickup and drop-off and all equipment included

What You Can Expect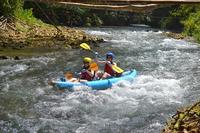 Following pickup at your hotel, travel to the banks of Jamaica's Rio Bueno River. Meet your expert adventure guides and circle up for a safety training and basic paddling instruction before climbing into your kayak. No kayaking experience is necessary to enjoy this adventure.

Jump into your tandem kayak with a friend and shoot the river's medium-intensity rapids with the leadership and instruction of your guide. Along the way, take in the Jamaican jungle scenery and look for wildlife roaming the riverbanks. Stop halfway through your 3.5-hour excursion to relax on a sandbar, swim or play on a rope swing.

Climb back into your kayak and splash through some more exciting sets of rapids. When you reach Bengal Bay, kayak over to the shore for some swimming and relaxing in the sun.

Your adventure ends with drop-off back at your hotel.

Please note: this tour cannot accept passengers from Royal Caribbean cruises.

March 2013
It was awesome - we loved the walk up the stream to the small falls before. That was a highlight.
July 2013
Jack my tour guy was the best!
Kristy USA
June 2013
We had a great time and would do it again.
September 2013
Our driver was late to pick us up and we had to pick up other customers that were also running late. It was definitely a new experience for us as beginners. My partner and I had problems being coordinated, but hey, we're beginners. Our guide seemed very impatient and it seemed like we annoyed him. I would'nt book this again.

February 2015
The company the tour was booked thru wasn't aware of my reservation. When I called to get a driver for pick up they said they would call me back at the hotel where I was staying....never got a return call so we never got to do this activity. The location was an hour away and to take a taxi there and back would have cost more than the money we lost paying for the activity.
May 2014
We didn't get to go on the tour because I found out that it was up to me to make arrangements for transportation. I was under the impression that transportation was included. Also, I was told that it was about 20-30 minutes away but once we were in Ochos Rios I was told it was over an hour to get to the kayaking trip. This was very disappointing as I had bought this for my husband for valentines day and we had gotten married in Ochos Rios.
Advertisement
Advertisement