17 Reviews
Location:

Monterey, California

Duration:

Flexible
Dive into an underwater world of mystery, beauty and awe at the famous Monterey Bay Aquarium, perched on the edge of the stunning California coastline. With your all-day admission ticket, you'll come face-to-face with ocean animals from sharks and rays to penguins and jellyfish. Watch our giant Pacific octopuses creep, crawl and glide, or enjoy the sea otters as they romp, tumble and wrestle. You'll see schools of fish glimmer and glisten, and find mussels, eels and sea anemones along the rocky shoreline. An ocean of discovery awaits!
Highlights
Admission to Monterey Bay Aquarium
Explore a wide variety of fascinating marine exhibits
Get up-close views of sharks, sea otters, penguins, jellyfish, eels, fish and more

Admire sweeping views of Monterey Bay from the Aquarium's epic location

Learn about Monterey Bay Aquarium's commitment to conserving the oceans
Recent Photos of This Tour
Monterey Bay Aquarium Admission
What You Can Expect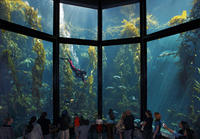 Your all-day admission ticket grants you access to all of Monterey Bay Aquarium's exhibits. Live programming throughout the day includes Kelp Forest and Open Sea exhibit feeding shows, sea otter and penguin feedings, and auditorium programs such as Mysteries of the Deep and Luna: A Sea Otter's Story.
Itinerary
Current Exhibits (subject to change)
Kelp Forest
At 28 feet (8.5 meters), the underwater Kelp Forest is one of the tallest aquarium exhibits in the world. You'll get a diver's-eye view of sardines, leopard sharks, wolf eels and a host of other fish as they weave through swaying fronds of kelp, just like they do in the wild.
Giant Pacific Octopus
Beautiful, bashful and brainy, the giant Pacific octopus leads a life of mystery. With a personality that's as complex as its appearance, this animal is a master of disguise that can solve a maze, recognize the aquarists, and has the power to jet across the exhibit in a whoosh of water.
The Jellies Experience
Watch a sea of jellies dance and glow. Some of these species have never been exhibited at the Aquarium before!
Mission to the Deep
This fascinating exhibit combines high-definition video of incredible deep-sea animals with the hands-on experience of using underwater robots and other high-tech tools to explore the ocean's depths.
Monterey Bay Habitats
Explore the waters of Monterey Bay, where sharks and sturgeon glide through the deep reef, 200-pound (91 kg) giant sea bass lumber among the reef pilings, and flatfish nestle in the sandy sea floor. This hourglass-shaped exhibit is over 90 feet (27 meters) long and highlights five different habitats beneath the bay and the amazing creatures that live there.
Open Sea
Out to sea and on the go – life's in constant motion in the open ocean. This is the Aquarium's largest exhibit, a place where tuna and sharks speed past; sardines swarm in huge, glittering schools; and sea turtles swim lazily across the 90-foot (27-meter) window. Nearby, colorful puffins await their next meal, and brilliant jellies pulse through the water.
Rocky Shore
The shoreline is the border between two worlds, a fluid boundary where the water advances and retreats with the rhythm of the tides. Here, barnacles stand on their heads and wave their feathery legs in the currents, and brilliant ochre stars ply the rocks.
Sandy Shore & Aviary
Investigate a world of mud flats and marshes rich with life, a place where long-legged birds ply the sands and flounders lie flat to keep from being found. Watch birds forage for insects, just as they would in the wild, and gently touch the back of a bat ray as it skims along the bottom of the touch pool.
Sea Otters
Enjoy the antics of playful sea otters as they romp, tumble and wrestle like their brethren in the bay. On the second floor of the exhibit you can watch them swim at the surface, while first-floor windows give an underwater view of their lively acrobatics.
Splash Zone & Penguins
Discover a place where families can explore the ocean together. Dive into a kelp forest, visit a coral reef kingdom, and explore a rocky shore. Rockfish, sharks and penguins call these places home. Meet them in their magical worlds.
Life on the Bay
The Aquarium sits perched on the edge of Monterey Bay, so the ocean views from the decks are stunning. Spot wildlife such as sea otters and humpback whales. In the Marine Mammal Gallery, you'll find life-size models of whales and dolphins swimming overhead, and learn about life on the bay.
March 2015
March 2015
Awesome, Amazing and a good time had by all. It is overwhelming at first and seems to be of a maze to venture through but be sure to see it all! It takes a good two hours or you have missed something! Definitely get your tickets ahead of time or you will be in a very long, slow line to the ticket counter. A must see if in the area.
Advertisement
Advertisement