Enjoy a night out in Montevideo with a dinner and dance show. Watch in amazement as professional dancers perform an array of Uruguayan dance including tango, candombe and milonga. Attentive staff serve your meal straight to your stage-side table so you can dine while watching the entertainment. Enjoy traditional Uruguayan dishes and dessert accompanied by wine — it's the perfect introduction to Uruguay!
Highlights
Uruguayan dinner and tango show in Montevideo
Watch some of South America's best tango dancers perform on stage
Try traditional Uruguayan food, such as barbequed meat, during dinner
See dancers perform milonga and candombe – both traditional Uruguayan dances
What You Can Expect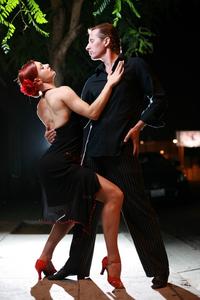 Enjoy a night of extraordinary entertainment in Montevideo at a traditional tango dinner show. After making your way to the tango hall, you're greeted by professional waitstaff who lead you to your table, located near the stage for optimal viewing while you dine.
During the performance, see exceptional dancers
and live musicians
perform tango and other types of folkloric dances of Uruguay.
Be mesmerized by the milonga, a style of dance related to tango, and marvel at candombe — a complex dance descended from African slaves in South America.
You're served a variety of authentic Uruguayan dishes for dinner, including barbecued meat, accompanied by wine, soda or juice. Top off you meal and evening entertainment with delicious flan and dulce de leche (creamy caramel)!
October 2015
Steven U United Kingdom
December 2014
This was an amazing night out very good value for money
October 2014
The show was much better than what we anticipated since it wasn't just tango. The show also included typical Folk/Gaucho dancing as well as Candombe which is also a very unique music/dance from Uruguay with African influence. The food and the service was excellente as well...the price was very fair considering that is a show that you can only experience in Uruguay. If you visit Montevideo I would highly recommend this show!!!!
January 2014
April 2016
the gets a 5 star, very good, the service 5 star, food 3 stars.
good experience
waferworld USA
April 2014
Cool, nice show good food.
April 2014
Great show and dinner, we had a nice time.
April 2014
I loved this show, the only reason why I did not rate it as 5 star is because the food (we all had steak) was pretty bad! the chairs uncomfortable and old and uneven, while the food was not great (except for the ice cream at the end) they had plenty of wine (not great but drinkable) the waiters and people at El Milongon were wonderful and the show itself was over the top. Great singers and dancers! Forget the food who cares enjoy the great show they put together.
April 2016
May 2015
Although there are better tango shows in Buenos Aires, this one was also interesting. The venue is in an out of the way neighborhood, but the place itself has its charms. The restaurant is atmospheric, and the waitstaff were very efficient and courteous. You will see a different form of tango here than in Buenos Aires that is more African-influenced and not as stiff and stylized. There is also a gaucho performance that you may not see in Argentina. I spent an enjoyable evening at this venue with tourists from many different countries.
Advertisement
Advertisement