Get a taste of Montreal's Little Italy neighborhood on this guided, 2.5-hour culinary walking tour. Montreal has the second largest Italian population in Canada after Toronto. Explore the streets of this delightful district and taste a wide range of exclusive local foods at popular eateries, specialty grocers, food boutiques and the famous Jean Talon Market, the largest outdoor market in Canada. Along the way, learn more about Montreal's Italian community and the neighborhood's development from trendy shops to authentic institutions.
Highlights
2.5-hour food tour of Montreal's Little Italy neighborhood

Explore Jean Talon Market, North America's largest outdoor market

Sample local delicacies at specialty grocers, popular restaurants and food boutiques

Taste pemmican (a dried meat), wild meat sausage, cannoli and more!

Knowledgeable foodie guide

Recent Photos of This Tour
Food Tour of Montreal's Little Italy Including Jean Talon Market
What You Can Expect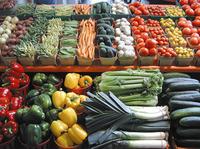 Begin this culinary tour of Montreal's Little Italy neighborhood at the famous Jean-Talon Market, Canada's largest outdoor market. Crowds of visitors have been flocking to the multicultural market since 1933 in search of fruits, vegetables and flowers, plus a collection of specialty shops featuring spices, oils, cheeses, meats, pastries and other products exclusive to Québec.
Also, visit popular local restaurants and specialty grocers to sample local favorites like fiddle heads, wild meat sausage, artisan bread, cannoli with coffee and authentic native pemmican.
Along the way, learn about the rich heritage of Italian Canadians in Montreal and see historical sites like the Church of the Madonna della Difesa, built by Italian immigrants to the city; nearby Dante Park and the Saint Laurent Boulevard, one of Montréal's most vibrant arteries and the heart of Little Italy.
June 2015
I had a great time. The tour guide was very charming and enthusiastic about the various food options that Montreal has to offer and the history of the city. I highly recommend it!!
December 2014
This was our most enjoyable tour of our four day stay in Montreal. Our guide was excellent and made for a fun afternoon. It was fortunate that we arrived early. The designated pickup spot was very difficult to find. I would suggest a more prominent location.
October 2014
Great to visit all the shops around the Jean Talon Market too! Loved the Jean Talon Market, made us want to live there just so we could shop there.
June 2014
The tour was EXCELLENT. Our guides brought the tour alive by integrating the background history, culture, and economics into the foreground of the food tour. This background gave us an evolutionary perspective on the people, market, and food.
September 2013
This was a 2 and 1/2 hour food tour taking place in the Montreal Jean Talon market with a bit of little Italy (the Madonna della Defesa (Our Lady of Protection) Church and Dante Park) . Lise our guide who was very nice took us around the market where we started first by tasting some Turkish delight , then some local made bread , after that we went to taste 2 different cheeses (black goat cheese and Charlevoix Hercule cheese) with Spruce beer . Next, we continued exploring and reached a sausage stand that had sausages made of : Bison , Deer , Duck , Boar , etc... We took Bison (excellent) and Boar (not bad). During the walk we were explained the history of the Madonna Della Defesa church and the Dante's Park. Last we reached the International cafe where we had a cannolli and a cappuccino (simply delicious).

Overall very interesting and Lise the guide was a delight.
September 2015
Tour could have included more tastings. Our guide was very knowledgeable about both food and its history. Really liked the Jean-Talon market.
September 2015
Food was excellent on the tour!!!! Nice variety!! Very impressed with Jean Talon Market, bought a lot of tasty fruit and veggies after tour.
June 2015
The tour and food were great! There were times when the pace was slow, but overall a fun experience.
November 2012
The food Tour was extremely informative-the samplings of food were like a Reward for choosing this tour. The walk was very comfortable, all locations were within easy access to the Jean Talon Market. The guide offered many historical highlights of the area as it evolved from just a bus terminal area. The Italian neighborhood was interesting.
September 2015
Very interesting and tasty tour of the jean talon market with Stacy, who was a ball of information and a very nice young woman too! And the last stop at the Internationale for real fresh cannoli was a fine touch. Only recommendation would be to add more of Little Italy which then would've ranked a 4th star
Advertisement
Advertisement