Delight your taste buds with this small-group wine-tasting tour from Montreal to Quebec wine country. This tour is a unique winter experience that reveals the secrets behind one of the region's world-renowned products: ice wine. You'll take exclusive tours of three wineries, take an ice wine cocktail-mixing class, enjoy wine tastings, and savor a gourmet lunch.
Highlights
Ice wine tour from Montreal with a local guide
Visit three vineyards to enjoy private tastings and exclusive tours that aren't open to the public in the winter

Take an ice wine cocktail-mixing class from the vineyard owners
Savor a gourmet Swiss lunch including cheese and meats
Transport by comfortable mini-coach
Small-group tour limited to 24 people ensures a more personalized experience
Recent Photos of This Tour
What You Can Expect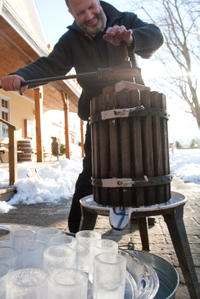 You'll be picked up from downtown Montreal or Old Montreal in the morning and be taken by comfortable mini-coach through beautiful Quebec wine country.

On your unique ice wine tour, you'll be welcomed by the owners at three vineyards. Start with an ice wine cocktail-mixing class, where you'll learn tips on how to create the best flavors with this refreshing drink, which is a type of dessert wine produced from grapes that have been frozen while still on the vine.

For a more comprehensive overview of this world-renowned product, you'll be led on exclusive winery tours that aren't open to the public in the winter. Feel like a privileged insider as you discover secrets about the ice wine-making process that few others know! Follow that up with some tastings of this unique wine.

Your tour includes a local, gourmet lunch -- inspired by Swiss raclette -- that includes cheese, charcuterie (cured meats) and grilled vegetables. Pair your salty bites with a green salad and glass of wine. At the end of the day, you'll be taken back to Montreal.
May 2015
Excellent way to depend the day! Nicholas our tour guide was very knowledgable and easily translated from French to English making sure we all understood the process of winemaking. . The wineries were all very nice and we tasted some great wines. Nicholas's humor and wit quickly brought our group together and we all became friends which led to hours of laughter.
Thank you for a very fun and enjoyable experience.
Steve and Ramona
Massachusetts, USA
April 2015
Awesome tour guide. Great time and well worth the investment.
April 2014
Fantastic tour! Tour guide was very nice, informative, and had a great sense of humor. You are treated royally to amazing wineries and great people. Mixology class.was great fun and tasted exceptional. I recommend this to anyone.
March 2014
March 2014
We had a very nice time. The guide was pleasant and informative. The bus was comfortable. The wineries were great. We really loved the mixology course but are still waiting for our recipes to be forwarded to us!
March 2014
The Ice wine tour was a delight , you visit 3 places : 2 wineries and 1 cider .The whole trip was smooth and fun with Michel our tour guide. "Domaine Les Brome" was our 1st stop for wine tasting and Mixology cocktails (Many Tastings) . You also get a lot of explanations on how ice wine is done .Then we headed towards the 2nd winery called "L'orpailleur" where you also have a lot of ice wine tasting and bubble wine too. We were informed about the history of the winery too ."L'orpailleur" has a small eco museum related to barrel making and many other thing related to wine making. At the 2nd stop we had our lunch : Raclette (which was cold meats , raclette cheese , a piece of bread and salad). Last we went to the Cider called "Union Libre Cidre Et Vin" where we have a lot of Cider tasting with some cold meats/cheese. We had the pleasure of tasting the Fire Cider and Apple Syrup on ice (delicious). One of the owners Anoushka was extremly passionate about what she does and made the visit super enjoyable. Overall highly recommended - the reason for the 4 stars is the lunch which could have been better and would have made this trip Perfect.
Advertisement
Advertisement