Take a big bite of Montreal's thriving culinary scene during this small group, 3-hour food tour of six food vendors in the city's celebrated Mile End district. This historic area, dotted with pubs, cafes and small restaurants, is the perfect location for a food-focused tour. Enjoy a Montreal-style bagel at St-Viateur Bagel, sample vegan food at La Panthère Verte (The Green Panther) and taste locally-raised meats at Boucherie Lawrence, among others. Along the way you'll hear about Quebec's gastronomic history and admire landmarks like the Rialto Theatre. This small-group excursion, limited to just 16 guests, also includes a local guide.
Highlights
3-hour food tour through Montreal's Mile End neighborhood
Explore one of the city's most popular neighborhoods for food and culture
Visit six local restaurants, bakeries, shops, and an antique theater with a knowledgeable guide
Sample vegan falafel, cheese, Greek pie, bagels, chocolate, coffee and more
Visit one of Montreal's most prestigious antique venues, the Rialto Theatre

Small group tour with a maximum of 16 people ensures a personal experience
Recent Photos of This Tour
Mile End Montreal Food Tour
What You Can Expect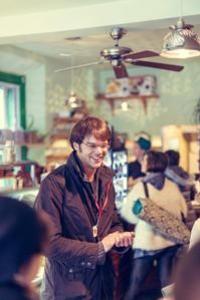 Sample the amazing gastronomic diversity of Montreal during this small-group, 3-hour food tour, limited to just 16 guests. During the course of your visit covering 1.3 miles (2.2km) you'll sample a range of Quebec's and Montreal's food specialties, as well as culinary delights from around the world.
Start your visit in the bohemian enclave of Mile End at 11am where you'll meet your guide. This hub of creativity has long been home to a wealth of artists, writers and musicians like The Arcade Fire. Head with your guide to the day's first stop at La Panthère Verte (The Green Panther), a vegan eatery located on Rue St Viateur, famous for its crispy falafel.

Continue the excursion by walking to Cholaterie Geneviève Grandbois, where you will savour a decadent brownie and a hot chocolate. Proceed next to the famous Bagel St-Viateur, a store that's been producing what many consider to be the world's best bagels since 1957. Then take some time to burn off your calories as you walk to the Rialto Theatre, a 1920s-era theatre, modelled on the Paris Opera House. Once you have sufficiently digested, you can get excited for some more outstanding bites.

You will savour a Wilensky's "Special" sandwich at the iconic Montreal lunch counter, or if it's a Sunday, you will venture to Boucherie Lawrence, a local butcher shop that focuses on selling locally-raised meats. During your stop you'll get to sample some delicious cheeses accompanied by charcuterie (selections of sausage, pâte and cured meats).

Next stop is Dhrogheria Fine, a tiny shop dedicated to one single, delicious thing: pasta sauce. Franco, the owner, reproduces his Italian grandmother's recipe and serves it with fresh gnocchi. If it's summer and not raining out, save some room for ice cream! Skip the line at Kem Coba, Mile End's notoriously exquisite ice cream shop. During the colder months and rainy days, you will have the chance to end your tour in delight at Boucherie Lawrence.

June 2016
Ohh my goodness, I absolutely LOVED the tour! We had organic falafel pita, pasta in homemade sauce, chocolate, bagel, meat and cheese (I skipped the meat bc I and #39;m vegetarian), checked out a theatre, alley, and bakery place. Amazing, informative, and delicious! Also, my guide was incredibly sweet.
June 2016
The Mile End Food Tour in Montreal was spectacular!! To begin with, Mile End is a very fascinating part of the city to visit, so we were glad the tour was held here as we might not have otherwise had the chance to experience it. The guide was very knowledgeable about the area and presentation was done well. She was more than happy to answer questions. All the food we were given at different places was excellent and we were shown a lot about the eateries. We highly recommend.
June 2016
Interesting leaders, area, nice weather and really great and varied food. Nice history and orientation to area.
June 2016
Super interesting tour!!!!!
June 2016
Our tour guide was very knowledgeable about the history and the various ethnic foods around the area. The food sampling was absolutely delicious to say the least.
Michael. C. Barbados
June 2016
June 2016
Despite the less than optimal weather, the tour was wonderful. There was plenty of food and our guide Justin was delightful. He has lived 15 years in the Mile End and clearly loves the neighborhood. He was very knowledgeable and kept us entertained with stories and facts. I highly recommend!
June 2016
The tour was great! The perfect mix of food and history. Our guide Darren was fantastic! He was knowledgeable and friendly. I was in a wheelchair due to a medical issue, and he went out of his way to accommodate this. I really appreciated being able to go on the tour. A fantastic time!
June 2016
What a wonderful tour! Darren was an amazing guide. So nice and informative and helpful. His love of the area shined through, and his enthusiasm made the tour so much fun! The food was delicious at all of the stops! Thanks for putting together such a great tour!
June 2016
Our group of eight women had a great time on this tour. The food was fantastic, but it was our guide who really stood out. Darren was knowledgeable with a great sense of humor and helped us navigate the streets of Montreal with a member of our party in a wheelchair. He was so accommodating in tough situations that weren't particularly wheelchair-friendly. We're so appreciative that he made it a pleasant day instead of viewing our circumstances as a problem. Would recommend this tour to anyone looking to get a snapshot of Montreal and leave with a full stomach!
Advertisement
Advertisement