Fly above the city of Montreal and its surrounding islands on an exhilarating, narrated, 25-minute seaplane adventure. This hybrid air-water Montreal seaplane tour includes lift-off on the Saint Lawrence River followed by stunning bird's-eye views of the city skyline, Old Montreal, the Old Port, Olympic Stadium, the Montreal Biosphere, Mount Royal Park, the neighboring islands and much more.
Highlights
Seaplane flight over Montreal
Admire aerial views of Quebec's largest city
Gaze down on the St Lawrence River, the Olympic Stadium and Mt Royal Park
See Old Montreal, the Old Port and Jean Drapeau Park
Learn about Montreal and its famous attractions from an experienced pilot
What You Can Expect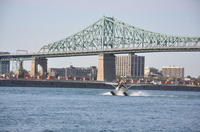 When in Montreal, it probably seems impossible to experience everything the city has to offer. That's why this journey above and around Quebec's largest city covers it all — from the land to the sea to the air — for a thrilling perspective on this breathtaking region.
This 25-minute seaplane tour begins at the first urban water airport in Quebec — Hydro-Aéroport Montréal Centre-Ville on Saint Helen's Island. Following a pilot meet and greet, it's time to take to the water and the sky, beginning on the Saint Lawrence River. Head north near the Jacques-Cartier Bridge while climbing higher into the sky, looking down on the river before turning over Olympic Stadium, then over the edge of Mount Royal Park for a great view of Saint Joseph's Oratory, a national shrine and Canada's largest church.
Continue over downtown Montreal before turning back over Old Montreal and the Old Port. Finally, enjoy the view of Jean Drapeau Park on Saint Helen's Island before making a perfect landing on the water back at the airport.
Advertisement
Advertisement