Explore Montreal in the evening during this sightseeing tour that operates from 6pm until midnight, offering you flexibility to see the sights at your own pace. With your evening pass good for six hours, hop on the bus at Dorchester Square to travel around the city, and then get off at any of the stops, which include major attractions such as Old Montreal, Boulevard Saint-Laurent and Mt Royal Park. Plus, you can hop on the casino shuttle for some extra fun at the Montreal Casino!
Highlights
Evening sightseeing tour in Montreal
Soak in nighttime views and enjoy the bustling ambiance of this beautiful city
Begin at Dorchester Square, and see attractions like Old Montreal and Mt Royal Park
Head to the Montreal Casino to try your luck at the tables
Use your pass at any time during the operating hours of 6pm to 12am
What You Can Expect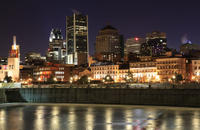 Starting at 6pm, you are free to hop on the London-style double-decker bus at Dorchester Square to begin your evening sightseeing tour of Montreal. Then stay on the bus for as long as you like and hop off at any point by telling the guide on board.
You may re-board the bus as much as you want during the six hours, but be aware that while you may get off at any stop, you may only get
on
the bus at the Dorchester Square stop. So, perhaps you want to hop off at a stop near Dorchester Square, stroll for a bit to the square or do some shopping, and then re-board. Or, get off to have dinner near the square, and then hop back on for more sightseeing.
The bus stops at each stop about every hour. If you want to try your luck at the Montreal Casino, hop on the casino shuttle.
Double-decker bus stops:

Dorchester Square, 6pm 7pm 7:40pm 8:40pm 9:30pm
Montreal Casino (Casino de Montreal), 6:15pm 7:15pm 7:55pm 8:55pm 9:45pm
Old Montreal (Vieux-Montréal), 6:35pm 7:35pm 8:15pm 9:15pm 10pm
Quartier des Spectacles, 6:40pm 7:40pm 8:25pm 9:25pm 10:05pm
Downtown shopping area / Boulevard Maisonneuve, 6:45pm 7:45pm 8:30pm 9:30pm 10:10pm
Rue Crescent (Boulevard Masonneuve / Rue Bishop), 6:50pm 7:50pm 8:40pm 9:40pm 10:15pm
Mt Royal Park (Parc du Mont-Royal, Belvédère Camilien-Houde), 7:05pm 8:05pm 8:55pm 9:55pm 10:30pm
Boulevard Saint-Laurent (Avenue Mt-Royal), 7:20pm 8:20pm 9:10pm 10:10pm 10:45pm
Rue Saint-Denis (Avenue Mt-Royal), 7:25pm 8:25pm 9:15pm 10:15pm 10:50pm
Rue Saint-Denis (Rue Sherbrooke), 7:30pm 8:30pm 9:20pm 10:20pm 10:55pm
Boulevard Saint-Laurent (Rue Sherbrooke), 7:32pm 8:32pm 9:22pm 10:22pm 10:57pm
Casino shuttle schedule:
Dorchester Square 10:30pm
Montreal Casino 10:45pm
Dorchester Square 11:15pm
Montreal Casino 11:30pm
Arrive Dorchester Square 12am
August 2015
I took this tour and because I was the only one on a Wednesday night, and it was a bit chilly, I had the guide to myself. It isn't normally a guided tour, but she sat with me and told me all about Montreal! It was terrific. Caroline was awesome! Beautiful--Montreal at night!
July 2013
Though it was raining and we did not hop-on and hop-off, we enjoyed the trip and the opportunity to see a lot more of Montreal than we would have discovered on our own. We enjoyed the casino, though we did not win any money...and really appreciated being able to walk outside and get right back on the shuttle to go to our hotel. BTW -- the seafood buffet at the Casino was fantastic!
June 2015
Booked this trip and had a lot of fun. It is not a hop on, hop off tour, though you can hop off at the Casino. We were on the bus for about 90mins, just driving around. Was fun. There was just one couple on with us group of three. We sat on the upper level and saw lots of the sights and we whizzed by. If you are short on time...this is a good option. Otherwise book a hop on hop off.
July 2013
Didn't really enjoyed this tour as nothing interesting to see or do where the route takes you-not worth the price you pay,better off just riding the local transit and it's much cheaper too!
Advertisement
Advertisement