Take a spooky stroll through Old Montreal on this guided, 90-minute ghost walking tour. Choose between a traditional Ghost Walk, a unique Ghost Walk and Dark Encounters excursion or a thrilling Ghost Hunt. Then experience a rare tour of the streets and alleyways of Montreal's historical district. Witness Old Montreal's dark side and hear the intriguing stories of the ghosts that still haunt its every corner — tales of crimes, witchcraft, hangings and gruesome events. It's a fascinating, spine-tingling adventure.
Highlights
Discover the dark, grim side of Old Montreal on a ghost walking tour

Follow your guide to Montreal's haunted places in search of the city's notorious criminals and villains

Hear mysterious stories and legends about crimes, witchcraft, hangings and gruesome events

Choose the Traditional Ghost Walk, Ghost Walk & Dark Encounters, or make it more interesting with the action-packed Ghost Hunt!
What You Can Expect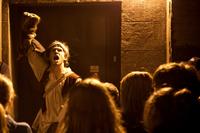 The traditional Ghost Walk begins in Old Montreal, the oldest area in the city of Montreal, with some of its remains dating all the way back to New France.
Follow the expert storyteller guide through the town to discover Old Montreal in a completely different way than the regular tours — in search of its haunted places where a lesser-known, sometimes gruesome history is uncovered. Explore the old city streets, learning of notorious criminals of years gone by. Hear fascinating tales about the crimes and unexplained phenomena that stump even the most-experienced ghost experts.
On the Ghost Walk and Dark Encounters tour, there are witches, con artists and former criminals lurking in the dark corners of the city, maybe around the next bend. Hear about their memories, filled with legends, somber stories, criminal activity, morbid mysteries and much more.
The Ghost Hunt involves teaming up with fellow travelers to search the streets for the ghosts of famous criminals, villains and heroes. Using a provided map of the area, hunt these spirits, reliving some of the most infamous crimes in Montreal's long history. Uncover the city's hidden secrets, from hangings to torture to slavery and more. And encounter real-life ghosts, played by professional actors who provide eerie reenactments of Montreal's haunted history — as well as their own demise.
October 2015
Kinda more of a history tour than a ghost tour. Our guide really got into character and we completely enjoyed the time spent with him!
October 2015
loved our guide and his stories
August 2015
very interesting and some parts were exciting to learn about
August 2015
Our guide for this was wonderful! Her story telling and acting was amazing! It was creepy and fun all rolled into one - I would definitely recommend taking this tour.
August 2015
The drama of the guide and the beauty of Montreal by darkness made this an interesting and entertaining tour. Learn history with a dose of reality to the backdrop of Montreal. Great guide.
gingras.c Canada
September 2014
The ghost walk was great! The guide was amazingly animated and passionate about the tour and was very knowledgeable about the area. Would recommend for anyone wanting a neat walk through Old Montreal!
September 2014

August 2014
September 2012
The Montreal Ghost Tour was amazing!! Our guide was very wonderful and he did an amazing job explaining it all to us! I would have liked to do both tours, but we had to leave the next day! I will do this tour again, and would recommend it to anyone!
Sandra S Canada
August 2010
we took the ghost hunt tour, there were 5 of us, 3 adults and 2 tweens. We all really enjoyed the tour. It was very professional and we were all very impressed at how well the actors played their parts. The only negitive point of our whole tour 90min. was an inappropriate comment to one of our tweens at the end of the tour, by the last actor, It frightened one of the tweens. But apart from that I would highly recommend it to these age groups, not for younger children as it is a little scarry. We scored it a 9 out of 10.
Advertisement
Advertisement