27 Reviews
Location:

Montreal, Canada

Duration:

1.5 hours
Immerse yourself in the dark side of Old Montreal on this exciting ghost hunt or ghost walk. After night falls, follow your guide through the hidden streets of Old Montreal and either hear the haunted stories of Montreal or come face-to-face with spooky ghosts! You'll be entertained by legends of criminals, witchcraft and grim events that haunt the city streets.
Highlights
Discover the dark, grim side of Old Montreal on a ghost walking tour

Follow your guide to Montreal's haunted places in search of the city's notorious criminals and villains

Hear mysterious stories and legends about crimes, witchcraft, hangings and gruesome events

Choose the Traditional Ghost Walk or make it more interesting with the action-packed Ultimate Ghost Hunt!
What You Can Expect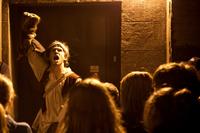 Traditional Ghost Walk
Follow your guide, an expert storyteller, through Old Montreal to discover haunted places where Montreal's dark, gruesome history unfolds. As you explore the city streets in search of notorious criminals and villains, you'll hear fascinating stories about crimes, hangings, fires, witchcraft and mysterious phenomena that stump even ghost experts.

Ultimate Ghost Hunt
Paired up in teams with your fellow travelers, you'll be given a map of the local area and sent off to hunt ghosts! Scour the streets in search of ghosts of famous criminals, villains and heroes.

Relive the most infamous crimes in Montreal's history and unveil the city's hidden secrets, from hangings to torture to slavery. Fascinating tales and encounters await you!

You'll also encounter real-life 'ghosts' -- historical figures played by professional comedians -- who'll entertain you with spooky enactments of Montreal's haunted history, as well as their own demise. This is an experience like no other!
September 2014
The ghost walk was great! The guide was amazingly animated and passionate about the tour and was very knowledgeable about the area. Would recommend for anyone wanting a neat walk through Old Montreal!
September 2014
August 2014
September 2012
The Montreal Ghost Tour was amazing!! Our guide was very wonderful and he did an amazing job explaining it all to us! I would have liked to do both tours, but we had to leave the next day! I will do this tour again, and would recommend it to anyone!
August 2010
we took the ghost hunt tour, there were 5 of us, 3 adults and 2 tweens. We all really enjoyed the tour. It was very professional and we were all very impressed at how well the actors played their parts. The only negitive point of our whole tour 90min. was an inappropriate comment to one of our tweens at the end of the tour, by the last actor, It frightened one of the tweens. But apart from that I would highly recommend it to these age groups, not for younger children as it is a little scarry. We scored it a 9 out of 10.
October 2014
The tour was a lot of fun. A great opportunity to walk around Old Montreal, learn some history and be entertained.
September 2014
It was a perfect night for a Ghost Walk The Narrator was excellent - very articulate, animated, and knew
his history well. However, we were expecting a little more excitement. We were really hoping to see
a few apparitions to appear either in the dark alleyways or disappearing into a haunted establishment.
It would have made it so much better (although not real). . . ..! However, we did have a great time and
I would recommend it just for the history lesson.
Thank you for the experience! J. Thibaudeau
August 2014
An interesting way to see Old Montreal and get a lot of great information. Our tour guide was a bit over-the-top but she was clearly enthusiastic and my son and I had some good laughs.
July 2014
The tour guide was great and he took us to many stops. He was fairly knowledgeable with the local history. Great acting.
December 2013
It was fun, very interesting
Advertisement
Advertisement