View the most beautiful of Moscow's Soviet-era metro stations on this 1.5-hour walking tour. With an expert guide, visit five of the Russian capital's celebrated stations built during the Soviet period as you learn how the lavish, subway Moscow architecture was designed to express a bright, bold new Soviet future. Admire the extravagant décor, chandeliers and sculptures at the stations, including Mayakovskaya, with its iconic mosaics, and hear tales of the sinister Metro-2, a supposed, secret tunnel network parallel to the main system. Moscow metro tours don't come any better.
Highlights
1.5-hour Moscow metro station tour with an expert local guide
Learn about Stalin's reign and how his visions were reflected in the architecture he commissioned
Visit five of the most intriguing Moscow stations: Revolution Square, Novoslobodskaya, Komsomolskaya, Kurskaya and Mayakovskaya
Look for the hidden entrance to the Metro-2 – a secret government line that is said to link the Kremlin to KGB outposts
See iconic Soviet-era architecture alongside lavish mosaics, sculptures and stained glass
Recent Photos of This Tour
What You Can Expect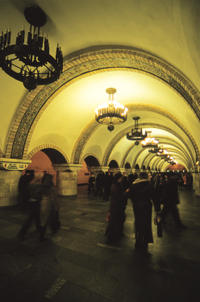 Meet your guide at the Kremlin to begin your 1.5-hour tour of Moscow's historical metro stations. Then, set off with your metro ticket to visit five of the most interesting stations, each a lesson in lavish Soviet-period architecture.
As you explore each station, admire the extravagant design and decoration, and hear how Soviet ruler Joseph Stalin created Moscow's subway to express his power and the might of the Soviet empire.
Learn how some of his successors toned down the architectural indulgence and note the various styles favored during different eras. With luck, you may even come across the entrance to the Metro-2, a purported, secret tunnel network built during Soviet times that runs parallel to the current system, but whose existence has never been confirmed or denied.


Head inside Revolution Square Station (Ploschad Revolyutsii) and view the 72 bronze statues of Soviet workers, including farmers, soldiers and factory operatives that flank the underground arches designed by architect Alexey Pushkin.
Move on to Novoslobodskaya Station, also designed by Dushkin, to see its stunning stained-glass panels. Then, visit Komsomolskaya Station to admire its baroque-inspired decoration, vaulted ceilings and grand chandeliers.
Next, take in the ostentatious design of Kurskaya Station — one of the first to be built. Hear how its architecture reflected Stalin's communist ideals and see the socialist slogans inscribed on the walls next to mosaics celebrating Stalin's 'victory' over poverty and starvation.


Lastly, visit Mayakovskaya Station, considered the most beautiful of all. Named after the Russian futurist poet Vladmir Mayakovsky, its Art Déco corridors are crowned by some 30 ceiling mosaics showing Stalin's vision of a bright-skied Soviet future.
Having explored here, your tour then ends outside Mayakovskaya station when your guide departs.

June 2016
This tour is a MUST DO! The Metro in Moscow is absolutely amazing! I loved learning the history of the stations, and the beauty of the stations is unbelievable!
June 2016
The tour was very interesting. Friendly and informative guide who not only showed us the highlights of the metro, she also informed us of how to use the metro which gave us the confidence to travel to different destinations all over the city on our own. Not being a Russian speaker its challenging.
June 2016
Our tour guide Elena is great. Her English was just awesome and she explained very good, the organisation was perfect. She showed pictures, she is funny, made cute comments and so on. Fully recommended.
June 2016
5 star since the guide was so knowledgeable. great way to learn about commie influence and how much of this actually is propaganda for the people. Now Moscow is left with the most beautiful metros in the world.
April 2016
Excellent tour guide Marina!
January 2016
Thanks to Irina - the tour was really great.
Very interesting.
November 2015
Irina was very informative and slick, covering 11 stations in 90 minutes. Beautiful stations, each with its own historical background and significance for the Russian people.
November 2015
Fantastic! Elena was out guide for this and the free tour - great interaction with the group funny great stories very interesting - GREAT, do it!
November 2015
Our tour guide irina was excellent. She was enthusiastic , informative, and was very competent in her grasp of the metro,s history.at all times she was there to answer any questions. I highly recommend her and this tour.
October 2015
This tour was really great value and well worthwhile. We visited about 8 amazing stations and our guide was very informative and entertaining......highly recommend to all travellers to Moscow !
Advertisement
Advertisement