Experience the exhilaration of shooting a Kalashnikov (AK-47) assault rifle during an adrenaline-fuelled 2-hour shooting experience in Moscow. Visit the renowned Central Shooting Club to fire Moscow-made weaponry in an authentic Russian Army shooting range. Opt to purchase more bullets if you wish to continue taking aim and keep your bullet-ridden target as a special souvenir of your unique experience. Receive direction from an expert instructor throughout your experience, for which no prior experience is necessary.
Highlights
Shoot 20 bullets from a Kalashnikov (AK-47 assault rifle)
Enjoy the authentic atmosphere of a Russian Army shooting range
Keep your target and show it off as a Russian souvenir
Purchase more bullets for an additional fee
Safety training, equipment and 20 bullets included
Recent Photos of This Tour
Moscow Shooting Experience: Shoot an AK-47 at the Central Shooting Club
What You Can Expect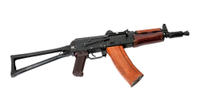 Greet your private guide at your Moscow hotel and take the Metro train to the Central Shooting Club of the Russian Army Training Society in Moscow. On arrival, listen to a comprehensive safety briefing and learn how to fire your classic Ak-47, one of the first assault rifles to be manufactured worldwide.
Receive an insightful introduction to the notorious gun from your knowledgeable guide and then don your protective gear and make your way to the shooting range. Feel your excitement heighten as you load your ammunition and prepare to take aim at your stationary target.
Shoot 20 bullets during your exhilarating experience, opting to purchase more if you so desire. Your instructor is available throughout to answer questions and help perfect your technique.
Receive your target as a special souvenir when your leave the shooting range and then return to your hotel with your expert guide when the tour concludes.
Allyson W USA
April 2016
Take this tour!! I took the 8pm tour. Tour guide, Ksenia picked me up at the hotel, we took the Metro to the shooting range. Make sure you take your passport, they will need it to sign you in before you can shoot. No pictures allowed, you are allowed to keep your target when you finish. Exciting tour, Enjoy.
November 2015
Great tour. Above all - great guide - Victoria. She has a lot of knowledge, is very easy-going and friendly person. She speaks very good English. Was with us almost the whole day - it happened she was our guide during Kremlin tour and also on Moscow Shooting Experience - both tours we took on the same day.
The shooting also tremendous, the only failure - we were not allowed to take photos on the shooting facility. Apart from this - very cool experience. I recommend it to everybody!
February 2015
Especially our guide was awesome. She interested with us about any issue. Thank you for all.
December 2014
I absolutely recommend this tour. Our guide was really cool. She picked us up on time and managed everything perfectly. It´s a little bit expensive, but it is worth it.
Anonymous
December 2013
This was a wonderful experience. We had so much fun and our guide was great. We were lucky because there were few people in the shooting club so we enjoyed even more. It was exciting to shoot with an AK-47 and the shooting distance is challenging. Recommended.
December 2013
It was great!!! Our guide tell us all about Kalashnikov history and he was very nice and friendly. Once in the shooting club, the instructor explained how to use the AK-47 and we had 20 shoots with that. I had a lot of fun and I recommend this tour.

July 2013
My guide was maria and she was great not noly she spoke perfect english but she helped me with my russian took the metro which is a real easy way to get around then went to the club and my instructor was also great . Overall it was an awesome experience ak47 is only one of the weapon you can choose there is plenty other handguns and machine guns and sniping rifle that are also available for extra money.once again thanks maria you were awesome

September 2013
Eugene was FANTASTIC as a guide. He picked us up from our hotel, and took us to the shooting range for this unique experience. We had a great time. The only problem is that it took a little longer than expected due to the wait at the shooting range. It all depends on how many people are waiting before you, so budget an extra hour for this excursion. Thanks Eugene!
May 2013
A quick heart-pumping experience well worth it!
February 2013
This tour was great and we really enjoyed it. The only downfall was it took nearly 45 minutes of walking and catching subways to get there.
Advertisement
Advertisement