Lift the lid on Moscow's dark and sinister past on this 2-hour small-group evening walking tour. Accompanied by a knowledgeable local guide, leave the tourist trail behind to delve into some of the city's most intriguing suburbs, squares and side streets. Hear spooky tales as you ride the famous 'Annushka' tram around the illuminated boulevards; listen to sinister stories about sorcerers and secret worshippers; visit elegant Khitrovka, once the home to Moscow's 19th-century criminal underclass.
Highlights
2-hour walking tour of Moscow at night
Take the tram along the 'Annushka' route
Visit Khitrovka, once the most criminal district of Moscow
Head to the tranquil neighborhoods of Chistye Prudy and Kitay Gorod
Check out the Soviet-era décor at Cheburechnaya, an authentic pub
Hear urban legends and historical tales about sorcerers and freemasons
Small-group tour limited to 20 ensures a personalized experience
Recent Photos of This Tour
What You Can Expect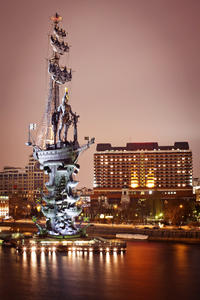 Begin your 2-hour walking tour when you meet your friendly guide at the Alexander Griboyedov monument in the elegant Chistiye Prudy district of Moscow.
Learn about Griboyedov, the Russian poet murdered while serving an ambassadorship in Persia in 1829, and then follow your guide around the back streets as you hear captivating tales of Moscow by night.
Board the iconic 'Annushka' tram that runs around what's left of Moscow's famous 'A' route. Trundle along the illuminated boulevards and, as you travel, see several interesting landmarks as your guide recounts their history.
Continue to Kitay Gorod, Moscow's oldest neighborhood. Stroll around the avenues lined with Russian and Soviet-era architecture, and get glimpses into Moscow's contemporary nightlife as you pass some of the city's most popular bars and clubs.
Spill out into Khitrovka, an elegant square with a dark history. As you take in the handsome buildings, hear how the area was the hub of criminal activity in the 19th century, when thousands of peasants and convicts took shelter here.
Hear tales of Moscow's criminal fraternities as you view landmarks such as Archangel Tower, and see the former home of Jacob Bruce, a 17th-century count rumored to have dabbled in witchcraft.
Visit Kilometer Zero, where a plaque marks where many of Russia's distances are measured. Toss a coin here as your guide shares intriguing stories about the nearby buildings, some believed to have been secret places of worship.
Finish your tour at the
Cheburechnaya
Café, one Moscow's few remaining Soviet-era pubs, whose name derives from
cheburek
– a type of meat-filled turnover.
Savor the vintage setting and enjoy some Russian beer and a traditional snack at your own expense. Your tour concludes at the café.
May 2016
Had a great tour with Elena, at the end of april.2016. Short but comprehensive, lots of fun facts and interesting information. I felt great all the time, the guide answered each and every of my questions without hesitation. I strongly recommend for everyone looking to get out of Moscow's most touristical areas and feel the vibe of the city and how it turned into what it is now.
March 2016
Great tour, friendly knowledgeable guide and nice, small group.
Did two tours with the same guide Elena - she was great!
July 2015
Great. Elena the guide is knowledgeable and enthusiastic and showed us some wonderful little neighborhoods that tourists wouldn't normally see.
June 2015
Excellent tour guide (unfortunately, her name escapes me at the moment) with a wealth of knowledge on the Soviet era. Highly recommended for history enthusiasts.
July 2014
Great guide to take us to the night spots of Moscow. Something we would not have seen if by ourselves.
June 2014
I had the best guide for my moscow trip. She went out all the way to provide guidance throughout the walking tour and had actually gone an extra mile giving me the best memories of moscow at night.
Showed me all the main places of interest, taking lots of pictures for me and providing me with lots of information. The best guide!!!
June 2014
Fab Tour something a little different. Maria the guide was so knowledgeable. Well worth it. Thank-you
December 2013
It was fun. Even thou I don't like to stay up all night I had a very good time.
September 2013
A very different tour.. Very enjoyable thanks to the tour guide! Very knowledgeable and a barrel of laughs! He has a great sense of humour which made all the difference.
Also extremely helpful! The guide makes this tour
July 2013
Excellent tour and very knowledgeable guide with very good English language skills. Highly recommended.
Advertisement
Advertisement