Enhance your sightseeing experience of Moscow on a private 6-hour walking tour of the city's architectural and historical highlights. Accompanied by a knowledgeable private guide, visit monumental landmarks like the Bolshoi Theater, the former KGB headquarters and St Basil's Cathedral. Gain fascinating insight into the historical heritage of the unique capital city and tour the Moscow Kremlin, former residence of exuberant Russian tsars. Relish the flexibility of this private tour and receive undivided attention from your expert guide.
Highlights
See the major sights of Moscow's city center
Walk from Red Square past Lenin's Mausoleum and the Moscow Hotel
Tour the Moscow Kremlin, former residence of Russian tsars
Search for souvenirs such as Russian dolls on Arbat Street
Learn about Russian culture and history from your private guide!
What You Can Expect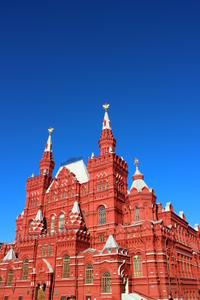 Greet your expert guide at your Moscow hotel and embark on your explorative walking tour at a central city location. Marvel at the vibrant St Basil's Cathedral, a colorful 16th-century Russian Orthodox church, and then stroll past Lenin's magnificent mausoleum and the grand Historical Museum.
Admire the neoclassical splendor of the Bolshoi Theater, home to the renowned cultural institutions of the Bolshoi Opera and Ballet, and then watch a mesmerizing changing of the guards ceremony outside the Tomb of the Unknown Soldier. See, too, the opulent Moscow Hotel and the infamous former KGB Headquarters.
Amble onwards to the globally renowned Moscow Kremlin and commence a guided tour of the ostentatious fortress, formerly inhabited by extravagant Russian tsars and communist leaders. Gaze at the stained glass windows of the Assumption Cathedral and admire the stunning chambers of Russian emperors.
Head next the Christ the Savior Cathedral, Russia's largest church, and hear intriguing legends that surround the structure. Conclude your tour with a relaxed wander down Arbat Street, home to enticing boutiques selling iconic Russian matryoshka dolls.
At the end of your tour, bid your private guide farewell after returning to your Moscow hotel.
June 2016
Anya was fantastic. Jamie and I had a wonderful day. Her quiz questions kept us on our toes all day. Anya wa s on full of energy, facts and enthusiasm. Well done Anya. We so appreciated your knowledge and great style. Diana
December 2015
Great English speaking tour guide who added insight into the daily life of Moscow residents.
September 2015
Did this tour the following day after arriving in Moscow. The tour guide was very informative and spoke very good English. Did not have to wait in any lines for tickets to the Kremlin, HIghly recommend this tour.
June 2015
This is a very close second to the best city tour I have had and I am strictly speaking from the experience enhanced by the guide and not the city itself. Our guide, a part time IT consultant paced the journey perfectly, encouraged interaction and complicated questions and a 6 hour walk one one of the hottest day in Moscow passed us by. The choice of restaurant for lunch was amazing as well. A strong recommendation as just a separate Moscow tour just would not do without including the Kremlin.
June 2014
This was the highlight of our recent tour to Russia and all because of our amazing guide - Liudmila. It was just my husband and I on the tour and we were therefore able to decide where we want to go and Mila went out of her way to make it special - not only in what she showed us, but also in what she shared with us - and her English is amazing! It was a long day, but we saw everything we wanted and more and had a really interesting lunch at a typical Russian restaurant - loved it. If you are going on this tour ask for Liudmila to be your guide - of all the guides we had in Russia, she really stood out as the best! This is one tour you cannot miss when visiting Moscow.
March 2014
The private walking tour of Moscow was wonderful. Antonia and Airat were very friendly and informative. They made our trip to Moscow a memory we will always cherish.
croman USA
December 2013
Wonderful and amazing. Fantastic day, great sights and a wonderful guide.
December 2013
The tour was not as booked due to a miscommunication between the company and tour guide so ended up just making up the last couple of hours of the tour as it had not been planned for the full day as booked.
June 2016
This was the most sub optimal tour I have taken in a Long time. Anna the guide was hardly qualified to lead a private tour. She had charm but little in the form of knowledge of the history, culture and art of the place of which there was plenty on display. I could have done miles better on a self guided tour. Not value for money at all. In contrast read my review of the St Petesburg walk.
April 2015
The guide company forgot to turn up. After waiting half an hour at our hotel we rang and they lost our booking and forgot to turn up. We were offerred a tour much later that day or the following day but that didnt suit.
We ended up visiting the Kremiln by ourselves which was actually very easy
Advertisement
Advertisement