14 Reviews
Location:

Mount Cook, New Zealand

Duration:

40 minutes

(approx.)
The premier flight over this amazing alpine region with vast snowfields, glaciers and a spectacular view of New Zealand's highest peak, Aoraki/Mount Cook. Fly towards the Tasman Glacier and land high above it where you can step out of the helicopter and experience what it feels like to stand on snow atop a mountain. Enjoy the incredible vistas and a close up view of Aoraki (Mount Cook) from your landing site, then take off again and traverse the Southern Alps to view the mighty Fox and Franz Josef Glaciers. Marvel at the huge expanses of snow at the head of these crevasse-filled rivers of ice, as they journey slowly down towards the native rainforests of the rugged West Coast.
What You Can Expect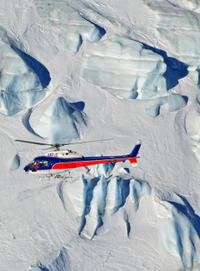 With its ability to hover, land and provide access to some of New Zealand's most remote areas, a helicopter is the ideal choice for sightseeing that will take you up close to towering peaks, crevasse filled glaciers and sparkling waterways. Learn about the stunning landscape as your professional pilot delivers an informative commentary en route.

Aircraft:
The fleet consists predominately of European AS355 Twin Engine Squirrels (seats 06 passengers plus pilot). They are ideal aircraft for scenic flights, with an open plan cabin making for excellent views for all passengers. The Helicopter Line has the highest levels of Civil Aviation Authority certification for scenic helicopter operations, this involves regular monitoring and audit of all aspects of the operations.
March 2015
Fantastic. Well worth it. If you haven't been in a helicopter before that adds to the excitement.
February 2014
A HUGE highlight of our honeymoon. Unfortunately, our camera was stolen a couple of days later before we had a chance to download our pictures, but as my wife says, "that just means we have to go back!" What a HUGE trip this is. Stunning scenery and landing on the glacier is a highlight. The only downside is that not all the headsets were working, so the pilot commentary wasn't heard by all. But that's a minor point.
December 2013
This excursion was a big thrill for us as we expected it to be. Our son is physically disabled and we were nervous about getting him into the helicopter but we managed by using a small step stool and some good old elbow grease .i.e. lifting. The scheduled ride was tentative due to strong winds in the mountains but we made a slightly modified run, landing on a field of ice rather than a glacier. The thrill factor was present throughout the flight as the mountain and glacier scenery is simply amazing. The pilot was very informative and accommodating asking us if we wanted to stay longer in some areas. There were four of us and we will never forget this spectacular New Zealand experience.
June 2013
What an amazing experience. You do not realise the enormous area of the alps until you can view them from above in a helicoptor. The walk in the fresh snow on top of Mount Cook was exhilarating. A 'must do' if you get the chance, from either Mt Cook (Glentanner), Fox Glacier or Franz Josef.
April 2013
Very professional and considerate towards their customers.
March 2013
The staff were friendly and very helpful. The actual helicopter ride was amazing and the pilot was good at informing us of where we were, what we were seeing, giving us background on the glaciers/area and also reassuring us when it got a little bumpy. Landing on the top of the glacier for photos was awesome. Definitely a highlight of my trip!
February 2013
The organisation at base office was friendly and professional, our Pilot Marcus left us with the feeling that he enjoyed his work taking great pride in explaining all the features of the flight. It was my wife's Christmas present, she was smiling from start to finish there is no better accolade
August 2011
Quite amazing and definitely a must for anybody visiting New Zealand. Unexplainable, you have to experience the trip to really "get it"
February 2009
This trip was truly amazing. We saw all there is to see and the landing on the snow was fantastic. We were booked to fly the following day but when we phoned earlier to confirm our booking etc we were offered this flight a day earlier as the weather was good - we just had to 'race' up from Queenstown to do it - and it was well worth it as the sky was almost cloudless - perfect! Thanks to all at the helicopter base for accommodating us. Just one downside. The helicopter seats 2 people in the front seat and 4 people in the rear seat and we were advised before the flight that although we were in the rear seats for the first part of the flight, seating is rotated after the snow landing to allow some of those in the rear seats to sit up front but the others on the same trip as us ignored this and took the front seats both times. We didn't want to cause a scene, but you need to make this much clearer to everyone going on the flight to make it fair to everyone.
February 2009
Stunning vistas, excellent scenic flights and covered lots of area including circling around Mount Cook. Brilliant snow landing too.
Advertisement
Advertisement