11 Reviews
Location:

Mumbai, India

Duration:

Varies depending on tour chosen
Take a walking tour of the Dharavi slum on this unique exploration in Mumbai. Follow a knowledgeable guide through Dharavi's narrow alleyways, where you're introduced to local residents and their small-scale industries — recycling, ceramics, embroidery, soap making and more — all manufactured by innovative means. You'll gain an appreciation for the determination that exists beyond the poverty of this strong community! Travel on your own or by rail with a guide, or upgrade your tour to include round-trip transport by air-conditioned vehicle and see points of interest along the way.
Numbers are limited to six people, ensuring an informative experience with a small group.
Highlights
2.5-hour walking tour of the Dharavi slum in Mumbai
Explore the narrow lanes, shops and industries of Dharavi with a knowledgeable guide
Visit a local community center, funded by proceeds from your tour
Learn how this diverse group of people co-exist in tight spaces
Travel by train with your guide or make your own way there (if option selected)
Upgrade to include round-trip transport by car from Colaba to Dhobi Ghat

Small-group tour with a maximum of six people ensures a personalized experience
Why Our Insiders Chose This Tour
You have the option of traveling by train with your guide, or choosing an upgrade for round-trip transport by air-conditioned car and stopping at Dhobi Ghat along the way.
What You Can Expect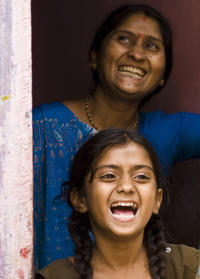 Meet your guide at Churchgate railway station and travel together by train, an approximate 30-minute ride at your own expense. Or, make your own way, meeting your guide and small group at Mahim Junction railway station in Mumbai. Alternatively, upgrade to include round-trip transport by air-conditioned vehicle from Colaba; logistical details are outlined in the Itinerary below. All three options can be done in either the morning or afternoon; the choice is yours!

On arrival in Dharavi, set out on your 2.5-hour walking tour that dissects one of India's largest slums. Follow your guide down a maze of narrow lanes to find a fascinating mix of households and small-scale businesses run by Dharavi's enterprising residents.

Learn about the working conditions among numerous cottage industries — including textiles, recycling, pottery and leather tanning — in an informal economy that turns over millions of dollars annually. Passing through these small spaces, you will undoubtedly appreciate the sense of community that exists among the innovative residents, whose diversity is reflected in the temples, mosques and churches that stand side by side.

Tour the recycling area, where old computer parts and plastics arrive from all over the world, and step foot inside a bakery where tea biscuits are made fresh daily. Watch artisans create pots from sun-dried clay, and see the women of Dharavi make popaddoms: the essential appetizer of any Indian meal.
Visit a replica resident's house, observe the expansive view from a Dharavi factory rooftop, and see photos on exhibit — taken by children in a local art program. At an NGO-sponsored community center, you'll witness a vibrant gathering of people learning library, English and computer skills, or engaging in activities such as dancing and yoga.
Finish with a refreshing soft drink at the reception center in Dharavi, and then make your own way back from Mahim Junction or return by train with your guide.
Please note: we are sensitive to the issues and concerns surrounding slums and we understand that this tour may not be suitable for everyone. We strongly believe that the purpose of this tour is for educational reasons alone and allows for a better understanding of Indian life inside Dharavi. Furthermore, the majority of the proceeds from your local tour operator goes back into the local community to support a variety of projects on education, health and livelihood.
Itinerary
Optional Upgrade with Transport by Air-Conditioned Vehicle:
Meet your guide at the tour operator's office in Colaba and travel by air-conditioned vehicle to Dharavi, taking in a few points of interest along the way. During the approximate 1-hour drive, pass through the red-light district of Kamathipura and make a brief stop at Dhobi Ghat, the world's largest open-air laundry.
On the way, hear knowledgeable commentary from your guide about the history of the slums as well as issues affecting the poorer members of Mumbai society, including street children and pavement dwellers. After your 2.5-hour walking tour of Dharavi slum, travel back to the Colaba office by car with your guide.
November 2015
A well organised tour providing lots of views of different parts of the slum and giving lots of information. The guide also spoke very good english
November 2015
Excellent tour that takes you to the heart of Mumbai. An important tour that highlights a wide gap between the haves and have nots. Tour guide - Chetan was excellent company and very knowledgeable about Dharavi,Mumabi and its people and the importance of their contribution to Mumbai.
October 2015
Excellent! One of the best tours we have ever been on anywhere. One complaint, though. The tour guide asked us not to take photos in the slum but said they would email photos to us. Please check into this and advise us as to when we will receive the slum photos. Thank you.
October 2015
Excellent tour. Absolutely friendly, competent guide, highly recommended.
August 2015
Having a very different experience with a great guide
May 2015
I booked this tour after reading rave reviews on TripAdvisor and was not disappointed. The tour company is a great company that is making a difference in the community and their guides are very knowledgeable. I would not hesitate to recommend the Dharavi Slum tour to anyone want to experience India. Excellent experience!
December 2014
A must do trip ,great experience
December 2014
A tour that all visitors should go on. Dharavi, wow, you surprised me!
Anonymous
August 2014
It's the best way to see the real Bombay and beyond our expectation!
May 2014
This was one of the most educational, most touching tours I've ever taken. Highly recommended.
Advertisement
Advertisement