Indulge in India's world famous street food on this atmospheric 2-3-hour night tour of Mumbai. Stroll through the streets of Bandra, stopping to sample an array of local delicacies from crepe-like 'dosa' to sweet 'jalebi' pastries. With your guide on hand to explain each dish and offer advice, it's an educational and unintimidating introduction to Indian cuisine. This small-group tour has a maximum of 12 people to ensure an authentic local experience.
Highlights
See Mumbai come alive at night on this street food tour
Mingle with locals as you visit several popular food stalls
Sample local favorites such as South Indian dosa, savory dumplings and sweet pastries
Learn about Mumbai's nightlife and food culture from your local guide
Small-group tour limited to 12 people ensures a more personalized experience
Recent Photos of This Tour
What You Can Expect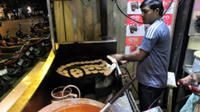 Meet your local guide in the evening on the Bandstand in Bandra to begin your street food tour. Throughout your tour, you'll experience Mumbai the way locals do – through its delicious, robust flavors and inventive cuisine.
Walk to several popular street food stalls tucked away in corners of this Mumbai suburb. Sample a range of spicy, savory and sweet bites, starting with Bombay toast, followed by South Indian dosa (fermented crepe made with rice and black lentils) and panipuri (pastry filled with potato, onions, chickpeas and spices).
After these spicy sensations, treat your taste buds to something sweet, such as jalebi (fried pastry drizzled in syrup), rasgulla (cheese dumpling cooked in syrup) and ras malai (sweet cream eaten after a meal).
Once your bellies are satisfied, it's time to head to a local gathering spot to mingle with locals! Your guide will offer interesting and entertaining commentary on Mumbai's food culture and nightlife scene throughout your tour, which concludes on Linking Road between 9pm and 10pm.
Anonymous
October 2015
India can be an intimidating food scene. Thankfully the Mumbai Street Food Tour is a safe and delicious way to experience a wide sampling of India dishes. Our guide gave us a diverse and tasty tour of various indian street foods including masala dosa, tandoori shrimp, etc. During the walking tours we also received a little taste of Bollywood passing by the homes of two of India's biggest stars. We certainly left the tour well feed and feeling comfortable trying Indian street food
September 2015
This was a fantastic tour. Our guide was fun, knowledgable, and personable. We had the opportunity to eat a bunch of different foods, and each one was excellent. Our guide made sure that we knew what we should and shouldn't eat, and none of us got even a little bit sick :- If you like Indian food, or if you are willing to try new things, I would absolutely recommend this tour!
August 2015
The tour was outstanding. There was so much food it was ridiculous, trust me I can eat, but there was no way that i could eat all that was put in front of me. I was alone and my guide who was very informative was not eating, so each time we went somewhere an entire plate of food would arrive for me....Good grief, make sure you come with someone else and share, I wasted so much. The variety of food was great, we went from some of the best chicken I have ever had to Dosa, Indian burgers, some other treats got to keep some surprises in there and my absolute favorite, Pana Puri, these little balls of deliciousness were an absolute taste and texture sensation. Never had anything like them. Bandra is a really interesting area and allow time to explore the markets before or after the food tour and also if you are coming from South Mumbai allow a long time for travel. It took me 90 minutes to get to the meeting point. This is an excellent tour worth every penny, it takes the guess work out of knowing which stalls to go to, who has the best reputations and biggest turnover. If you are a foodie I would absolutely recommend this. One last tip, if you book, don't forget to confirm and make contact with your tour guides 24-48 hours beforehand, it will allow any last minute logistics to be worked out, let them know the best way to contact you....Enjoy and don't be afraid to ask lots of questions.

June 2015
Our guide Rahul was great - very knowledgeable about the food and the city. He promised to fill us up with delicious food and he was true to his word. The stops we made on the tour were thoughtfully chosen and the food all round was excellent. My advice - pace yourself! Eat half portions all along ... especially if you plan on taking a bumpy taxi ride home! This was great value and highly recommended, not just for the food, but for the conversation and the insight to nightlife in Bandra. Thanks Rahul!

January 2015
Its food you would not think of eating, It was so good. Nothing scary or weird, a little spicy maybe. The guide knew everything about the foods and the locations we all had fun!
Marcela Czech Republic
May 2014
I had a great guide for this tour. Ekata was lots of fun to hang around with. All of the food was delicious! If you come in the month of May that's the season for mangoes. Make sure that you try mango with cream. It's absolutely amazing!!
March 2014
Great tour really interesting and too much food! We literally had to say no more but all so delicious and a lot of fun
Erin C New Zealand
June 2016
The timing of the tour coincided exactly with the first monsoon rains of the season, which was not at all our guide's fault. However, he didn't make good decisions about transport, leaving us to walk quite a distance through the rain, spent most of the tour walking ahead of us leaving the trainee he had with him to look out for our safety in the traffic and floodwaters, and kept telling us that there was a lot of content he was leaving out because he was more focused on getting us from place to place in the rain. I would have preferred not to know that I wasn't getting the full tour, as this was frankly a bit disappointing. The food was nice, but I wouldn't recommend signing up anywhere near the monsoon season. Be aware as well that the phone number given for reconfirming the tour on the voucher doesn't work.
October 2013
The guide was not very professional - seemed to have hooked up with someone from the previous tour who tagged along and was more interested in chatting and hanging out with him. Disappointing,
Advertisement
Advertisement