Escape the tourist crowds and enjoy an authentic local experience in Mumbai (Bombay) on this 2.5-hour. Travel by train, bus and taxi as you hop between city neighborhoods and enjoy people watching at the UNESCO-listed Chhatrapati Shivaji Terminus, famously seen in the film' Slumdog Millionaire'. Get a glimpse of traditional life in Dhobi Ghat, admire the colorful blooms at the Dadar flower market and browse the stalls at the Chor Bazaar or Nul Bazaar. This small-group tour has a maximum of seven people for a personalised experience.
Highlights
2.5-hour Mumbai tour by public transport
Ride a public bus, taxi and train with your knowledgeable guide
Watch city life in action at UNESCO World Heritage-listed Chhatrapati Shivaji Terminus (CST)
Visit Chor Bazaar, Dhobi Ghat and the Dadar flower market
Learn about the local people who live and work in Mumbai
Small-group tour with a maximum of 7 people ensures a personalized experience
What You Can Expect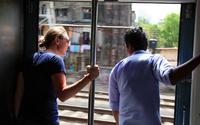 Meet your small group in front of the Regal Cinema in Colaba and set out on your tour of Mumbai — India's most populous city. Traveling by public transportation with your guide provides an up-close and authentic depiction of the city, including Mumbai's hardest-working laborers.
Start your tour on a bus ride to Chhatrapati Shivaji Terminus (CST). Formerly known as Victoria Terminus Station, it's one of the busiest railway stations in India, especially at rush hour. Designated a UNESCO World Heritage site for its 19th-century Victorian Gothic revival architecture, the historic station was dubbed 'the slumdog station' since the final musical number of the award-winning 2008 hit Slumdog Millionaire was filmed here.
Your guide will then accompany you to the Dadar flower market, where India's immense flower trade flourishes. In India, flowers are used both religiously and decoratively — in temples, taxis, homes and of course, in women's hair. Here, you will find more flowers in one place than you've ever seen before!
Enjoy the sight and scent of rose petals, jasmine blossoms and garlands of marigolds before re-boarding the train. You'll ride past a few stops to the Mahalaxmi area known as Dhobi Ghat to see the dhobi wallahs, or washermen. Observe this part of India's working class, which specializes in washing clothes and linens, as they scrub sheets from Mumbai's largest hospitals and hotels at this busy outdoor laundry.
After checking out this unique phenomenon, you'll take a taxi to Chor Bazaar, one of the largest and most bustling flea markets in the entire country. Chor Bazaar, meaning 'Thieves Market,' sells just about anything! Taste some local sweets, purchase delicious homemade chutneys or shop for a colorful vintage Bollywood film poster. At the nearby Nul Bazaar you'll find a variety of Indian fruits, spices and meats.
Finally, take a taxi to Churchgate, a famous railway station in South Mumbai. Here, you'll find the Mumbai dabbawalas — people who deliver thousands of freshly made lunches each day to schools, offices and other worksites. This grassroots operation uses an efficient organization and communication system to collect lunch boxes (dabba) prepared in individual homes and deliver them throughout the city.
Your tour concludes at Churchgate station, and you can continue your exploration of Mumbai on your own from here — made easier by your newfound knowledge of the city's vast public transportation network.
April 2016
Really liked our guide Bibin?, who showed us how to travel around Mumbai using all the different modes of transportation available. This was really empowering later during our stay, when we dared take a train trip by ourselves and lived to tell about it! Plus, we got to see some cool areas we wouldn't have gone to on our own. Well worth it!
February 2016
This is really an authentic local experience in Mumbai. I find this tour very interesting and enjoyable. The guide Bipin Kumar was excellent. I felt very safe going with him on the public transport around Mumbai and he explained very nicely on the sites we passed on the way.
February 2016
We really enjoyed this tour. Our guide was Pippin sorry this might not be quite right as we had so many guides on our trip I have forgotten the exact pronunciation and it was great fun going on the public transport around Mumbai. My partner is a train driver so he especially enjoyed the train trip. It was a great way to see the city from a different perspective and not jumping on and off of a tour bus! the only point it was slightly unnerving is when we needed two taxis as there were 4 on the tour and the guide was of course only with one set of people. You have to trust the taxi will take you where you need to go! Everything was fine with this but it did make me a little nervous! Overall we had a great time and the tour started at 8.30 and finished around 12.00pm. We got a taxi back from the end of the tour to our hotel which the guide helped us organise.
November 2015
A very good tour with a very good guide. We saw lots of sights and enjoyed travelling by bus and train. The only thing that could have been better is if we had finished at the same point as where we started
May 2016
A perfectly glance of street-life in Mumbai
January 2016
I was the only tourist of the day, it might explain the lack of enthusiasm of the guide. The visit was also shortened because the dabba-wallahs were off on January 26, the Republic Day of India.
Advertisement
Advertisement