Tour code:
5353BOMPVTCAVE
Swap the concrete jungle of Mumbai for an underground adventure on this private full-day tour, including hotel pick-up. Choose from three different itineraries, including the Kanheri Caves in the Sanjay Ghandi National Park or the Bhaja and Karla Caves, which date from as early as 200 BC. Alternatively, hop on a ferry to scenic Elephanta island to explore the UNESCO-listed Elephanta Caves, renowned for their beautiful carvings and reliefs.
Highlights
Full-day private tour to ancient Indian rock-cut caves from Mumbai
Escape the hustle and bustle of Mumbai and explore India's less-traveled wonders with your own private guide
Choose from three stunning cave complexes: Elephanta Caves, Kanheri Caves or both Karla Caves and Bhaja Caves
Learn about the history of Indian rock-cut architecture, one of the oldest styles of religious architecture
Delight in a traditional Indian lunch at a popular local restaurant (depending on tour selected)
Transport by private air-conditioned vehicle
Recent Photos of This Tour
What You Can Expect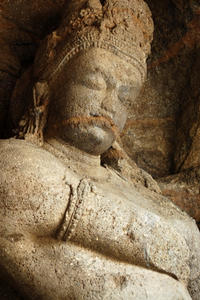 In the morning, you will be picked up from your Mumbai hotel by your private guide and taken to the caves of your choice. Along the way, enjoy scenic views of the Indian countryside, including sprawling valleys and quaint villages. In between sightseeing, enjoy a traditional Indian lunch at a popular local restaurant (depending on tour option selected), and at the end of your tour, relax on the private drive back to your hotel.
Kanheri Caves (lunch not included):
Duration: 5 hours
After a 1-hour drive, reach the Kanheri Caves, located deep within the green forests of Sanjay Ghandi National Park, one of Asia's major national parks. Dating back from the 1st century BC to the 10th century, these cave systems offer a window into the lifestyle of an ancient Buddhist settlement. As you explore the caves, your guide will point out which areas were meant for living, studying and meditation, and which areas were designed as worship halls. Marvel at the system of canals and cisterns and learn how they provided water to the caves' inhabitants.
Elephanta Caves (lunch included):
Duration: 6 hours
In the morning, you'll head to the Gateway of India in Mumbai to board a ferry to Elephanta Island. This 1-hour cruise will afford you picturesque seaside views. With your guide, explore all seven caves on the island, some of which are so small and hidden that they're often easily missed. Enter the main cave, an impressive sprawling structure with high ceilings and towering support beams, columns and pillars. On each wall, admire the complex and astoundingly detailed reliefs and carvings depicting narratives of the goddess Shiva.
Karla Caves and Bhaja Caves (lunch included):
Duration: 7 hours
After a 1.5-hour drive, reach the Bhaja Caves, a group of 22 rock-cut caves dating all the way back to 200 BC! Discover several excavations including ancient viharas (Buddhist monasteries) and chaitya-grihas (Buddhist assemblies or prayer halls), considered to depict the earliest architecture of their kind. Admire the highly decorated facade, which presents a true replica of a 2nd-century wooden structure, and the series of unique reliefs depicting Indian mythology, including stories of the sun god Surya.
At the Karla Caves, walk up the 500 steps of gradual incline to reach the entrance, where you'll stand in awe of the Ekvira Mata Mandir, a temple dedicated to Hindu goddess Ekvira. Marvel at the vastness of its shrines and prayer halls, with their notable arched entrances and vaulted interiors featuring carved animals and images of Buddhist goddesses.
December 2015
The driver was talkative and great! The guide was knowledgeable about the area, the history, and even current politics. It was an enjoyable tour that left nothing wanting, except maybe a friend. If I went to Mumbai again I would do this trip a second time, but I would definitely go with a friend.

August 2014
The tour guide is very knowledgeable about the place. He also recommended other places of interest in Mumbai. Transport is provided and he makes the trip a very pleasant one .
April 2014
Kanheri Caves - Amazing!!! 109 caves - carvings all done by hand in BC times. My tour guide Tom B was very informative. He told me the meaning of several of the carvings and what certain caves would be used for. Very easy walk, not strenuous at all.
April 2014
UNESCO World Heritage Site--these caves with their beautiful wall-relief carvings are beautiful and unique. Guide was very knowledgeable and that is crucial. Tour company was somewhat lackluster in their organization skills but that was more than made up by the guides who are eager to please. I recommend this tour.
January 2013
The Kanheri Caves was one of the best things I saw on my trip! I had a very informative guide who showed me a lot of the 2nd century carvings. I think this is a way better experience than Elephanta Caves! Excellent way to end of my last day in Mumbai and India!
November 2015
We had a truly delightful and educational tour of the Bhaja Caves. Our guide was very professional and informative. We enjoyed his sense of humor making the tour comfortable and pleasant. We highly recommend this tour. Our driver was helpful and thoughtful. He was an excellent addition to our tour. A must go see!
December 2014
We did the Karla and Bhaja Caves between Mumbai and Pune, amazing! Drive out there definitely takes a while but we had such a good driver (not crazy like most there) and a very knowledgeable guide with great communication skills. The history is amazing, the walk up and down to each one is half the battle for sure. Very enjoyable experience for the day!
August 2014
This was a great day out for me - just what I wanted. There was only me, so it was essentially a private tour, but they can accommodate more people if needed. It was monsoon time, so it was raining for much of the day (I knew that before I went so it wasn't a surprise). My guide and driver were really great - very accommodating, enthusiastic, informative, patient and helpful. The journey there and back took much longer than expected 3 hours each way due to the rains and sheer volume of traffic on the roads, but, I really wanted a trip that would take me out of the city and into the countryside a little, which is what this did. The two sets of cave dwellings are relatively compact, no longer than 20 minutes needed at each to see them, but, they were both different and crowds of locals were excitedly enjoying festivals in the pouring rain which added to the spectacle (and the traffic chaos!) on the day of my visit. A big thanks to Viator for organising a perfect day out for me.
March 2014
Great organization. Wonderful driver(hotel was an hour away). Experienced guide.
Sondra R USA
April 2013
Our Mumbai tour was extraordinary. It was educational and beautifully scenic. Our tour guide was very informative and helpful. The tour was the highlight of our trip.
Advertisement
Advertisement