Get a look at the culture and history of Mumbai on this private tour to diverse relics of Mumbai's past. With your expert guide, visit Mani Bhavan, a mansion where Gandhi lived and conducted political activities while visiting Mumbai. Then, explore Dhobi Ghat, considered the world's largest open-air laundromat, where age-old techniques of hand washing have been passed down from generation to generation. You'll also drive through Malabar Hill, an upmarket residential area, and enjoy great views of the city's landscape, all while enjoying interesting commentary from your guide.
Highlights
4-hour private tour of Mumbai's historical and cultural relics

Visit Mani Bhavan and learn about Gandhi's life and contributions to Mumbai

Explore Dhobi Ghat and witness the age-old tradition of hand washing in Mumbai's largest open-air laundromat
Admire spectacular views as you drive through the exclusive residential area of Malabar Hill
Round-trip transport by private air-conditioned vehicle included
What You Can Expect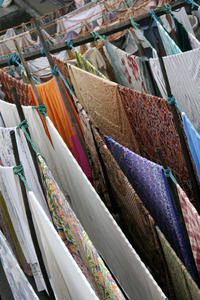 You'll be picked up from your hotel in the morning or afternoon and driven by comfortable private vehicle through Malabar Hill, an upmarket residential area offering spectacular views of the city and its vast surrounding landscape. On the drive up to here, see a Jain temple dedicated to Adinath (no entry), the first Jain tirthankara (religious savior), and pass the Hanging Gardens and Kamala Nehru Park.

Continue to Mani Bhavan, once the residence of Mahatma Gandhi during his visit in Mumbai.This famous site was visited by Martin Luther King, Jr and Barack Obama. With your guide, explore the beautiful two-story structure, which now houses a vast library, a photo exhibition and a diorama depicting the Mahatma's life, as well as well-preserved memorabilia including an old charkha (spinning wheel) that he once used. (Please note that the library is closed on the 2nd and 4th Saturday of every month). Learn how Mani Bhavan was where the Quit India Movement was conceptualized in 1942.

Continue driving approximately 15 minutes to visit a unique feature of Mumbai, Dhobi Ghat, considered the world's largest outdoor laundromat. Learn how a dhobi is a traditional laundryman who collects people's dirty linen, washes it and returns it neatly pressed to their doorsteps.

Explore the seemingly endless rows of concrete wash pens. Witness how the clothes are soaked in sudsy water, thrashed on the flogging stones, tossed into huge vats of boiling starch and hung out to dry, and then see the laundrymen ironing and piling the clothes into neat bundles.

On the way back to your hotel, drive past Victoria Terminus, an UNESCO World Heritage Site, and pass the Gateway of India, built to commemorate King George V and Queen Mary's visit to Mumbai.

Throughout your tour, your expert guide will provide interesting and informative commentary about the places you visit and can answer any questions you may have.
August 2015
The tour was great. I was a comprehensive introduction to Mumbai. The guide was very atentive satisfaying our curiosity about indian culture and the myths associated to it. this was not part of the tour was she gather that we were interested in history and culture as well. She was super finfing ua a place were we could paint our hands with heena.
December 2014
Very good look at Mumbai, which is so huge you could never see all of it... Really enjoyed my driver and guide, safe, knowledgeable, good communication skills and a real ability to talk about and show what I was interested in during the tour.
January 2013
Quit a good exploration of Mumbai, with interesting views of Malalbar Hill, Mani Bhavan and Dobi Ghat.
April 2015
The tour was good and my English speaking lady guide was great as was my driver. BUT i wascharged 132.50 on my credit card instead of the quoted 33 on the website. Every one I speak to heresays its no my problem, so it would begood if someone could check and get back to me insteadof passing the buck. Thanks.
March 2014
Our tour guide was great...very knowledgeable and funny. Since we booked two tours, the company did decide (without consulting us) to changed our schedule around, which was a little frustrating as it left us with a few hours to kill where we weren't able to go out and do anything due to evening plans (since we didn't find out until the day of). They thought it was in the best interest of the flow of the two tours, and I would have been a lot more open to it if they would have informed us ahead of time. It made me keep questioning if we really were getting the full tours our if we lost 2 hours of the experience somewhere. Nice people, though.
January 2015
Interesting tour of South Mumbai. Good booking experience ....absolutely hassle free.
The problems started when I had to deal with India office where I had to do a lot of follow up for pickup etc.
(Still better than some some of the local companies I must say)
The guide (Murli) spoke very loudly, did not have any interesting information ( and at times it was incorrect) and argued every time whenever any of us had a different view point or information. He would get very loud to support his point of view and his entire focus was on trying to impress my Jamaican brother-in-law with his knowledge of cricket !! In the process he missed pointing out quite a few landmarks such as Rajabai clock tower which is modelled on Big Ben, etc. The driver/coordinator (Sandeep) was more polite and better informed than the guide.
Advertisement
Advertisement