Indulge your love of legend and enchantment on a 3-day tour of Bavaria from Munich. With a private guide, delve into the myth-laden Black Forest, visiting medieval towns like Rothenburg ob der Tauber and Hohenschwangau. As you travel, hear regional histories, tour the magical Linderhof and Neuschwanstein Castles, soak up breathtaking views and enjoy overnights in delightful local hotels. Note: This tour ends in Frankfurt.
Highlights
3-Day Romantic Road and Ludwig II Royal Castles Tour from Munich to Frankfurt

Visit Linderhof Castle and Neuschwanstein Castle - the model for Disney's Sleeping Beauty Castle
Evening walking tour through Rothenburg, the most perfectly preserved medieval town in Europe
Free time to explore Rothenburg at your leisure
Scenic drive along the Romantic Road
Independent multi-day package with transport, transfers, tours and 2 nights accommodation
Why Our Insiders Chose This Tour
Explore Germany's most famous and spellbinding castles at your own pace without having to worry about transport or hotels. Neuschwanstein Castle will blow you away!
What You Can Expect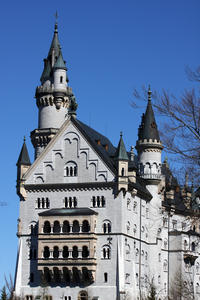 Skirt through Bavaria's magical places and spaces on a 3-day tour from Munich. In the morning, set off with your private guide into the southern countryside, where you'll enjoy gorgeous natural vistas and visit picturesque villages like Hohenschwangau and Rothenburg ob der Tauber, called the 'Jewel of the Middle Ages'. Over the next days, you'll see regional highlights including the Würzburg Residence, Linderhof Castle and Neuschwanstein Castle—a model fairytale palace! When not on the move, enjoy independently discovering Bavaria through self-guided walks and indulging in traditional fare cuisine at local eateries.
Your tour includes one-way coach transport to Frankfurt, two nights of accommodation in hotels or B&Bs, daily breakfasts and guided walking tours. Please see the itinerary below for full details.
Itinerary
Day 1: Munich - Hohenschwangau
Bus departs Munich from Bahnhofsplatz, opposite the Main Train Station in front of the department store Karstadt at 8:30am. Proceed to Linderhof Castle for a visit of approximately one hour (time does not allow to visit the moorish pavilion and grotto). Enjoy a short stop in Oberammergau before getting to Hohenschwangau. Check into your hotel before visiting the Neuschwanstein Castle. All your tour documents will be waiting for you at the reception desk.
Overnight: Hotel Muller or similar
Day 2: Hohenschwangau - Rothenburg (B)
You'll be escorted to the bus stop for an early departure. Travel by coach along Romantic Road via Augsburg, Donauworth, Nordlingen and Dinkelsbuhl to Rothenburg. Upon arrival in the afternoon, a taxi will take you to your hotel. The city walk with the night watchman starts at 8:00pm at the tourist information at the town hall/market square.
Overnight: Hotel Spitzweg or similar
Day 3:Rothenburg - Frankfurt (B)
The morning is at leisure. Please check out of your room and lock luggage at hotel (at your own risk) before leaving the hotel for own activities. Return to the hotel to meet a taxi that takes you to the bus stop. The bus departs in the afternoon and continues along the Romantic Road. Pass Würzburg Residenz for a photo stop. Arrival time in Frankfurt approximately 7:30pm.
August 2014
October 2013
Meredith D USA
June 2013
We really enjoyed this tour. It worked exactly as promised--our papers were at our first hotel when we arrived and all of our cabs showed up to transport us to the next location. We loved all the towns we stayed in. This is a very beautiful part of the world and we are glad we got to see it.
September 2012
It was awesome!! I would recommend it to everyone. The beginning was confusing because none seemed to know what bus we were suppose to go on. Ran into traffic so we were rush at the Palace. That was a bummer. We still enjoyed the trip. The nightwatch man tour was really cool in Rothenburg. Very Funny and entertaining. AMG.
June 2012
Fantastic trip. Great scenery, loved the castles. Best part was the medieval towns. Loved the stay in the Mueler hotel.
October 2011
Great trip! It was mainly a tour on your own with set transportation schedule and hotel arrangements made. Night watchman tour was great!
May 2011
Had an amazing time!! I was treated almost like royalty. Everyone was very nice. I was by myself so I was taken care of by the hotel staff, the tour guide, and the bus drivers. The hotels were wonderful! Hotel Mueller was the best!! The tours were wonderful. Everything was handled very easily. I would definitely do again.

November 2015
Great Tour! Rothenburg stay was the highlight.
November 2014
Great tour! A few comments though: The time allotted for Linderhof Castle is too short. Although Oberamagau is a great place, I would have wanted to spend a bit more time at Linderhof Castle and a bit less time at Oberamagau.
October 2014
Definitely sleep over at Neuschwanstein area and Rothenburg. Only way imo to really enjoy the area or else it would just be too stressful. The bus ride through romantic road was scenic but not much to really explore or do. Was a bit rushed as well.
Advertisement
Advertisement