Special Offer
Book by October 31, 2016 and save 15% compared to the local supplier's prices!
While visiting Munich for Oktoberfest, or to experience its popular beer culture any time of the year, take this guided, 3-hour, behind-the-scenes brewery tour. Visit several Munich breweries to see their beer-making facilities, including the fermenting tanks and malting towers. Meet master brewers and learn about the history of brewing lager. Then enjoy a fresh Bavarian pretzel with a glass of beer. Transport plus a souvenir bottle opener is included.
Highlights
3-hour beer tour at a brewery in Munich
Learn about Germany's beer culture, including Oktoberfest
Find out what goes into beer and how it was regulated by the 1516 Bavarian Purity Law
Tour several breweries and see their beer-making facilities, including fermenting tanks and malting towers
Meet master brewers, who will tell you about the history of brewing lager
Enjoy a beer sample and light snacks

Why Our Insiders Chose This Tour
You don't have to be a beer fan to find this tour fascinating. Learn how brews are made at Munich's famous breweries and enjoy a Bavarian pretzel with your beer at the end of the tour.
Recent Photos of This Tour
What You Can Expect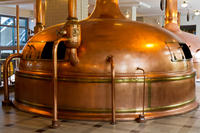 This Munich brewery and beer tour begins at the Bahnhofplatz in front of the Karstadt München Bahnhofplatz, across from the main railway station. After boarding a motor coach, travel to several famous city breweries for behind-the-scenes tours. Spaten, Franziskaner and Löwenbräu are all visited during your trip.
Munich has a rich heritage as the city of beer, breweries, beer gardens and beer festivals — like the famed Oktoberfest. The art of brewing is a centuries-old tradition here. Listen as experienced master brewers offer fascinating information about the brewing process, which abides by the Reinheitsgebot, sometimes called the 'German Beer Purity Law.'
Take a guided tour of each brewery to see their malting towers, brewhouses, fermenting tanks, beer cellars and wells. Then, enjoy a beer tasting with a fresh Bavarian pretzel — a fitting end to an entertaining and educational tour.
May 2016
The tour took a short trip around Munich city center while the guide told about the origins of the beer culture and octoberfest in Munich and Bavaria. After that we were led on an extensive tour through the Spaten brewery followed by a beer tasting session in the tower of the brewery the highest lookout point in Munich open to public. The tour was very informative and enjoyable, and recommendable to all who like history and beer.

June 2015
April 2015
The guide was fantastic. He sounded like he knew what he was talking about. The beer tastes good too
October 2014
October 2014
We had a very knowledgeable tour guide. Also all you can drink for 45 minutes before the tour starts. Doesn't get any better.
September 2014
My wife and I were somewhat apprehensive about taking a beer-related group bus tour in Munich. We were worried that it may be a little too "touristy" and that we would not get anything out of it. We only took the tour because of a dead spot in our schedule and it had good reviews on Viator. It turned out to be one of our best experiences in Munich. To our surprise, the overwhelming majority of the participants were German so the bus ride alone was an immersion into German culture. The guide on the bus tour was very knowledgeable of Munich and the history of beer.
Once we arrived at Paulaner brewery, we immediately started with beer and pretzels. For the first 45 minutes at the brewery, the whole group just drank beer and socialized. When it was time for the tour to start, the German group left roughly 10 minutes ahead of the English speaking group. This was great because I am sure that neither group wanted to sit through hearing the same presentation twice. The English speaking group was small (just 6 of us) and we were able to ask a lot of questions about the brewery and get a personal experience with our guide.
At the end of the tour the bus loaded up with a happier and more talkative group than it started what it started with. I would definitely recommend this tour for anyone interested in the history of beer in Munich.
June 2014
My first time in brewery ,so this was very interesting and informative. The guide was great and so was the beer sample and pretzel at the end of the tour.
December 2013
I have visited many US breweries, and while the process is the same, the history of this tour is impressive. Must do for any brew fan.
November 2012
Great tour 100% recommended!!!!
May 2016
Visited ABinBev brewery...
Special Offer
$29.50 Save $5.68
Advertisement
Advertisement