Visit the Eagle's Nest in Berchtesgaden, Adolf Hitler's famous mountaintop retreat, on this day trip from Munich. Travel by air-conditioned coach through Bavaria's lush mountainscapes, and ride a bus and elevator to the lodge, 6,148 feet (1,834 meters) up Mt Kehlstein. See where Hitler entertained dignitaries, view the hall where weddings and conferences were staged, and explore the terrace to admire the spectacular Alpine views — vistas that Hitler, ironically, found challenging due to his vertigo. In the event of bad weather, you will visit the world-famous Berchtesgaden salt mines instead.
Highlights
Day trip to the Berchtesgaden Eagle's Nest, the former mountain retreat of Adolf Hitler, from Munich, with a professional guide
Absorb views of Alpine peaks and pastures on a drive southwest through Bavaria
Ride a bus and elevator up Mt Kehlstein to the Eagle's Nest mountain lodge
Explore Hitler's one-time retreat, where he received visiting dignitaries
See the chambers and many original features, including a mantelpiece gifted by Mussolini
Ogle the incredible terrace views over the mountains and to Lake Königssee
Visit the Berchtesgaden salt mines if bad weather prevents access to the Eagle's Nest
Why Our Insiders Chose This Tour
This jaunt to Hitler's mountain retreat with its panoramic views of the Alps appeals to both history buffs and scenery lovers. Reserve some of your free time for enjoying a beer at an authentic Bavarian beer garden.
Recent Photos of This Tour
Berchtesgaden and Eagle's Nest Day Tour from Munich
What You Can Expect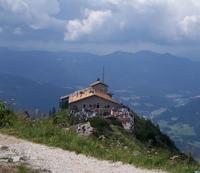 Due to the World War II bombings by the Royal Air Force, there is little evidence left of Hitler and the Nazi party's presence, however Eagle's Nest still stands.
From mid May to October, you will have the option to take a bus ride up the mountain to see Eagle's Nest for yourself. The last 390 feet (120 meters) of the trip is in a brass-clad elevator. During the winter months or during inclement weather when access to Eagle's Nest is restricted, you will instead visit the world famous Salt Mines. Wearing traditional mining gear you will descend into the depths of the mine where you can see glowing salt grottoes and a subterranean salt lake.
May 2016
November 2015
A fascinating learning experience with great views in the Alps.
November 2015
This was an all round great tour, a highlight of our Europe vacation

dmccullo USA
November 2015
Wonder tour with such interesting scenery and history.
November 2015
Brilliant, great day out.
November 2015
The tour was great. Too much fog Togo to the tea house so our tour was the Nazi bunker and the salt mines. Both were very interesting and worthwhile. A good guide and the entire trip was very lovely and educational.
October 2015
Excellent guide and very worth while visit. The weather was uncooperative with a lot of fog so the view was not seen at all. Beautiful countryside along the way.
October 2015
Spectacular place to visit!
October 2015
Totally worth it! The tour bus departed promptly at the appointed time and we were there on schedule, in spite of problems caused by passport controls being implemented at the border. This tour takes away the hassle of having to deal with traffic, tickets etc. and simply delivers you to Eagle's Nest with minimal effort. Unfortunately, the top of the mountain was extremely foggy and i could not see anything from Eagle's Next, but that still did not detract from the place itself.
The time at Berchtesgaden is fairly small but this town is not something you would be able to cover in 1 hour anyway. I came back the next day and stayed overnight at Berchtesgaden, to take in the many vistas and sights.
Out tour guide Ana was extremely knowledgeable and gave us many interesting nuggets of information about Munich, Germany, Eagle's Nest and it's history, along the way. We had the added bonus of driving back through quaint, CHARMING little hamlets on the way back to Munich in order to avoid a major traffic jam on the highway. It was like a tour within a tour, there's no way i would have been able to traverse through those little towns on my own.
All in all, would DEFINITELY recommend this tour!

October 2015
Great tour and beautiful scenery.
Advertisement
Advertisement