Visit the Eagle's Nest in Berchtesgaden, Adolf Hitler's famous mountaintop retreat, on this day trip from Munich. Travel by air-conditioned coach through Bavaria's lush mountainscapes, and ride a bus and elevator to the lodge, 6,148 feet (1,834 meters) up Mt Kehlstein. See where Hitler entertained dignitaries, view the hall where weddings and conferences were staged, and explore the terrace to admire the spectacular Alpine views — vistas that Hitler, ironically, found challenging due to his vertigo. In the event of bad weather, you will visit the world-famous Berchtesgaden salt mines instead.
Highlights
Day trip to the Berchtesgaden Eagle's Nest, the former mountain retreat of Adolf Hitler, from Munich, with a professional guide
Absorb views of Alpine peaks and pastures on a drive southwest through Bavaria
Ride a bus and elevator up Mt Kehlstein to the Eagle's Nest mountain lodge
Explore Hitler's one-time retreat, where he received visiting dignitaries
See the chambers and many original features, including a mantelpiece gifted by Mussolini
Ogle the incredible terrace views over the mountains and to Lake Königssee
Visit the Berchtesgaden salt mines if bad weather prevents access to the Eagle's Nest
Why Our Insiders Chose This Tour
This jaunt to Hitler's mountain retreat with its panoramic views of the Alps appeals to both history buffs and scenery lovers. Reserve some of your free time for enjoying a beer at an authentic Bavarian beer garden.
Recent Photos of This Tour
Berchtesgaden and Eagle's Nest Day Tour from Munich
What You Can Expect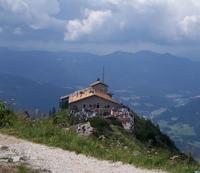 Due to the World War II bombings by the Royal Air Force, there is little evidence left of Hitler and the Nazi party's presence, however Eagle's Nest still stands.
From mid May to October, you will have the option to take a bus ride up the mountain to see Eagle's Nest for yourself. The last 390 feet (120 meters) of the trip is in a brass-clad elevator. During the winter months or during inclement weather when access to Eagle's Nest is restricted, you will instead visit the world famous Salt Mines. Wearing traditional mining gear you will descend into the depths of the mine where you can see glowing salt grottoes and a subterranean salt lake.
June 2016
If you want some history and some amazing views - this is the tour for you!
The guide was very knowledgeable, the coach clean, the scenery stunning. There was plenty of free time to explore and take photos as well as eat etc.
Would recommend.
June 2016
The tour was a great! Although weather wasn and #39;t the best. Highly recommended
June 2016
The tour was great with fantastic views.
June 2016

June 2016
Definitely, the highlight of my recent personal WWII Tour of Munich, Krakow and Warsaw!
I say highlight, because the beauty of Southern Bavaria and the Obersalzberg, in particular, was breath-taking!
Although I took the tour to visit Hitler's tea-house Kehlsteinhaus/Eagle's Nest the tour was so much more!
Travelling through the lush green countryside and seeing the awesome views of Berchtesgaden and Konigssee lake from Eagle's Nest are sight that will live with me for the rest of my life.
June 2016
Very good. Bus was clean and new. Driver was good and Lucy the tour guide was spot on and very informative.had a great day and would go again,
June 2016
Comfortable coach even though it was a group of 60 it was very well managed and one of the best trips I had in Germany. Katrina was an excellent guide and we covered not only Berchtesgaden but also a lot of the beautiful countryside by taking a different return route. I have had good trips before with Gray Line and I was not disappointed.
June 2016
The guide was a first-rate professional, and the organization of the trip was excellent. Highly recommended!

June 2016
What a spectacular view.
The view from Eagle's nest is just ... I have never seen anything like this.
Never fail to visit here!
June 2016
Well worth seeing on a one to ten it was a ten, ten being the highest our tour director was impeccable could not ask for a better leader. The day was beautiful as well as the mountains..
Advertisement
Advertisement