43 Reviews
Location:

Munich, Germany

Duration:

4 hours 30 minutes

(approx.)
Dachau was the most infamous of WWII concentration camps and represents a time in modern history that should never be forgotten. Your afternoon tour to Dachau Concentration Camp Memorial will be both moving and disturbing, and is not recommended for children.
Highlights
Dachau Concentration Camp Memorial tour from Munich

Visit the moving memorial site and exhibition center
Afternoon tour
Professional guide
Why Our Insiders Chose This Tour
This is a good opportunity to take an afternoon tour of this dark but historically important site. A good choice for thoughtful adults who wish to see the exhibitions and buildings of the camp on their own, while still having access to an expert guide.
What You Can Expect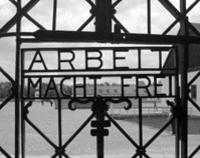 Driving through the village of Dachau, you will reach the site of the former concentration camp. Built in 1933, Dachau was the first Nazi concentration camp and it is believed to have "processed" over 200,000 prisoners of World War II.
The main hall houses photographs and models of the camps, and gives you an insight into the horrendous acts against humanity that were often performed at the camp. In the grounds surrounding the main hall, you will find the crematorium, reconstructed bunkers and a disguised gas chamber.
You will have plenty of time to visit the memorial site, the museum and view the documentary film shown in the main hall at around 3:30pm. There is no guided tour on site, however your guide will give you information and answer any questions on the way to and from Dachau.
June 2015
Loved the tour. It wAs a very humbling experience, and the memorial site is respectfully preserved. I really appreciated how honest our German guide was about World War II. She helped me see how much guilt is wrapped up in this country over that time in history. Recommended!
June 2015
Although it was hot and this place is not something one does for pleasure, I would not have missed it. The guide was very, very knowledgeable and pleasant. I highly recommend the tour.
October 2014
You don't want to miss this sobering historic place. Our guide was very helpful and went over and above our expectations.
June 2014
This tour was great! Very comfortable coach ride too and from with a great guide (sorry forgot her name) but she was great, very knowledgeable. She showed us a few things and then let is wander dachua by ourselves,but was still around if we had any questions. Great tour, thank you!
May 2014
It was a great experience
September 2013
Very informative. The guide was friendly and eager to answer questions. We would recommend this tour to anyone who wants to travel from Munich to tour Dachau.
July 2013
Our guide was excellent and she made the whole experience very real.
July 2013
This was the best tour my daughter and I had in our 7 country trip to Europe. PS. I added this tour the night before we left....when I realized the "hop on, hop off" tour of Munich did not include a tour of Dachau.
June 2013
This was a most fascinating, well run and worthwhile tour. The tour guide on the coach was very informative and her English was very good. The meeting place was very easy to find, outside the main station, and you could have the choice of walking round Dachau with the guide, or making your own way round and meeting back on the coach. She had lots of interesting stories to tell and we learned such a lot in this afternoon. Everyone should do this tour, its brutal and hard to see but so worthwhile. The history of the holocaust should never be forgotten. There is also a really good bookshop at the end with books in English as well. I would definitely recommend this tour.
Afterwards we were taken round some of the sites in Munich as well and the guide gave us a lot of history on Munich and the rise of Hitler.
September 2012
My husband considered this tour the highlight of our 3-country visit. Our guide was informative and stayed with us throughout giving us facts and figures recited by heart. Very sad, but we are so glad we saw this place. Viator never fails to provide the best tours and guides!
Advertisement
Advertisement