Gain insight into the Holocaust of World War II on a 5-hour trip to the Dachau Concentration Camp Memorial Site from Munich. Travel by train and bus to the site, and take a guided tour of the compound, a place of memorial and education dedicated to the thousands imprisoned, tortured and killed here between 1933 and 1945. Learn how Dachau provided a model for all Nazi camps, and see the haunting exhibitions and memorials, together with the reconstructed barracks and cells as your guide provides illuminating, informative and sensitive commentary.
Highlights
5-hour small-group Dachau Concentration Camp Memorial Site tour from Munich
Tour the exhibition center and former compound with a professional guide
Learn about Dachau's history and the suffering meted out here at the exhibition center
See the camp gate and reconstructed barracks, cells, guard houses and other buildings
Pay your respects at the international and religious memorials
Choose from three morning departures with round-trip travel to Dachau by local train and bus
Small-group tour ensures a more intimate and respectful experience
Why Our Insiders Chose This Tour
The guides do an excellent job of explaining this infamous camp's role in the Holocaust and relating the survivors' stories. It's a sobering experience, but an important one to help ensure we never forget.
Recent Photos of This Tour
Dachau Concentration Camp Memorial Small Group Tour from Munich
What You Can Expect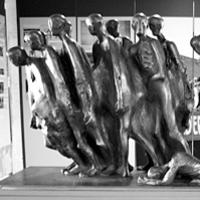 Just outside the medieval town center of Dachau, a Memorial Site stands on the grounds of the former concentration camp. This was the 'parent' camp. Dachau was the 'Academy of Terror', the originator, role-model and training ground for the vast order of brutality that spread over half of Europe in the wake of the armies of the Third Reich, and which ultimately culminated in history's greatest crime, the Final Solution.
2005 marked the 60th anniversary of the liberation of most Nazi concentration camps in the closing months of the Second World War. All over an exhausted Europe, advancing Allied soldiers set free the desperate survivors of camp after camp. The diseased, the starving, the barely alive emerged to tell a shocked and disbelieving world of the full horror of a network of systematized murder and degradation that had first been set in motion in 1933.
While each camp was responsible for its own particular form of barbarism, what distinguished Dachau is that almost everything that happened in the system as a whole happened at some level there. Almost every category of victim passed through its infamous Arbeit macht frei (Freedom through Work) gate, German dissidents, outspoken clergymen, Jehovah's Witnesses, homosexuals, Jews, Polish civilians, all in all the citizens of some 34 nations. Today's Memorial Site combines the historical authenticity of the original environment and its many surviving buildings with the function of a modern exhibition center. It is a place of memory, of pilgrimage and of education.

June 2016
The Dachau Memorial tour was eye opening and a must see. I heard a lot of people before we booked saying that we did not need a tour to show us around. I beg to differ. Kai who was our guide gave us an amazing tour of the memorial and we got a great history lesson as well. I highly recommend this tour to everybody if you are visiting the Munich area. The train/bus combo took about 30-45 minutes and Kai walked us through the whole camp and talked about the history and made you look through the eyes of the victims. I will always remember this experience.
June 2016
Our Tour Guide Matt was amazing with his knowledge, history of Dachau.
It made our Germany trip very memorable and Dachau with be with us for a long time.
Thank You Matt
June 2016
Jeff was very knowledgeable. He was happy to answer questions. I was really glad I went on a guided tour.
June 2016
Tour was excellent. The time was just enough for the tour, our tour guide was excellent and very knowledgeable. This company seems like they have it together, so give it a try.
Although this is not a fun tour, you will learn a lot and it is definitely an eye opener to the history and our mistakes
June 2016
This tour was so eye opening. Our English speaking guide was friendly, knowledgable, and efficient. I highly recommend this!!
June 2016
Tom was an entertaining, informative guide that told us many interesting facts about the history of Dachau. Taking the tour was much better than trying to visit the site on our own.
June 2016
Thanks to our very knowledgeable guide Mat it was very illuminating and meaningful experience. I would recommend it to anyone who wants to visit the memorial and gain a realistic and factual understanding of what happened in Dachau Concentration Camp. Erika G
June 2016
Very interesting and informative tour. Our tour guide, Nicola was very knowledgable!
June 2016
The tour was great. Or tour guide Monika was very knowledgeable about the history and the area. She gave us specific directions at each stop as to where to go and what to look for when you are touring the castles, which were very impressive.
June 2016
Our tour guide (Mat) was extremely knowledgeable and provided a lot of contextual information that added to our overall understanding. We would highly recommend this tour!
Advertisement
Advertisement