Venture out of Munich by local transport for a comprehensive small group tour through Dachau Concentration Camp and memorial site. An authorized guide will share important information concerning the desperate survivors who'd been tortured and exploited throughout the course of World War II. Today, Dachau Memorial Site is a place of memory, of pilgrimage and of education and makes for an illuminating day trip from Munich.
Highlights
5-hour small-group Dachau Concentration Camp Memorial Site tour from Munich
Tour the exhibition center and former compound with a professional guide
Learn about Dachau's history and the suffering meted out here at the exhibition center
See the camp gate and reconstructed barracks, cells, guard houses and other buildings
Pay your respects at the international and religious memorials
Choose from three morning departures with round-trip travel to Dachau by local train and bus
Small-group tour ensures a more intimate and respectful experience
Why Our Insiders Chose This Tour
The guides do an excellent job of explaining this infamous camp's role in the Holocaust and relating the survivors' stories. It's a sobering experience, but an important one to help ensure we never forget.
Recent Photos of This Tour
Dachau Concentration Camp Memorial Small Group Tour from Munich
What You Can Expect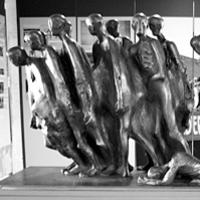 Just outside the medieval town center of Dachau, a Memorial Site stands on the grounds of the former concentration camp. This was the 'parent' camp. Dachau was the 'Academy of Terror', the originator, role-model and training ground for the vast order of brutality that spread over half of Europe in the wake of the armies of the Third Reich, and which ultimately culminated in history's greatest crime, the Final Solution.
2005 marked the 60th anniversary of the liberation of most Nazi concentration camps in the closing months of the Second World War. All over an exhausted Europe, advancing Allied soldiers set free the desperate survivors of camp after camp. The diseased, the starving, the barely alive emerged to tell a shocked and disbelieving world of the full horror of a network of systematized murder and degradation that had first been set in motion in 1933.
While each camp was responsible for its own particular form of barbarism, what distinguished Dachau is that almost everything that happened in the system as a whole happened at some level there. Almost every category of victim passed through its infamous Arbeit macht frei (Freedom through Work) gate, German dissidents, outspoken clergymen, Jehovah's Witnesses, homosexuals, Jews, Polish civilians, all in all the citizens of some 34 nations. Today's Memorial Site combines the historical authenticity of the original environment and its many surviving buildings with the function of a modern exhibition center. It is a place of memory, of pilgrimage and of education.

April 2016
This tour was fabulous! The tour guide could answer any question thrown at him. It of course was quite sad and made quite an impression on us. Our only problem was that we did not realize how much walking there would be. However we were able to rent a scooter. They do not charge for the rental!!!! I would highly recommend this tour.
April 2016
Very knowledgeable guide, the tour was very interesting but be prepared to be on your feet for several hours - standing and walking. The train to bus transport was a bit difficult with masses of school children pushing their way in, however, our guide did the best he could to get us in as a group. Dachau itself was a bit disappointing. My husband was there 40 years ago and he said that it has been toned down quite a bit, almost made PG-13. Overall, I am glad we went and used VIATOR.
April 2016
If I could give five stars to the guide Steve the Brit I would. Well done.... he was a virtual, historical well of knowledge. It was the best of the tours.
April 2016
Our guide Nikola was friendly and knowledgable
April 2016
Tour guide was excellent. His knowledge of history brought the place to life. If you visit without a guide you will not have a full experience. The buildings left standing do not convey the significance of the site. It was only through the narrative tour provided by a very knowledgeable guide that one can fully experience the significance of a visit to Dachau Concentration Camp.
April 2016
I normally like to explore on my own, however, since I have a limited amount of time at Munich I wanted to get the most out of it. Not disappointed with the viator / local tour operator half day tour to Dachau. Guide Matt is very knowledgeable about the subject matter and did the tour in an objective and dignified manner. The tour covers train and bus rides so you don't have to worry about logistics to the site, and lots of narration from Matt. Not a lot of building structures are left on site so having a tour guide to fill in the details really helped. Could you do this on your own? Yes, but probably not with as much understanding if you haven't been studying in advance about this subject.
The tour ended at about 2pm for our group back at the Munich main train station, which seemed longer than promised half day? but I am not complaining. If you have onward trains to catch be sure to buy flexible tickets for the day or just buy after you return to the main train station.
April 2016
Kai was our tour guide for this tour, and he was so knowledgeable and passionate about this subject. He took his time and explained everything to us. I felt like I was sitting in on a lecture from a history professor. He certainly made you think and you will come away with a certain knowledge that you didn't have going in. I highly recommend this tour.
April 2016
Extremely smooth process. So happy that we had a tour and a guide for this experience. Obviously a very emotional and sensitive place to visit, but I am happy we took part in a tour.
April 2016
The only way to tour Dachau is with a guide. Our guide, Steve, was excellent and gave us an abundance of information about the camp and background history.
Excellent tour!
April 2016
Well done. This is a sensitive topic and the tour guide was both respectful and honest.
Advertisement
Advertisement