1669 Reviews
Location:

Munich, Germany

Duration:

5 hours

(approx.)
Venture out of Munich by local transport for a comprehensive small group tour through Dachau Concentration Camp and memorial site. An authorized guide will share important information concerning the desperate survivors who'd been tortured and exploited throughout the course of World War II. Today, Dachau Memorial Site is a place of memory, of pilgrimage and of education and makes for an illuminating day trip from Munich.
Highlights
Small-group Dachau Concentration Camp Memorial tour from Munich

Guided visit to the moving memorial site and exhibition center
Choice of three morning tours
Professional guide
Return train and bus tickets to the memorial
Why Our Insiders Chose This Tour
The guides do an excellent job of explaining this infamous camp's role in the Holocaust and relating the survivors' stories. It's a sobering experience, but an important one to help ensure we never forget.
Recent Photos of This Tour
Dachau Concentration Camp Memorial Small Group Tour from Munich
What You Can Expect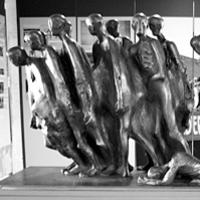 Just outside the medieval town center of Dachau, a Memorial Site stands on the grounds of the former concentration camp. This was the 'parent' camp. Dachau was the 'Academy of Terror', the originator, role-model and training ground for the vast order of brutality that spread over half of Europe in the wake of the armies of the Third Reich, and which ultimately culminated in history's greatest crime, the Final Solution.
2005 marked the 60th anniversary of the liberation of most Nazi concentration camps in the closing months of the Second World War. All over an exhausted Europe, advancing Allied soldiers set free the desperate survivors of camp after camp. The diseased, the starving, the barely alive emerged to tell a shocked and disbelieving world of the full horror of a network of systematized murder and degradation that had first been set in motion in 1933.
While each camp was responsible for its own particular form of barbarism, what distinguished Dachau is that almost everything that happened in the system as a whole happened at some level there. Almost every category of victim passed through its infamous Arbeit macht frei (Freedom through Work) gate, German dissidents, outspoken clergymen, Jehovah's Witnesses, homosexuals, Jews, Polish civilians, all in all the citizens of some 34 nations. Today's Memorial Site combines the historical authenticity of the original environment and its many surviving buildings with the function of a modern exhibition center. It is a place of memory, of pilgrimage and of education.
February 2016
Excellent - well organized and our tour guide Steve was extremely informative with expansive knowlwdge n the subject. Thoroughly enjoyed the tour and would recommend to everyone - a very humbling experience
February 2016
It is really an eye-opener. Nicola was very good. I suggest for those doing this tour that instead of getting the audio tour at the information centre that you get the smaller group tour with a guide as it allows you to be immersed with the experience as the guide narrates what happened from beginning to it's end.
February 2016
Really interesting. Keith was a great tour guide, full of knowledge. Highly recommend however wish we could've stayed there after the tour to explore on our own
February 2016
very informative, very well organised tour. Keith is very nice to everyone and very willing to answer questions.
February 2016
The tour was very well organised, easy to find and follow etc.,
Maxine's knowledge is phenomonal but also she delivered the history in a sensitive and non emotional manner, being sensitive to the fact that Germans around us are somewhat tired of hearing tourists talking about bad things that happened 70 years ago.
The tour is a full 4 hour tour, well worth the trip and my comment would be that to do the Dachau visit justice, it actually takes longer than 4 hours. So, take the tour, get the information and then plan to return to do it at your own pace and absorb even more of this dramatic history.
Thank you for introducing Dachau to us Maxine, you are a great guide.
January 2016
Our guide Nicola was exceptional. Her knowledge, passion and control were marvelous. This trip especially with this guide should be compulsory.
Syd Vinnedge
January 2016
Was incredibly informative and the guide was top notch.
January 2016
we went with temps hovering below zero with snow on the ground, so it was freezing, but that gave us a greater appreciation of what the prisoners went through. Our tour guide was extremely knowledgeable and approachable, and aware of not letting us freeze! We learnt so much compared to a different camp we did by ourselves with a map and audio guide! Highly recommended!
January 2016
Sombering experience but well worth it. Very knowledgable guide!
BabyBluesMomof4 United States of ...
January 2016
Steve, our tour guide, met us at the Munich Bahnhoftrain station and kept us together as a group, and truly did an exceptional job explaining such a difficult place as Dachau. One of the first things Steve stated was he would provide an objective and informative tour. He did this eloquently. I would highly recommend Viator for this tour.
Advertisement
Advertisement