1631 Reviews
Location:

Munich, Germany

Duration:

5 hours

(approx.)
Venture out of Munich by local transport for a comprehensive small group tour through Dachau Concentration Camp and memorial site. An authorized guide will share important information concerning the desperate survivors who'd been tortured and exploited throughout the course of World War II. Today, Dachau Memorial Site is a place of memory, of pilgrimage and of education and makes for an illuminating day trip from Munich.
Highlights
Small-group Dachau Concentration Camp Memorial tour from Munich

Guided visit to the moving memorial site and exhibition center
Choice of three morning tours
Professional guide
Return train and bus tickets to the memorial
Why Our Insiders Chose This Tour
The guides do an excellent job of explaining this infamous camp's role in the Holocaust and relating the survivors' stories. It's a sobering experience, but an important one to help ensure we never forget.
Recent Photos of This Tour
Best Dachau Concentration Camp Memorial Small Group Tour from Munich
What You Can Expect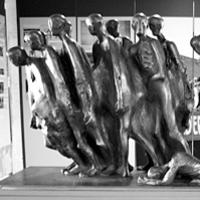 Just outside the medieval town center of Dachau, a Memorial Site stands on the grounds of the former concentration camp. This was the 'parent' camp. Dachau was the 'Academy of Terror', the originator, role-model and training ground for the vast order of brutality that spread over half of Europe in the wake of the armies of the Third Reich, and which ultimately culminated in history's greatest crime, the Final Solution.
2005 marked the 60th anniversary of the liberation of most Nazi concentration camps in the closing months of the Second World War. All over an exhausted Europe, advancing Allied soldiers set free the desperate survivors of camp after camp. The diseased, the starving, the barely alive emerged to tell a shocked and disbelieving world of the full horror of a network of systematized murder and degradation that had first been set in motion in 1933.
While each camp was responsible for its own particular form of barbarism, what distinguished Dachau is that almost everything that happened in the system as a whole happened at some level there. Almost every category of victim passed through its infamous Arbeit macht frei (Freedom through Work) gate, German dissidents, outspoken clergymen, Jehovah's Witnesses, homosexuals, Jews, Polish civilians, all in all the citizens of some 34 nations. Today's Memorial Site combines the historical authenticity of the original environment and its many surviving buildings with the function of a modern exhibition center. It is a place of memory, of pilgrimage and of education.
November 2015
Wonderful experience! Awesome guide!
November 2015
The tour was moving and very well executed. My only wish is that we had more time to go through the memorial at our own pace to read through the literature on display.
November 2015
Although a sombre experience, the guide Steve was great. He took full advantage of the public transport journey to fill us in on the background/context of the camp, Bavaria and Germany at that time. With a mixed group of adults and children, Steve was careful over his description over some parts and that was appreciated. Lots learned by 2 adults, 2 children. My only point to make is that it would have been nice to have had a little longer to look round the exhibition, but I bought the blue guide book instead.
November 2015
Very good tour. Tour guide was very organized and very informative. Certainly recommend this to anyone visiting
November 2015
Guide, Steve, was fantastic. Excellent information and pacing.
November 2015
Keith was outstanding guide on what is a very emotional day. Easy to find the starting point to meet and well worth the money.
November 2015
All travel arranged and very knowledgeable guide. Would definitely recommend.
November 2015
This was an unforgettable and sobering experience. Our tour guide, Craig from London was excellent. He provided just the right balance of information, sensitivity and reality to help us understand what happened here and why it's so important to honor the prisoners and ensure that this never happens again.
November 2015
Keith was awesome. Would have liked to have my family with me to experience Dachau through his eyes. Very informative, sensitive to the topics and thorough.
November 2015
This was a very moving tour. We met our guide at the main train station in Munich, took a train then a bus to Dachau. It was a simple journey to get there. Our guide was knowledgeable and did a great job leading us around the grounds and sharing stories of the events that took place there.
The group was quite large for a guided tour, but if we scooted in, we could all hear the dialogue.
Advertisement
Advertisement