Rock your senses with classic American cooking and the world's greatest collection of music memorabilia at the Hard Rock Cafe Munich. Choose from a 2- or 3-course meal and fill up on hearty dishes such as the classic cheeseburger, a half-rack of hickory-smoked and barbecue chicken. Both options include a dessert and your choice of drink (coffee, tea or soda). Cheers!
Highlights
Hard Rock Cafe Munich
Classic American-style food and music
Includes 2-or 3-course dinner and soft drink
Legends of rock memorabilia and retail store
Recent Photos of This Tour
What You Can Expect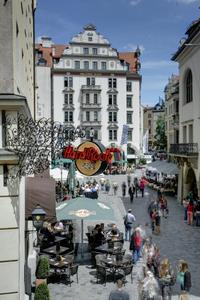 Walk, pedal a bike, or hitch a ride on public transport to the Hard Rock Cafe Munich and get some good ol' American cooking and a cold beer.
Itinerary

GOLD DINNER MENU

Choice of Main Course:
Hard Rock Burger or Cheeseburger
Veggie Burger
Honey Mustard Chicken Sandwich
Chicken Caesar Salad
Hickory-Smoked Bar-B-Que Chicken
Twisted Mac, Chicken & Cheese

Dessert:
HRC's Signature Ice Cream

Choice of Beverage:
Coffee, Tea or Soft Drink


DIAMOND DINNER MENU

Starter:
Lil Caesar Salad or Side House Salad

Choice of Main Course:
Twisted Mac, Chicken & Cheese
Hickory-Smoked Bar-B-Que Ribs
Hickory-Smoked Bar-B-Que Chicken
10oz. Legendary Burger
Veggie Leggie Burger
Chicken Caesar Salad

Dessert:
Baker's Choice (dessert of the day)

Choice of Beverage:
Coffee, Tea or Soft Drink

ULTIMATE DINNER MENU:

Starter:
Lil Bruschetta

Choice of Main Course:
Fiesta Burger
Grilled Salmon
Grilled Chicken Arugula Salad
Veggie Leggie Burger

Dessert:
Lil Hot Fudge Brownie

Choice of Beverage:
Soda, Tea, Coffee

AND Hard Rock Cafe Classic T-shirt


August 2015
While travelling internationally I ALWAYS go to Hard Rock Cafes and will appreciate if Viator adds Hard Rock Cafes from Buenos Aires and Rio de Janeiro
July 2015
Excellent food and service - cannot fault it.
May 2015
The food and drinks were ABSOLUTELY amazing!
September 2012
We just loved it. The food was great and the service even better! Our waiter was the best, he was very sociable and attentive, but not overbearing.
Dale R USA
June 2010
Excellent prices. We couldn't believe how good this was. We will continue to book thru Viator as much as possible.
Jennifer J United Kingdom
February 2010
Served immediately, table was already set with our 'viator menus' despite them not knowing what time we were coming in! Friendly staff, fabulous service, and we walked out or waddled out! with nice full bellies. Also having the mealevening prepaid took the hassle out of our trip. Thanks!
Wendy H USA
January 2010
Everything went so smoothly when the website says priority seating, they mean it. The Hard Rock staff is friendly and speaks English well, and the food is very good.
May 2015
Great food, wonderful memorabilia, very attentive staff, great place to rock the night away.
David D United Kingdom
May 2013
Non traditional German food, but you know what you are getting on the first day in a new city
Margaret P Canada
September 2012
Advertisement
Advertisement