408 Reviews
Location:

Munich, Germany

Duration:

2 hours 30 minutes

(approx.)
Many of Munich's buildings carry the secrets of a dark past. Just six decades ago, Munich bore the official title, Hauptstadt der Bewegung, the Capital of the Nazi Movement. This was the city that the Allied Supreme Commander General Eisenhower called 'the cradle of the Nazi beast'. Find out why on this fascinating walking tour.
Highlights
Munich walking tour of Third Reich sites

Walking tour of monuments, squares and buildings tracing the history of the Third Reich
See memorials to those who opposed the regime
Local professional guide
Recent Photos of This Tour
Hitler and the Third Reich Munich Walking Tour
What You Can Expect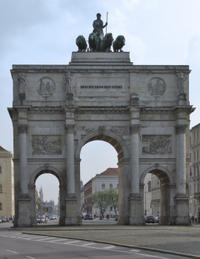 Munich was the birthplace of the Nazi Party and the home of its headquarters. The voice of Adolf Hitler resounded around the public squares and streets of Munich before being heard anywhere else in Germany. As the stage upon which some of the Nazis' most notorious crimes, from Hitler's failed Putsch to the horrific Kristallnacht, the largest anti-Semitic progrom seen in Europe for centuries and a dismal milestone on the road to the Holocaust were launched, Munich was the nursery of a movement that would shake humanity with some of the most infamous and terrible events in history.
In a unique and fascinating tour, our dedicated guide will open up this hidden history for you. We'll show you the beer-halls which hosted the first small gatherings of the fanatics who one day would lead the Third Reich, and the place where Hitler made his first major speeches. We'll walk you through the streets where Hitler and his brownshirts fought their way to power.
The irony is that while much of central Munich was devastated by Allied bombing, many Nazi buildings survived and still stand today. Standing alongside them are memorials to the city's many victims of Nazism, including those who sacrificed their lives in opposing its hateful ideology. We'll show you all these sites and give you the story.
November 2015
If you're into WWII this is a must.
November 2015
Fantastic tour and great guide, very knowledgeable. Highly recommended!
November 2015
Excellent. A very informative tour that was presented in an interesting manner.
October 2015
So much history. Great tour, lots of walking.
October 2015
Tour guide was Achem. Thoroughly enjoyed his commentary as we walked through the history of National Socialism in Munich. Heartily recommend to anyone remotely interested in this subject.
October 2015
Our guide Keith was fantastic. I highly recommend that if you visit Munich, you take time out of your schedule for this tour.
October 2015
The leader forget his name was very informed and knowledgable - very much appreciated that. Excellent tour. We did the afternoon session on September 8.
October 2015
Our guide was very knowledgeable and personable. Highly recommend this tour
October 2015
Our tour guide had a genuine interest in history and loved relaying his knowledge. Very enthusiastic. One of the best experiences we had in Munich! I forgot our tour guide's name but he was a Scotsman, so if you get him, you're in luck!
September 2015
Our tour guide Keith spoke with such passion and knowledge it was hard not to be engaged. He really knows what he's talking about and even took us for a drink in a local Munich pub - an added plus! He continued his tour in the pub and it was nice to hide away from the wind and rain for awhile. He really knows how to take care of his tour guests. Thanks again, Keith!
Advertisement
Advertisement