There's no better way to explore Munich than by bike. You decide where to go, where to stop and all at your own pace. Take this opportunity to pre-book bike rental and feel the freedom of the city! Munich is one of Europe's most cycle-friendly cities, offering miles of cycle paths throughout it's famously "green" center and it's equally picturesque environs. The surrounding Bavarian countryside is a cyclist's paradise. Get your own set of wheels and let the cycle paths lead you wherever you choose.
Highlights
Bicycle rental in Munich

Cycle one of Europe's most bike-friendly cities
Bike through the Old Town center, along the river and to the city's parks
Wide choice of bikes available
Choice of 1-day, 2-day and 7-day options
Cycle path maps, baskets and locks provided
Tips on what to see and where to go
What You Can Expect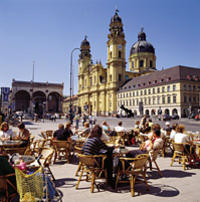 For example, ride to Konigsplatz (within minutes from the bike collection point), or through the beautiful Old Town center. You can also coast along the banks of the river Isar for a few kilometers or spend an afternoon cruising through the enormous Englischer Garten (Munich's Central Park). There, you can pause for a cold Bavarian beer at the Chinese Tower - one of our world-famous beer gardens. Think of Munich as one great excuse for a bike ride!
Bike rental is an affordable sightseeing choice, and the bike collection point is located in the center of town in the main train station. There is a wide range of bikes to choose from and the friendly English-speaking staff will give you tips on what to see and where to go and can provide you with bike accessories and route maps. All bikes are high quality, well-maintained, and come equipped with cycle path maps, baskets and locks.
June 2013
Very fortunate that the weather was brilliant when I booked this in advance of my trip. There was no real need to book in advance because there are hundreds of bikes, but it was only May, so the Summer could be different. Anyway, this was my first time on a bike in years, no helmet, but the system was fantastic with the cyclelines, go in same direction as traffic and you can't go wrong. Munich is so flat, hardly had to change a gear and it was the best way to see heaps of the city that was too spread out.
I was little worried about leaving bike chained up as they do take a credit card number incase of damage or lose, but it would appear that less stuff is stolen in Munich, though they supply a bike lock. Kept it for the full 24 hours as my apartment had a place to secure it. Munich is the city to cycle round, have fun.
May 2012
Renting bikes for two days was the best way to get around the city. We opted to try it on our own, and not sign up for the tour. We couldnt have been more happy to have done so. We got to explore Munich in a way the locals do. We were all over the city, from the Englischer Garten, to Schwabing, Isator, Marienplatz, and all the way down the River Isar. With just a map and our sense of adventure we rode around Munich until our hearts were content. Viator couldnt have been more helpful, providing a map and answering any questions. I will definitely be using them again! Thank you so much!
William V USA
July 2010
Munich is a great city to ride in. We were given a map and shown various routes to hit our target destinations. Lots, and I mean lots, of bike trails around town.
May 2014
the staff was very helpful to allow me to try the bike first before I went for my actual ride. a good way to see Munich on your own since the city has bike paths.
Advertisement
Advertisement