Get to know the best of Munich on this guided, 3-hour bike tour. Learn the history of this popular city, along with fascinating stories and facts, while riding around its wide open parks, elegant plazas, meandering riverbanks and winding, medieval alleyways. This tour includes stops at gathering spots like Marienplatz, Königsplatz, the Odeonsplatz and much more. Ride through Englischer Garten, Europe's largest city park and stop at the Chinese Tower beer garden for a beverage.
Highlights
3-hour bike tour of Munich

See Royal Munich, the medieval center and the city's parks and gardens
Stop for refreshments at the Chinese Tower beer garden
Cycle along the riverside
Insider tips and stories from your professional local guide
Recent Photos of This Tour
What You Can Expect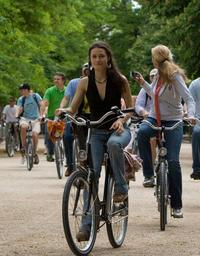 Meet and greet the tour guide and group near the main station in central Munich. There will be a brief introduction to Munich before beginning the approximately 3-hour ride around and through this capital city of Bavaria and one of the most popular destinations in Germany.
Because there is so much to see in Munich, this tour takes advantage of the many old pedestrianized medieval streets the city offers. With frequent stops to learn about the sites and to take pictures, it all makes for a most enjoyable way to explore this fascinating place.
Cycling in Munich accounts for 17 percent of all traffic. In fact, Munich named itself Germany's Radlhauptstadt, or bicycle capital, in the summer of 2010. Around 80 percent of its population owns a bicycle.
Ride through Königsplatz, a square built in the style of European neo-classicism in the 19th century and a center of cultural life in Munich. There's also the large Odeonsplatz square and Marienplatz, the city's main square since 1158.
Also, ride along Englischer Garten, Europe's largest city park and stop at the Chinese Tower beer garden (Chinesischer Turm) for a break and beverage.
Throughout the tour, the guide will provide ample information about Munich's past and present — and maybe even offer some insight into where the city is headed in the future. It's a great introduction to the city of Munich and all that it offers its visitors and residents alike. Your tour ends back in central Munich.

May 2016
This was a great tour. I have taken a tour with another, larger company in Munich and this one was every bit as great. It was even better because the size of my tour group was smaller than expected. Comfortable bicycles, informative and entertaining tour guide. She was an American from Oregon.
May 2016
It was really good tour, we covered a lot of ground, stopped at interesting sites and our tour guide Dani did an outstanding job. She know everything about the city it seems and is easy to listen to warm and funny.
April 2016
excellent tour. very interesting and fun ! Our guide was excellent and very knowledgeable. We had a great time and would recommend it .
October 2015
This bike tour was awesome, we stopped by a lot of different places and I learned a lot. The company was also very helpful in adjusting my bike. I would definitely recommend this tour to a friend.
September 2015
Although it has been about 25 years since last I rode a bike, the leader was great and I got to see parts of Munich I might never have gotten to see otherwise. I met some nice people who I hope to stay in contact with.

September 2015
We did this tour immediately after we arrived. We were lucky and our group consisted of only 4 people and our guide which made our stops very flexible. The guide was very knowledgeable, and this tour is the reason why we had a blast in Munich. We optimized our time and it helped us decide where we wanted to spend our few days there. The sights were nice and the info complete yet concise.
September 2015
Excellent tour with Jeff. Weather wasn't great but it took nothing away from the tour itself. Jeff was excellent and made sure we got the most of our 3 hours. It also helped us familiarise ourselves with the city. Good value.
August 2015
We really enjoyed this tour with Mark. I turned out that my husband and I were the only ones on the tour
so we had a fantastic personalized tour with informative and interesting commentary, that went well over the 3 hours as there was so much to see!
August 2015
tour guide very beautiful and prepared
August 2015
Diana was awesome
Best way to see the city
Much better than walking
Advertisement
Advertisement