Go behind the scenes at one of the largest and most successful film studios in Europe. During your 1-hour tour of the Bavaria Filmstadt (Film City), located just outside of Munich, see props from classic movies such as "The Neverending Story," "Das Boot" and "Asterix and Obelix vs. Cesar." Plus, you can star in your own film under the instruction of a professional director! A guided city tour of Munich's top sights is also included.
Highlights
Combined Munich city tour and Bavaria Film Studio tour

One-hour overview tour of Munich's sights
Konigsplatz, Schwabing and city-center streets
Behind-the-scenes tour of the Bavaria Filmstadt
Star in your own film and be coached by a director
Professional guide
What You Can Expect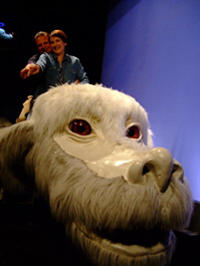 This sightseeing tour introduces you to the most outstanding sights of Munich and then takes you to the film studios in Munich's southern fringes where you will be introduced to the studio premises long tradition.
During a 60 minute tour of the 320,000 square meter Bavaria Filmstadt, the friendly staff not only let you in on the details of sensational filming but also take you to the locations of well known TV hits and provide an escort through extravagant street sets. Thanks to a large screen projection live-view of the Marienhof studio, you will receive a first hand live look at the popular German soap "Marienhof".

You will also encounter movie classics such as the original model submarine from Wolfgang Petersen's film "Das Boot", the popular mythical creature from "The Never Ending Story" and the gallic village from the filming of "Asterix and Obelix vs. Cesar". It is even possible to star in your own little film and be coached by a director. Show off their talent in front of the camera in four different original sets! A great family day out.
Daoud I Jordan
July 2010
Very nice tour, informative, suitable for a family and covers most of Munich major sites. The kids had much of fun in the Bavaria Film Studio.
June 2012
Informative preview of Munich on the bus, then the kids enjoyed the film studio especially since they participated in some scenes. Not familiar with some German movies set they toured us but appreciate the German version of hollywood more now, thanks.

May 2012
Very nice tour! We enjoyed the tour and the guide. Worth the money.
June 2016
Bus was cold, with a soft cover on the second level that dumped water on those of us in the front seats. It rained the whole time. Not anyone's fault, but the bus was simply inadequate to the conditions. Guide was good.
September 2012
The tour would have been great if I had understood German. I signed up for an English tour, but we were the only ones there not speaking German, so what was said in English was very brief and made us feel like we were bothering the others.The tour guides were very welcoming and friendly, but it doesn't really help much when you don't understand what is being said. However, this is a great tour if you understand German.
November 2013
This was supposed to be an English speaking tour, but most of the tourists were German speaking and the Guide spent an inordinate amount of time talking in German, a language which we do not know. That part was VERY disappointing and we told the Guide our thoughts. The movie studio was much better because the Studio Guide spoke to us in English and spent an equal amount of time speaking German to the majority of the group.
October 2011
False advertising! That's the best way to describe this tour. It is advertised as being suitable for English speakers, it is not. My wife and I were the only English speakers on the whole tour, everyone else spoke German. The city tour was really fast and it was obvious that the less than enthusiastic tour guide gave a great deal of more information in German than in English. We felt unwanted and a complete hassle to everyone else there. At the film studio the guide was lovely, but when we arrived she was surprised that there were two English speakers in the group. We felt even more of a hassle as she summarised what she was going to say in German, thus holding up the group. Everyone else seemed to have a good time but I would only recommend this tour for German speakers. I suggest Viator stop trying to trick people who don't speak German in doing this tour.
Advertisement
Advertisement