107 Reviews
Location:

Munich, Germany

Duration:

7 hours

(approx.)
Experience Munich's famous Oktoberfest beer festival, with guaranteed seating in the Hofbräu-Festzelt — the biggest and liveliest tent at Oktoberfest — 2 litres of beer and half a roast chicken included. Take a guided tour of the festival grounds, ride on Oktoberfest's famous Ferris wheel and take your seat to enjoy the festival to the full. Taking place over two weeks in late September and early October, Oktoberfest has grown into the world's largest beer festival and attracts millions of visitors from across the world each year. Book ahead to avoid disappointment!

Highlights
7-hour pass at Munich's famous Oktoberfest beer festival, including entry tickets and tour
Explore the Oktoberfest grounds with your guide and hear of the festival's history
Ride on the famous Ferris wheel for a bird's eye view
Take your reserved seats in the legendary Hofbräu tent, Oktoberfest's biggest
2 litres of beer and half a roast chicken included
Recent Photos of This Tour
Munich Oktoberfest Tickets and Tour
What You Can Expect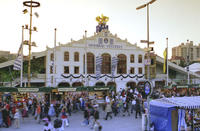 Begin your Oktoberfest experience with a guided tour and learn all about the history, heritage and traditions behind the world's biggest beer festival. Take a spin on the famous Oktoberfest Ferris wheel for a bird's eye view of the entire festival ground — a great way to get your bearings before getting the first round in!
At midday, follow your guide and find your reserved seats in the lively Hofbräu tent, sister to Munich's famous Hofbräuhaus brewery. The Hofbräu tent is the biggest of the festival, boasting a total capacity of almost 10,000. Your first 2 litres of beer and half a roast chicken (mandatory when reserving tables at the Oktoberfest!) are included, and your table is reserved for approximately five hours.
With live entertainment provided by the festival's Hofbräu-Festzelt brass band, let loose and enjoy Oktoberfest to the full with your friends. Dancing on the tables is by no means compulsory, but it's certainly encouraged!
After approximately 7 hours inside the festival, exit to conclude your tour.
May 2015
it was a great tour and our guide was excellent ... a really fun way to live de oktoberfest
February 2015
This was our first time to Oktoberfest and heard stories about tents being so crowded that you csn not get into a tent, so we decided to do this tour. Was the best decision ever! #great tour #literbeirs #farriswheel
December 2014
I highly recommend cause if your one or two people you will never get into a tent to drink. By buying the tickets you get into a tent and will be able to drink. Remember you can only drink beer at Oktoderfest if your in a tent. Tour guide was very helpful.
November 2014
5000 drunken Germans, Americans, Brits, and Aussies under one tent with beer flowing like river, the band playing and people screaming like there is no tomorrow is why you came here for. Because, there is no place like this in the US or anywhere in the world. We were there for five hours and I have no recollection as to how those five hours passed so fast. One day, I will do it again.
Ein, Zwei, Drei, ZUPPA !!!
October 2014
Everything was great, and we had the time of our lives! The tour guides were very knowledgeable, and gave us an interesting background to the history and significance of Oktoberfest. The reserved seating in the HB tent alone was well worth the price of the tour, as this is one of the "crazier" tents on the Wiesn. We got to meet a lot of great people in our group, and a had a blast once we were in the tents!
October 2014
We enjoyed the Oktoberfest very much. I have wanted to go for a long time, now I have been it was great. The tour guide was very good a lot of fun was had.
October 2014
Ian was our guide and he was FABULOUS. So knowledgeable and entertaining! His sidekick however, not sure of his name, had ZERO personality and was quite rude. He would not engage anyone in discussion except the gal in our group from Boston who he ended up making out with at our table. Now regarding the tour itself.....it was great to get a bit of history about Oktoberfest and check out the venue prior to going into the tents. It is craziness inside the tents and we were so thankful that we ended up booking this tour because we almost tried to just go and wait in line for a table instead of booking the tour. That would have been a huge mistake because it is jam packed!! It is so much fun and a once in a lifetime experience. Well worth it and tons of fun!
October 2014
Great fun and a great way to get into the tent for some beer and food.
October 2014
Worth every penny. Our tour guide Daniel rocked. Gave a great tour of the fairgrounds including lots of history. Made getting into our tent, ordering food and beer very simple. By the end of our time in the tent it seemed like all of the people on our table were family. A must do. No wasted time standing in line. Prost!!
October 2014
Oktoberfest was more fun that we'd ever imagined! Our guide, Daniel, was informative and fun! Nice tour of the grounds, a great ride on the ferris wheel, and beer, chicken and lots of laughs inside the HofBrau tent! The subway and walk to our hotel was *interesting* (some of our group might have enjoyed Oktoberfest a bit too much), but that's for another story! ;) We had a terrific time!!!
Advertisement
Advertisement