Experience Munich's famous beer culture with an Oktoberfest tour and guaranteed seating in the festival's biggest Hofbräu tent! Get an insider look at this world-famous event with your savvy guide, starting with a narrated walk through the festival grounds and a spin on the Ferris wheel. Then grab your seat in the lively Hofbräu-Festzelt tent and soak up the raucous festival culture while indulging in 2 liters of beer and a half a roast chicken — all included!
Highlights
7-hour excursion to Munich's famous Oktoberfest festival, including admission tickets
Take a historical walking tour of the festival grounds with a local guide
Enjoy bird's eye views from the top of the famous Oktoberfest Ferris wheel
Grab your guaranteed seat in the famous Hofbräu-Festzelt tent
Indulge in complimentary roast chicken and 2 liters of beer
Recent Photos of This Tour
Munich Oktoberfest Tickets and Tour
What You Can Expect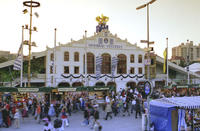 Begin your Oktoberfest experience with a guided tour and learn all about the history, heritage and traditions behind the world's biggest beer festival. Take a spin on the famous Oktoberfest Ferris wheel for a bird's eye view of the entire festival ground — a great way to get your bearings before getting the first round in!
At midday, follow your guide and find your reserved seats in the lively Hofbräu tent, sister to Munich's famous Hofbräuhaus brewery. The Hofbräu tent is the biggest of the festival, boasting a total capacity of almost 10,000. Your first 2 litres of beer and half a roast chicken (mandatory when reserving tables at the Oktoberfest!) are included, and your table is reserved for approximately five hours.
With live entertainment provided by the festival's Hofbräu-Festzelt brass band, let loose and enjoy Oktoberfest to the full with your friends. Dancing on the tables is by no means compulsory, but it's certainly encouraged!
After approximately 7 hours inside the festival, exit to conclude your tour.
November 2015
Austin was an EXCELLENT tour guide! Very knowledgeable and made the tour very fun!
October 2015
Highly recommend this tour to anyone wanting to attend the Oktoberfest in Munich. Kieth was our guide for the day, he was very knowledgeable and explained all about the history of the Oktoberfest and also took us on a tour of the grounds. The whole atmosphere inside the tent is great and the time just flew by.
October 2015
Best and most economical way to attend this event. Our guides were very informative and fun. Well done, keep it up.
October 2015
A fantastic experience! The tour surpassed our expectations. This was our first visit to Europe and Oktoberfest, and we were especially fortunate to have Ian as our tour guide. This witty and highly knowledgeable guide first lead us on a tour of the festival grounds giving us the history of Oktoberfest and showing us the various areas and rides, famous and infamous. The tour included a ride on the Riesenrad, Oktoberfests famous Ferris wheel. The tour of the fairgrounds was well placed allowing all of us to stay close despite the large crowds.
THEN-CAME-THE-BEER-TENT joyous chaos! Ian got us settled at our table and, the beer, the food, and frivolity begins. A most enjoyable time.
My wife and I are only occasional drinkers, so after 2 liters of beer each, we had both especially my wife had surpassed our capacity. Ian was alerted by some friends at the table and helped us, first helping us get through the crowds, personally, to the toilets. He found a female sever to help my wife. Afterwards, back at the table, he made sure we got liter mugs of water to re-hydrate. Later, after I determined that I was stable enough to navigate our way back to the hotel, Ian took us by the hand again and made certain we were headed towards the taxi stand and safely on our way to the hotel.
Though all of this Ian managed give us very memorable Oktoberfest experience yes, even THAT part. We felt we were in the hands of a dear friend.
Prost Ian!!!
October 2015
This was a great afternoon. Our guide, Keith did a terrific job of getting us to the grounds no easy feat and gave us a brief walkabout with a review of the fairgrounds highlights. He was informative, helpful and entertaining. Great location in the Hofbrau tent- our 5 hour reservation actually flew by. Would definitely recommend to anyone as a first class Oktoberfest trip!
October 2015
Dani was very funny and provided us with good insights yo Oktoberfest.
October 2015
Keith was our guide. He did an amazing job organizing the group through a very crowded and noisy venue. He was very informative and fun when he presented the history of Octoberfest. Once inside the tent, which was an amazing experience, Keith than made sure that everyone's orders for the beers and chickens were well taken care of. My daughter and I loved this tour. We were fortunate enough to be in a fun group, and have a fabulous tour guide. My only suggestion is that just serving a 1/2 a chicken, and nothing else was not well done. We should have had vegetables, and a starch with the chicken. The table in front of us had a better meal

September 2015
This tour was great! Big thanks to Yolanda for making it such a fun experience. I would recommend this tour to anyone who is interested in experiencing Oktoberfest for the first time.

September 2015
The best and easiest way to tour the grounds and get into a tent with the least amount of hassle.
Our guide was Dani Danielle and she was terrific. Always smiling and very entertaining while making sure you have all the information you need to make it a wonderful day.
September 2015
Had a great tour guide, Austin. He was knowledgeable, humorous, and friendly. Wanted to book a tour for Oktoberfest to make sure we had a seat in a tent. Didn't realize how much history and customs we wouldn't have known about without a guide. Went back another day on our own and felt we knew where to go and what to do after going with a guide.
Advertisement
Advertisement