Wind through Munich's bustling neighborhoods and parks on a fun and educational Segway tour! On the self-balancing device, you'll follow an expert guide through pristine gardens and vibrant markets, past famous residences and some of the city's great museums. Along the way, take pictures, stop at favorite sites, and hear fascinating facts and stories about this contemporary city with ancient roots.
Highlights
Small group Munich Segway Tour

Professional English-speaking guide

Maximum tour group limited to 8 people

Convenient and fun way to sightsee in Munich

Recent Photos of This Tour
What You Can Expect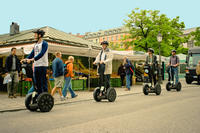 Your tour begins in the morning near the Hauptbanhof (Main Train Station) in central Munich. Meet your English-speaking guide and receive a 30-minute training in the basics of Segway use. Once you've got your bearings on the electric two-wheeler, take off on a whirlwind adventure with your small group.

Your tour begins in the old-city, but will cover a lot of ground quickly. Glide through hip neighborhoods, picturesque gardens like Hofgarten (Royal Gardens), and along the Isar waterfront while your local guide offers facts on Munich's history. Learn about the city's modest beginnings, contemporary culture, rich beer tradition and more! (See 'Itinerary' section for a list of trip highlights.)
Your 4-hour tour returns to the starting point by mid-afternoon.
Itinerary
Tour highlights include:
Hofgarten, Royal Gardens
Ludwig-Maximilians-Universitat
The Walking Man icon
Englischer Garten
Deutsches Museum
Gartnerplatz
Viktualienmarkt (farmers market)
Residenz (former Royal residence)
Jewish Museum
June 2016
June 2016
It was a very bad weather day, but that didn't stop the great time we had. Our tour guide Will was very upbeat, helpful and made it so much fun. We learned so much about the history of Munich. Things we never read in the travel guides before the trip. He was also very eager to answer any question we had regarding places or things around town. We would recommend this tour to anyone who wants a unique perspective of Munich, as well as fun and adventure along the way.
June 2016
My husband and I booked this tour because we were so tired of walking around every city we visited. Good thing we did because it was so much fun! Not only was our tour guide knowledgeable and entertaining, but we got to see so much more of the city and had a blast on the segways!
November 2015
At first, I wasn't sure that I would be happy on a Segway and I thought that biking or walking would be better. Boy, was I ever wrong... Segway is the way to go. You get to see a lot over the next 4 hours including neighborhoods, parks, etc. It was time well spent.
In regards to the tour, it was excellent! I booked the regular group tour, but since I was the only one, I got a personalized private tour instead. It was the best ending to a hectic business trip. My guide, Jose, was fantastic! He knowledge of history was first rate bonus - magic tricks too!. We did the history bit in the beginning, but then off to Olympic Park and the best part was the BMW showroom. Couldn't ask for anything more. On the way back, more history, and more neighborhoods. It turned out to be really really great. I would definitely book the private tour again!
October 2015
Great tour! Jose was an amazing guide
September 2015
Awesome - great tour!!!!!! Definitely recommend it.
August 2015
Our tour guide Jose was the best!!! Even with a small tour group, he managed to keep us entertained and made everyone feel at ease when operating the segway. Jose was full of character and told great stories which not only made us laugh but were very educational. I strongly recommend not only Munich Segway Tours but Jose as well :
August 2015
Munich was our last stop on a two week European vacation. On a whim, I decided to book a segway tour for me and my wife for our first day in Munich. Neither of us had ever ridden one before but it sounded fun.
We did several tourist groups throughout our vacation but overall I feel that this one offered the most bang for the buck, although I must admit that part of my reasoning for that is because this was close to our hotel. There are lots of great tours to do but many of them burn up most of the day and involve hours of travel to and from the destination.
After doing this segway tour we are both convinced that this is the way to go for future vacations. It was a fun way to get around, and because they are pretty quick, you can spread further out and see many different points of interest in a reasonable amount of time. It was also a great way to discover other places to go and things to do. Riding the segways was very easy and intuitive and we were both very comfortable after only a few minutes on them. The guide was very informative.
Ann P United States of ...
July 2015
We had Matt as our guide and he was extremely knowledgable about the world history which took place in and around Munich. Great fun, well presented. Only suggestion for the company is they might consider giving out a small bottle of water for each participant , particularly in the summer. We had this done on another segway tour and it was a very nice touch!

July 2015
Advertisement
Advertisement