Special Offer
Book this Munich Super Saver and save 10% compared to booking the tours separately!
Visit two of King Ludwig II's extravagant abodes – Neuschwanstein Castle and Herrenchiemsee Palace – on this exciting Super Saver from Munich! Combining two best-selling day trips over two days, the sightseeing experience includes round-trip transport by train from Munich, walking tours of both historical sites plus free time at Fraueninsel island. Immerse yourself in the fairy-tale fantasy land of UNESCO-listed Neuschwanstein Castle, and then ogle the opulence of Herrenchiemsee Palace, a site intended to mirror the Palace of Versailles. Entrance fees to both sites are at your own expense.
Highlights
Enjoy two best-selling Munich day trips on consecutive days for a discounted price
Learn about mad King Ludwig II who created Neuschwanstein Castle and Herrenchiemsee Palace
Enjoy a walking tour around the inside of Neuschwanstein Castle, a UNESCO World Heritage Site
Visit Herrenchiemsee Palace and Fraueninsel at Lake Chiemsee on the second day

Walk through rooms such as the Hall of Mirrors that were modeled on the Palace of Versailles
Travel from Munich by train with a knowledgeable local guide
Recent Photos of This Tour
Munich Super Saver: 2-Day Trip from Munich Including Neuschwanstein Castle and Herrenchiemsee Palace
What You Can Expect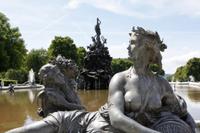 Day 1: Small-Group Neuschwanstein Castle Day Trip (9 hours)
Meet your guide near Munich Central Station, and then board your train for the short journey to Füssen, home to the UNESCO World Heritage-listed Neuschwanstein Castle. After an uphill walk, head inside the magnificent castle and explore its elaborate interiors with your guide while learning about history and original owner, King Ludwig II.

The result of an obsessional extravagance, the castle was the fantasy of the king, who wanted a home that would both wow his people and shelter him from prying eyes. Notoriously shy, the eccentric king died soon after the building was complete, leaving behind one of the world's greatest castles that he ironically spent little time enjoying.

Admire rooms such as Minstrel's Hall with its murals of Richard Wagner, the operatic maestro who Ludwig idolized; take in the spectacular ornamentation of the Byzantine Throne Room; and walk through the king's stately bedroom. Neuschwanstein's exterior is noteworthy, too, so use your free time after your walking tour to walk outside and marvel at the intricate detail of the castle's parapets and turrets. Many believe Neuschwanstein to be the perfect example of a fairy tale castle, and indeed it was the inspiration behind Disney's Sleeping Beauty castle in the 1959 film.

Meet your guide at the prearranged time, and then travel back to Munich Central Station by train where your day trip finishes.

Day 2: Herrenchiemsee Palace Day Trip (9.5 hours):
The morning after your Neuschwanstein Castle day trip, meet your guide at Munich Central Station and travel by train to Lake Chiemsee, home to another King Ludwig's elaborate homes, Herrenchiemsee Palace.

Ride across the lake to the island where the palace sits, and then head inside to marvel at the palace's opulence that is said to be modeled on the Palace of Versailles. With your guide at your side, explore Herrenchiemsee's walkways and behold elegant rooms lined with gold, marble and glass. Look out for the elevated dining table that could be lowered to the servants' quarters so the king was spared the sight of his minions, and marvel at the ornamentation of the Hall of Mirrors.

After exploring the palace with your guide, take a boat ride across the lake to the neighboring island of Fraueninsel (own expense). Barely covering an area of 38 acres (15.5 hectares), the island is small enough to see on foot, so enjoy some free time to explore and soak up its history independently. Be sure to stop for photos by the historical convent, a site that dates back to the first century.

Having looked around at leisure, meet your guide and make your way back to the train station to travel back to Munich. Your day trip then finishes at Munich Central Station.
August 2015
For the Neuschwanstein tour it was very cold and rainy, so unfortunately the bus that takes you up the hill to the castle was not running and we had to walk the entire way. Although it was unfortunate to have to walk uphill in the rain the castle was definitely worth it. This company was fantastic!!
December 2014
Very well organised using train for most of the journey. With Neuschwanstein you also take a bus to get you to the little township below the castle site. With Herrenchiemsee you also get to go on a steam train and ferry as part of the experience of getting to the palace. Both are worth seeing and unique in their own way because of their setting and styles. If you get a chance do Linderhof as well. That is the smallest of the palaces, but it is complete, almost 'homely' compared to the others and it is where King Ludwig spent most of his time.
The views from Neuschwanstein are amazing! Herrenchiemsee has a lovely village and abbey nearby to visit. Our guides were wonderful, friendly and accommodating. Very pleasant experience. Great way to see some of countryside as well.
August 2014
Great trip! The castle and surrounding area were beautiful! Our guide, Austin, was very friendly and entertaining. He gave some great background on the castle and King Ludwig II, and made sure we got exactly where we needed to go. He was organized and made sure we always had seats even when the trains got crowded. I would recommend this tour to anyone who loves history, and even to the ones that simply like beautiful scenery.
June 2014
Excellent, but fast-paced. Sabine is a great tour guide and her little dog makes it easy to find her in a crowd. If you have to pick only one of these two castles to tour then Herrenchiemsee is by far the prettiest inside and includes a day on the lake as you tour to the little islands that house the convent and the monastery as well. Beautiful statues everywhere at Herrenchiemsee and the interior is amazing.
August 2014
Had a wonderful time. Out tour guides we excellent and very informative
September 2014
Beautiful scenery with the Alps in the background . Neuschwanstein Castle tour was only 30 minutes. Not sure worth 4 hours on the train and we were minus one family whom held us up twice.
August 2014
This review is only for the Neuschwanstein Castle as I didn't enjoy it much and switched my next trip to Dachau, which happily they were willing to do for me. If you're into castles, it is breathtakingly beautiful. However, it is a horribly long day-longer than it needed to be. It could be done in 6 hours easily but the entire day of this tour is about 10.
The tour guides were great, no problem there. However, for a 10hr day, I'd recommend packing some sort of food with you. The only options there are really, really repulsive/disgusting with very limited options. And, if you're a healthy eater, you may as well fast for the day because it will gross you out even more. And beware of all the tourists there. If you hate crowds, simply don't go. They were horrendous the month I went (August). Skip it if you aren't truly into castles.
Special Offer
$82.89 Save $11.30
Advertisement
Advertisement