Special Offer
Book this Munich Super Saver and save 10% compared to booking the tours separately!
See two of the extravagant castles where King Ludwig II of Bavaria used to live on this guided, 2-day, royal castle Super Saver tour from Munich. Escape to the Bavarian foothills of Füssen to see Neuschwanstein Castle, the inspiration for Disney's 'Sleeping Beauty' and enjoy a narrated walking tour of this popular fairy tale abode. On the second day of the tour, visit Herrenchiemsee Palace, modeled after the Palace of Versailles, on an island in Bavaria's largest lake. Round-trip train tickets to both castles included.
Highlights
Enjoy two best-selling Munich day trips on consecutive days for a discounted price
Learn about mad King Ludwig II who created Neuschwanstein Castle and Herrenchiemsee Palace
Enjoy a walking tour around the inside of Neuschwanstein Castle, a UNESCO World Heritage Site
Visit Herrenchiemsee Palace and Fraueninsel at Lake Chiemsee on the second day

Walk through rooms such as the Hall of Mirrors that were modeled on the Palace of Versailles
Travel from Munich by train with a knowledgeable local guide
Recent Photos of This Tour
Munich Super Saver: 2-Day Trip from Munich Including Neuschwanstein Castle and Herrenchiemsee Palace
What You Can Expect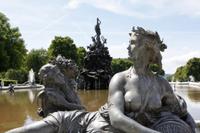 Day 1: Small-Group Neuschwanstein Castle Day Trip (9 Hours)

This 2-day royal castle tour begins at München Hauptbahnhof, the main railway station in the city of Munich. From there it's a 1.5-hour trip southwest to the Bavarian foothills of Füssen.
The next stop is one of the most popular tourist destinations in all of Germany — Neuschwanstein Castle, a 19th-century Romanesque Revival palace nestled on top of a rugged hill high above the village of Hohenschwangau. This stunning fairy tale palace was the inspiration for Disney's Sleeping Beauty and it's one of the most popular of all the castles or palaces in Europe, drawing 1.4 million visitors each year. Enjoy a guided walking tour of this medieval masterpiece. Explore rooms like Minstrel's Hall, the Byzantine Throne Room and many more. Learn about the castle's architect, King Ludwig II, and visit the terraces, grounds and gardens outside as well.
The first day of the tour ends with a return trip to Munich.
Day 2: Herrenchiemsee Palace Day Trip (9.5 Hours):

On the second day of the tour, meet the guide once again at München Hauptbahnhof and travel by train to Bavaria's largest lake — Lake Chiemsee — home of another of King Ludwig's elaborate homes, Herrenchiemsee Palace. This castle is located on an island in the Chiemsee. Enjoy a guided walking tour of the large state rooms: the State Staircase, the State Bedroom and the Great Hall of Mirrors, plus the king's own rooms in the intimate Small Apartment, designed in the French rococo style.
After the tour, take a boat ride across the lake (own expense) to the island of Frauenchiemsee, the second largest of the three islands in the Chiemsee. Explore the island and be sure to stop at the historic Benedictine convent, which dates back to the first century.
The tour ends with a return trip to Munich.
December 2015
Early September, 2015, Munich was preparing to receive its first trainload of refugees so the tour company rented a comfy bus to take us to Neuschwanstein. Our guide, Anya, was informative, organized, humourous, and energetic, a real asset to the company. Traveling by coach instead of train meant that we were able to take more scenic routes which made the journey more enjoyable. The walk to the castle is not that difficult and we had plenty of time to make our way up the hill. Neuschwanstein has its own tour guides who escort you through the castle efficiently. Anya's advice prior to the tour was to look up and without that advice many wonderful ceilings and features would have been missed. Approaching Munich on the way home, we got caught in traffic, but Anya kept us well entertained, even showing us photos of the new dirndl she would wear to Oktoberfest! It was a very enjoyable and worthwhile daytrip.
The following day we went to Herrenchiemsee. Once again, the refugee situation affected our departure as usual platforms were relegated to refugee arrivals.. Our guide, Roland, led us on a merry chase through the train station trying to find the train to Herrenchiemsee. The ferry rides on Chiemsee was pleasant as we once again had sunny weather. We were fortunate to experience the fun ride by steam engine on both legs of the trip. The tour of the castle was more relaxed than at Neuschwanstein and it was lovely to wander around the gardens and fountains. Our guide was more shepherd than guide as he was dealing with a group of people of vastly differing mobility capabilities. Somehow, he didn't lose anyone! Despite the problems encountered, my friend and I both preferred the Herrenchiemsee tour. We especially enjoyed walking around the island, stopping in artisan shops, restaurants, and park. There was even a real beer garden, with beer bottles planted in rows in the soil.
August 2015
For the Neuschwanstein tour it was very cold and rainy, so unfortunately the bus that takes you up the hill to the castle was not running and we had to walk the entire way. Although it was unfortunate to have to walk uphill in the rain the castle was definitely worth it. This company was fantastic!!
December 2014
Very well organised using train for most of the journey. With Neuschwanstein you also take a bus to get you to the little township below the castle site. With Herrenchiemsee you also get to go on a steam train and ferry as part of the experience of getting to the palace. Both are worth seeing and unique in their own way because of their setting and styles. If you get a chance do Linderhof as well. That is the smallest of the palaces, but it is complete, almost 'homely' compared to the others and it is where King Ludwig spent most of his time.
The views from Neuschwanstein are amazing! Herrenchiemsee has a lovely village and abbey nearby to visit. Our guides were wonderful, friendly and accommodating. Very pleasant experience. Great way to see some of countryside as well.
August 2014
Great trip! The castle and surrounding area were beautiful! Our guide, Austin, was very friendly and entertaining. He gave some great background on the castle and King Ludwig II, and made sure we got exactly where we needed to go. He was organized and made sure we always had seats even when the trains got crowded. I would recommend this tour to anyone who loves history, and even to the ones that simply like beautiful scenery.

June 2014
Excellent, but fast-paced. Sabine is a great tour guide and her little dog makes it easy to find her in a crowd. If you have to pick only one of these two castles to tour then Herrenchiemsee is by far the prettiest inside and includes a day on the lake as you tour to the little islands that house the convent and the monastery as well. Beautiful statues everywhere at Herrenchiemsee and the interior is amazing.
August 2014
Had a wonderful time. Out tour guides we excellent and very informative
September 2014
Beautiful scenery with the Alps in the background . Neuschwanstein Castle tour was only 30 minutes. Not sure worth 4 hours on the train and we were minus one family whom held us up twice.
August 2014
This review is only for the Neuschwanstein Castle as I didn't enjoy it much and switched my next trip to Dachau, which happily they were willing to do for me. If you're into castles, it is breathtakingly beautiful. However, it is a horribly long day-longer than it needed to be. It could be done in 6 hours easily but the entire day of this tour is about 10.
The tour guides were great, no problem there. However, for a 10hr day, I'd recommend packing some sort of food with you. The only options there are really, really repulsive/disgusting with very limited options. And, if you're a healthy eater, you may as well fast for the day because it will gross you out even more. And beware of all the tourists there. If you hate crowds, simply don't go. They were horrendous the month I went (August). Skip it if you aren't truly into castles.
Special Offer
$88.64 Save $12.09
Advertisement
Advertisement