30 Reviews
Location:

Munich, Germany

Duration:

2 days

(approx.)
Special Offer
Book this trip and save 10% compared to booking the two tours separately!
Combine two best-selling day trips from Munich to see the best of Bavaria and a slice of Austria over two days. The first day, visit the Austrian city of Salzburg, where you can see its top sights like Mozart Square and the Mirabell Gardens, and then head to Lake Wolfgangsee for a picturesque waterfront walk or an optional boat ride. The next day, you'll venture north on the Romantic Road to discover two of its medieval villages – Harburg and Rothenburg, one of the best-preserved Middle Ages towns in Europe. You'll have free time in every town to explore however you wish.
Highlights
Two day trips from Munich with 10% savings
Visit Salzburg and drive through the Lake District
Tour Salzburg at your own pace and see top attractions like Salzburg Cathedral, Mozart Square and Mirabell Gardens (featured in The Sound of Music)
Drive past Lake Mondsee and visit Lake Wolfgangsee, where you can take an optional boat ride

Discover the famous Romantic Road, which winds past castles and medieval villages
Explore two Bavarian towns – Harburg and Rothenburg – at your own pace
Admire Rothenburg's well-preserved medieval sights like St Jakob's Church
Recent Photos of This Tour
Munich Super Saver: Salzburg and Lake District Day Trip plus Romantic Road and Rothenburg Day Trip
What You Can Expect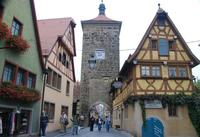 Salzburg and Lake District Day Trip (Day 1)
Meet your guide in central Munich and head southeast by comfortable coach to Salzburg. When you arrive after an approximate 2-hour drive, you have free time to explore the city on your own.

Walk Salzburg's charming streets; admire beautiful views of the Lower Bavarian Alps; wander around the picturesque old city; and see major attractions like Salzburg Cathedral, St Peter's Abbey and Mozart Square. Enjoy lunch or drinks at a local restaurant (own expense), and discover famous sites from the classic movie The Sound of Music, such as the fountain in Mirabell Gardens where Julie Andrews and the Von Trapp children sing 'Do-Re-Mi.'

Back on board your coach, leave Salzburg for Lake Wolfgangsee, one of the Lake District's best-known lakes. Walk along the water and enjoy the beautiful scenery, or choose to take a boat ride (own expense) to a pilgrimage church and the lakeside town of St Wolfgang, where you'll see the White Horse Inn, famous for being the setting of the early 1900s operetta The White Horse Inn.

During the return journey to Munich, pass by Lake Mondsee, which was used in several scenes from The Sound of Music.

Romantic Road, Harburg and Rothenburg Day Trip (Day 2)
The next day, leave Munich again by coach, this time heading north to the castles and medieval villages of Germany's renowned Romantic Road.

After an approximate 1.5-hour drive, your first stop is the small town of Harburg, home to one of the oldest, largest and best-preserved medieval castles Germany. You'll have free time here to explore the town however you wish.

Back on your coach, head to Rothenburg, driving through the Swabian crater landscape and past the town of Dinkelsbuhl. Rothenburg ob der Tauber, as it's formally known, is one of the most perfectly preserved medieval towns in Europe, and you'll have about three hours of free time here to sightsee, have lunch and shop, if you wish, at your own pace (all food and entrance fees at own expense).

Most of Rothenburg's top sights are centered around the Marktplatz, including the Town Hall with its Rothenburg History Museum, and St Jakob's Church, a Gothic building with soaring, light-filled ceilings. If you're a Christmas-lover, you may want to check out the open-year-round Kathe Wolhfahrt Christmas Store on Herrngasse, where you can purchase ornaments, nutcrackers and other holiday items.

You will return to Munich via the Hallertau, the world's largest hop-growing area.
August 2015
Salzburg was a lot of fun! I really enjoyed the boat ride at the end of the day. It was a final touch to an already wonderful day. The romantic road tour was also a good experience. I really enjoyed the castle on the way to Rothenburg.
July 2015
Our guides and drivers were great, particularly Elisabeth. Both the lake and Rothenburg were beautiful as always
June 2015
Highly recommended visit to Rothenburg a very well preserved medieval town.
The trip to Salzburg and Wolgangsee lake and the additional boat trip were also very interrsting with excellent views.
The transportation in coach was fine as the guides on board
October 2014
Salzburg and Lake District day trip brought us through stunning views of the alps and the lakes! Our guide was very informative and made the experience a very pleasant one for us.
Our guide on the Romantic Road and Rothenberg day trip was quite elderly and he kept repeating the same information during the journey. However, we had a good time interacting with him when he took some of us to the city walls during the free and easy time. We enjoyed his guided walk to the city walls.
September 2014
Rothenburg alone is worth the price of the trip. It is beautiful. Salzburg and the boat ride on Lake Wolfgang are also beautiful. The hills are certainly alive in Austria.
September 2014
July 2014
Salzburg was a fairy tale city, and Rothenburg was absolutely beautiful. I highly recommend this tour.
June 2014
Lovely day trip. The drive was beautiful. It was interesting to see the Sound of Music sights .Its a easy walk to see all of the sites in town but a long walk back to the bus. We really enjoyed the boat ride, don't miss it! Our tour guide played the Movie on the bus as we drove back. A nice touch! Next day- Trip to Rothenburg which was wonderful! Loved walking around the old medieval town, well worth the trip. The Christmas store was great! Spent a hour looking at all the ornaments! Note: print out two vouchers, they need a paper copy to board the bus each day.
December 2013
Well thought out and gave us enough time to explore on our own with recommendations of where to go.
December 2013
Salzburg was a long bus ride, but the town is just so cute, I highly recommend this tour. However, you're really just paying for transportation, you're left to your own devices once you arrive. You'll want to decide in advance which sights are priority because there isn't enough time to see everything. We took the elevator up to get some fantastic photos overlooking the city and fortress, so definitely don't miss that, but get lunch elsewhere. The restaurant just above the lookout is a little overpriced and if you sit outside, the bees will swarm you. The old cemetary below the cliff is quiet and very beautiful and the main pedestrian street is really something else. Our favorite part of this day was the boat trip on the lake, but don't forget extra euros, its not included in the tour price. It was a sunny beautiful day and very relaxing after so much walking.
The Romantic Road / Rothenburg trip was probably the highlight of our vacation for me. You make a short stop first at Harburg Castle and take a short, interesting tour of the fort. Then on to Rothenburg which is the epitome of what you'd think Old Bavaria should look like. I don't care if people say its touristy, if you're on vacation then you're a tourist, get over yourself and enjoy it for what it is... a cute, quaint, fun, beautiful little village with a bunch of other tourists. If you have the time and money, I recommend staying here for a night or two because an afternoon will just leave you wanting more. You're left to your own devices upon arrival, so don't expect a guided tour, but its more fun exploring on your own anyway. Don't miss a walk along the defensive wall and try a Schneeballen, they're not super sweet and they come in all kinds. If you're looking for a great souvenir, this is the place to get it. The Anneliese Friese Cuckoo Clock store is THE BEST hands down! Best service, best prices and its all German-made, not from China. Go here first!
Special Offer
$111.57 Save $11.38
Advertisement
Advertisement