Special Offer
Save over 15% on these tours by booking them together in this combo package!
Discover Munich from its days of Third Reich rule, plus take a trip to the Dachau Concentration Camp Memorial Site on this guided, 2-day tour. On the first day, take a trip to the Dachau Concentration Camp Memorial Site, the first Nazi concentration camp in Germany during the Holocaust. On the second day, learn about the history of the Third Reich's rise to power and visit some of the sites associated with Adolf Hitler, the leader of the Nazi party. Round-trip transportation from Munich to Dachau is included.
Highlights
Combine the Dachau Concentration Camp and Third Reich tours for a discounted price

Learn about the social issues, events and people of the Third Reich
See poignant sites such as the Arbeit macht frei gateway at Dachau
Spend 2.5 hour seeing historical buildings around Munich such as the former Gestapo (secret police) headquarters
Hear lesser-known tales about Nazi leaders such as Adolf Hitler, Heinrich Himmler and more from an expert guide
Recent Photos of This Tour
What You Can Expect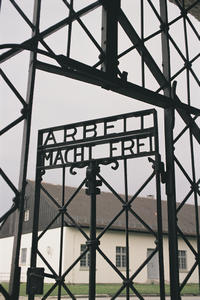 Dachau Concentration Camp Tour (5 Hours):

This 2-day Third Reich excursion begins with a tour guide meet and greet at München Hauptbahnhof, the main railway station in Munich. After boarding a train there, it's approximately a 30-minute ride north to Dachau.
The first day of this tour begins at the Dachau Concentration Camp Memorial Site, the first Nazi concentration camp in Germany during the Holocaust. It served as a model for all the other camps that followed it. See the photographs, documents, reconstructed cell blocks, crematorium and administration headquarters on a tour of both the camp and museum. Find out little-known facts and stories about the well-known Nazis linked to this site, like Heinrich Himmler, the notorious guard who started the camp.
It's a chilling reminder of the events that took place here.
After touring the site, return to the train station with the guide for a return trip to Munich.
Munich Third Reich Walking Tour (2.5 Hours)
:
On the second day, greet the expert guide at a prearranged point in central Munich. Then learn about the rise and fall of Adolf Hitler and Nazi Germany's Third Reich while visiting many of the locations that were key to that time period. Munich was the city where Hitler rose to power and many of the Nazi party's policies were conceived here.
Stroll around Munich's Old Town to witness the historical sites associated with the city's Nazi era. See the building where Hitler first joined the Nazi party. Discover the former headquarters of the Gestapo and visit the place where the infamous Beer Hall Putsch, also known as the Munich Putsch, took place in 1923. This was a failed coup attempt by Hitler and other party leaders to seize power in Munich.
After 2.5 hours of exploring, the tour concludes at its starting point.
April 2016
Our tour of Dachau was sobering, but excellent. Our guide,Steve, was very knowledgeable and respectful of the place we were visiting. He gave an unbiased view and told us so much background we were unaware of. He was great on the Third Reich walking tour later too. My feet ached a bit at the end but it was awesome to get so much in perspective. We could never have found those places on our own. Thanks!
November 2015
Dachau you can do yourself by train easily, but the walking tour was excellent for seeing places you would pass without realising their significance.

October 2015
I was in Munich for 7 days. We had a very full 7 days and did a few tours. This was my favourite, the highlight for me, and will be my most memorable part. Our tour guide, Mat was very knowledgable, it was nice to listen to him telling us the history right from his memory. He knew names and dates and answered any question asked, and he was passionate about what he was telling us. This is a part of our history. If you go to Munich, do not miss this. It's a way to pay your respect, and so the victims will not be forgotten. We ended up only doing the Dachau tour, not the Third Reich part of it, as it was suppose to be on two different days, but it got rolled into one day and after 5 hours at Dachau we just had no energy for another three hours doing another tour. So if you book this one, I would suggest to make sure you do it on two separate days as both together may just be too much.
October 2015
October 2015
My guide was exceptional - the Brit. He knew a lot, demonstrated compassion for victims, and presented a balanced view of this terrible phase of German history. Fantastic tour on a chilly day. Thank you.

October 2015
Excellent tour of Dachau. Our guide was knowledgeable, articulate and engaging. We decided to skip the Third Reich tour, which I regret.
October 2015
For our Dachau tour we had a German citizen that gave the tour, which added a little more weight to his words. There is a lot of walking on this tour, so make sure you wear comfortable shoes. As far the actual Dachau memorial site, there is a lot to see but the tour guide does a great job hitting the high points and providing additional information.
For the Third Reich walking tour our guide was very knowledgeable about the subject and explained everything in detail often making comparisons to current times. It was very interesting to walk around Munich and see some of the important locations, as well as hear the history. I would recommend this tour to anyone that has an interest in this part of Munich's history.
Florence L Canada
October 2015
very informative guide. Sabri was so nice.
September 2015
The tour is a must see. It was very informational and our guide Diane was very knowledgeable on the subject. We greatly enjoyed our tour. However, we would've liked maybe an extra 20 minutes to properly look the museum exhibits. But otherwise, we had a great experience. Thank you!
September 2015
Both of these tours were well worth the time spent. The tour guides on both were more than willing to answer all questions and were very informative.
Special Offer
$45.80 Save $7.04
Advertisement
Advertisement