Special Offer
Save over 15% on these tours by booking them together in this combo package!
Learn about the history of Munich from its days of Third Reich rule and visit the Dachau Concentration Camp Memorial Site on this 8.5-hour guided tour. Travel to the Dachau Concentration Camp Memorial Site, the first Nazi concentration camp in Germany during the Holocaust. Learn about the history of the Third Reich's rise to power and visit some of the sites associated with Adolf Hitler, the leader of the Nazi party. Round-trip transportation from Munich to Dachau is included.
Highlights
Combine the Dachau Concentration Camp and Third Reich tours
Learn about the social issues, events and people of the Third Reich
See poignant sites such as the Arbeit macht frei gateway at Dachau
Spend 2.5 hour seeing historical buildings around Munich such as the former Gestapo (secret police) headquarters
Hear lesser-known tales about Nazi leaders such as Adolf Hitler, Heinrich Himmler and more from an expert guide
Recent Photos of This Tour
What You Can Expect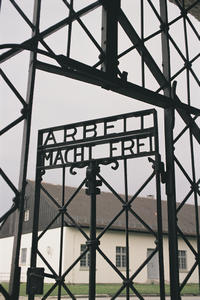 Begin your day with a tour guide meet and greet at München Hauptbahnhof at 9:15 am, the main railway station in Munich. After boarding a train there, it's approximately a 30-minute ride north to Dachau.

Dachau Concentration Camp Tour
Arrive at the Dachau Concentration Camp Memorial Site, the first Nazi concentration camp in Germany during the Holocaust, which served as a model for the subsequently constructed camps. See the photographs, documents, reconstructed cell blocks, the crematorium and administration headquarters on a tour of both the camp and museum. Find out little-known facts and stories about the well-known Nazis linked to this site, like Heinrich Himmler, the guard who founded the camp. Return to Munich via train, arriving at approximately 2:15. You will have a brief break before meeting up for your 3pm walking tour.

Munich Third Reich Walking Tour
After a short break, meet up with your group at a prearranged point in central Munich.

During the 2.5-hour Munich Third Reich Walking Tour, learn about the rise and fall of Adolf Hitler and Nazi Germany's Third Reich while visiting many of that period's important locations.

Stroll around Munich's Old Town to witness the historical sites associated with the city's Nazi era. See the building where Hitler first joined the Nazi party, discover the former headquarters of the Gestapo, and visit the place where the infamous Beer Hall Putsch, also known as the Munich Putsch, took place in 1923.

After 2.5 hours of exploring the historic streets of Nazi Munich, the tour concludes at Königsplatz, near Munich Central Station.
June 2016
Well organizes, knowledgeablel, wasted no time
June 2016
Very good tours both guides were very knowledgeable and gave us great tours.
June 2016
Very informative and well paced tour. I agree with others that the combo package with the Third Reich walking tour would be too much for many, I think we logged about 10 miles walking that day. Guide Jeff was open and knowledgable on questions.
June 2016
This tour is AMAZING! As one would expect it's a sobering and poignant tour of a dark part of the world's history. Our tour guide, Steve, was INCREDIBLE!! Hands down, Steve, absolutley made this tour as incredible as it was! The morning portion took us by train to Dachau's train depot where we then boarded a bus to the camp. We were a group of 20 can't recall just how many and Steve always managed to keep us together and managed to engage with everyone in the group. He had an amazing background in military history and subsequently offered incredible insight, back stories and gave us an overall sense of the role that Dachau had played in the Nazi machine. We had approximately 3 hours at the camp. Two of the hours were well spent with Steve narrating what we were seeing. Then he gave us an hour, plotting a perfect course for us, to follow while on our own and take it all in. We trained back to Munich. We then had about an hour break before meeting up with him again for the walking tour throughout Munich. The afternoon group was significantly smaller which made this portion even more INCREDIBLE! I can't say enough about our guide, Steve! Once again, his knowledge and expertise on the subject gave the group a comprehensive narrative of the city and it's role in the rise of the Nazi party. I would HIGHLY recommend that anyone visiting Munich take THIS tour! I would also urge you to get, Steve, with Radius Tours to be your guide! If there were more than 5 stars to give I would give them!
June 2016
A must see tour for anyone touched by the tragedy of WWII. The trip to Dachau was moving. The guide was knowledgeable and while somber and tragic, the tour was most educational. This is a must see if you have never been to a concentration camp. Be ready for some serious walking, between both tours and the walk to the train station from our hotel 1 mile each way we logged 10 miles on our fit bit. Good thing my wife and I are walkers and in good shape. If 10 miles is too much for you, I'd suggest doing Dachau one day, and the Third Reich Walking Tour on a second day. Doing both tours in one day will be too much if you are not in shape.
June 2016
what an absolutely fascinating and moving day we had here. the atrocities that occurred there were just so sad. a must do trip to take when in Munich.
June 2016
Very interesting and touching tour to Dachau. Sad part of Germany and human history.
We really liked our Third Reich walk tour with Jeff, who showed us lots of interesting places associated with Nazis and Hitler's road to power.
June 2016
Our guide at Dachau was fantastic. She knew the history, facts, and had personal insight to share. She was a 10 out of 10. Our afternoon walking tour started a little slow but he was also knoweldgable. The walking tour could be done on your own, as the day got long by the end of that portion of the combo ticket. Recommendation: Dachau is a must, the walking tour could be done without.
June 2016
The tour was excellent, led by the amazing tour guide Grit, who knew a lot about the subject and was very open to questions. She was very responsible with guiding the group.
May 2016
We loved this tour! Nicola was an amazing guide for both tours! She is very informative, personable and helpful!! The camp was a very humbling place to visit. We would also recommend pairing up Dachau with the walking tour. It is very interesting to see where all of the history began.
Special Offer
$44.12 Save $6.79
Advertisement
Advertisement