Discover beautiful Nuremberg — site of Hitler's infamous propaganda rallies — on a 10-hour rail tour from Munich. Relax on the comfortable train ride to Nuremberg, take a guided tour of city attractions like Congress Hall and medieval old town, then enjoy some free time to make an optional visit to the Documentation Center. Soak up German history, sample local delicacies, and snap photos of the medieval and gothic accents that decorate this modern city.

Highlights
10-hour Nuremberg day tour from Munich
Learn about the Third Reich and Nazi activities in Nuremberg from an expert guide
Admire preserved medieval and gothic architecture
Access to Documentation Center (Nazi Party Rally Grounds) included
Return train tickets from Munich
Why Our Insiders Chose This Tour
This is a comprehensive tour of a city with a rich and somber history. I highly recommend the optional visit to the Nazi Documentation Center to learn more about what led to the ascent of the Nazi Party and the devastating aftermath.
Recent Photos of This Tour
Nuremberg Day Trip from Munich
What You Can Expect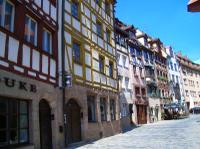 The locations of the iconic scenes captured in films such as Triumph of the Will - the rally grounds where Hitler addressed his multitudes, the astonishing Congress Hall, the entire region designed as a "new Rome" by the architect Albert Speer - are still largely intact. We'll take you there and tell you the story.
You'll also see the other Nuremberg that locals are rightly proud of. The medieval fortifications of the striking old town, Gothic churches, colorful market places and hilltop castle of the old imperial city are as awe-inspiring today as ever.

Nuremberg hosted the Imperial Diet (or parliament) of the Holy Roman Empire and was nominated an Imperial Free City by the Emperor Frederick II. It was a center of cultural vitality at the center of major imperial trade routes. It played a key role in the Reformation, and in the printing and scientific revolutions that shaped the modern world. It was home to one of Germany's oldest Jewish communities.

The old rally grounds today host a major Documentation Center that maps all of this painful history in detailed clarity and represents evidence of Nuremberg's determination to come to terms with its past.

Our expert English-speaking guide will accompany you on the pleasant 1.5 hour train journey from Munich and back again, giving you a comprehensive tour through this unique city.

June 2016
An excellent tour!
I went on the tour primarily to see the Nazi Rally Grounds and the semi-complete Nazi Congress Hall, but I so enjoyed seeing the non-Nazi sights of Nuremberg.
Almost totally rebuilt after the damage/devastation that it suffered in WWII, the city remains a magnificent example of a Medieval German Town.
June 2016
A delightful day trip from Munich. Meet at the central train station easy to find and then walk with group and guide to board the train. Its a 2 hour trip up to Nuremberg. Once there you walk via an underground tunnel from the train station and emerge right at the entrance to old town Nuremberg. This is a really nice town to visit. Much of the old town survived the bombings of WWII and remains in tact. We had a fabulous lunch on our own at a nice pub pointed out by our guide that had been serving food since 1498! Food and beer was fabulous. After some free time to shop we jumped a bus and went up to the old Nazi rally grounds. It was nice to see and the unfinished Nazi government building now a museum / documentation center was also worthwhile to see. This trip was an excellent value and our tour guide was very knowledgeable. We considered a private tour - but found the group tour to be a much better value.

June 2016
Nuremberg is a really beautiful city. To me, it looks like a bigger Rothenburg ob der Tauber.
You can see 1000 years-old castle and town walls. I recommend this city.
Our tour leader was Jason. He has such a broad knowledge about history and local information.
In addition to his experience and wisdom, he really cares tourists, you.
I have booked several programs though Viator, and Jason is the best tour leader I've met.

June 2016
Jason gave us an informative and entertaining day in Nuremberg. The tour kept moving and was the perfect mixture between busy and having some time to explore on our own. Thanks for a fantastic day.
March 2016
The trip was very enjoyable. There was a lot of provided information about the town. We loved all the history of the old town including the ww2 history. Jason was a very good guide with a lot of knowledge of the tour. He was a pleasure to spend the day with. We will definitely sign up for more tours

February 2016
Absolutely fantastic. Jason was a fantastic guide and we really enjoyed the day. Well planned and executed. So much to see.

January 2016
The weather was chilly, but Jason did a great job reviewing the history of the city and answering questions. He skillfully handled even trickier history questions.
January 2016
First of all, the booking choice and process of 4 consecutive day-trips via Viator was easy and convenient. Having read the previous reviews, all the guides seemed to have a very good knowledge of the history and professional in conducting the tour, so was ours. Excellent guide Jason, very informative and makes the visit a great tour experience and also great value for the cost on a beautiful sunny December day.
January 2016
Excellent guide. Very informative and makes a visit to Nuremberg so much more enjoyable when you learn more of the facts.
January 2016
A great day trip that incorporated the significant eras of history. Informative guide who appreciated the groups interests whilst ensuring the tour lived up to expectations.
Advertisement
Advertisement