Visit the cities of Rothenburg and Frankfurt on this 2-day sightseeing adventure from Munich. First, explore the Jewel of the Middle Ages, the picturesque town of Rothenburg ob der Tauber, perhaps the most well-preserved medieval old town in all of Germany. After an overnight stay, travel along Romantic Road, passing Würzburg and the Spessart mountains before arriving in Frankfurt. Coach transportation from Munich to Rothenburg to Frankfurt, plus taxi transfers, a guided tour and breakfast are included.
Highlights
Romantic Road and Rothenburg overnight trip from Munich to Frankfurt

Evening walking tour through Rothenburg, the most perfectly preserved medieval town in Europe
Free time to explore Rothenburg at your leisure
Scenic drive along the Romantic Road
Independent multi-day package with transport, transfers, tours and overnight accommodation
Why Our Insiders Chose This Tour
Rothenburg is such a charming town, and you get plenty of time to shop and explore on your own. But the absolute highlight is the Nightwatchman's fun evening tour of the town -- you'll love it!
Recent Photos of This Tour
Overnight Munich to Frankfurt - Romantic Road, Rothenburg
What You Can Expect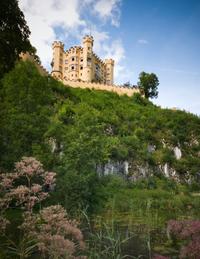 This 2-day tour begins in Munich with a 2.5-hour drive north — along the famous Romantic Road, a world-wide symbol of German romance — to the picturesque town of Rothenburg ob der Tauber. Rothenburg is widely believed to be the most well-preserved medieval old town in all of Germany.
Upon arrival, a taxi will transfer guests to Hotel Spitzweg (or a similar accommodation) for a check in. Then, in the afternoon or evening, join the city walk and follow the guide through the town's winding, cobbled lanes. See the half-timbered houses, the Renaissance Town Hall and the almost fairy tale appearance of the majestic town gates that welcome Rothenburg's many visitors from near and far. Alternatively, take a walk back in time with the Night Watchman tour of Rothenburg.
After breakfast the next day, feel free to explore some of Rothenburg's most popular sites. Then around 4 p.m., embark on a 2-hour trip farther north to Frankfurt, the fifth largest city in Germany. On the way, travel again along Romantic Road, passing Würzburg and the Spessart mountains.
Finally, the sightseeing tour ends around 7 p.m. in Frankfurt.
Itinerary
July 2015
We were a little nervous traveling without our bus and hotel documents. However like clockwork the bus arrived on time and the driver had all of our information and complete itinerary - all in order. Clean, safe and reliable transportation.
Great trip and wonderful stops along the way. We would recommend this trip to all travelers young and old.
June 2014
This was wonderful. It was a recorded tour which was fine. I would do this again with no reservations. Plenty of time in Rothenburg and the night watchman's tour was great. I could have stayed an extra day or may take a longer tour. No issues with the staff, no issues with the hotel. The hotel had free wifi and I was able to Skype with my Wife in the states and let her see was I was seeing live from just out side the hotel. I really look forward to doing this again and bring the Wife.
July 2013
Value for money, nothing to worry about, all organised in a professional manner.
July 2013
We had many expectations after reading the reviews prior to taking this trip and when we did it was just fantastic.We went in June prior to the European holiday season and the scenery was spectular. Our stay at Rottenberg was unforgettable, fantastic hotel and very courteous staff. The night watchman tour was brilliant. The coach we traveled on was very comfortable with plenty of stops at different towns for breaks and photo shots. Traveling with children was no problem. Thank you
July 2013
Rothenburg is a fantastic little medieval town and the Night Watchman tour is a must. We could easily have stayed another day or two. There was a great little park at one end and from there you can see the whole valley and it was also a nice place to just sit and rest after shopping or hiking around the old town. I would definitely like to go down this again and maybe stay in another town or two along the way.
June 2013
The tour was amazing! It allowed us to experience many small medieval-style towns across the path to Frankfurt. Augsburg, Nördlingen, Dinkelsbühl, each one more enchanting than the next. Rothenburg was an unbelievable experience. It felt like we'd spent a week there, because we didn't want to stop walking around inside the walls of the town. The Night Watchman's tour was so much fun too, it just made the whole experience more memorable. And to finish it all, the castle stop in Weikersheim was magical, also thanks to our great driver/guide. I would do it again many times !
Suzanne H Australia
October 2011
This was a great tour. The Nightwatchman's Tour of the town was brilliant and very amusing. Wuld recommend to anyone. Rothenburg is a lovely town.
May 2011
This was a wonderful tour that got us from Munich to Frankfurt but included priceless sightseeing on the Romantic Road - also Rothenburg should not be missed on a trip to Germany! It is a beautiful and amazingly well preserved medieval town! The Nightwatchman Tour is the best and not to be missed!
October 2014
I am giving this four stars for only one reason. The bus ride to Rothenburg from Munich was uncomfortable. It was very very warm inside the bus and seemed like very little air was circulating throughout the bus. The bus driver was not very friendly. However, the ride was beautiful and was a great way to see lots of the countryside and the romantic road. Once we arrived in Rothenburg we were totally excited. The Hotel was wonderful and the staff very friendly. The town itself is a must see. Totally incredible. The night watchman tour was superb, don't miss it. The day spent wandering the town was great. Good food, good beer, good shopping, good sightseeing, and very friendly people. On the bus ride to Frankfurt the driver was much more friendly and there was a guide as well. The bus itself was still warm. Maybe that is the standard for busses. I suggest you dress in layers so you can take off clothes to be comfortable. I would absolutely do this tour again
May 2014
No doubt it is a very romantic. Well arranged connections at Rotherburg. Mainly doing your own tour. Neverthless, every passing town is interesting.
Advertisement
Advertisement