Take a trip to see the Dachau Concentration Camp Memorial Site on this private, guided, half-day tour from Munich. The Dachau camp was the first Nazi concentration camp in Germany during the Holocaust. It served as a model for all the other camps that followed it. See the various parts of the facility — like the Arbeit macht frei gateway, the administration headquarters and much more. Explore the museum and get personalized attention while listening to the heart-wrenching stories of Dachau's many prisoners.
Highlights
Private half-day trip to Dachau concentration camp from Munich
Learn about Dachau during the days of the Third Reich (Nazi Germany)
See poignant sites like the Arbeit macht frei gateway and the administration headquarters

Visit the museum and hear of the persecuted prisoners who suffered at Dachau
Receive personalized attention from a private guide

Recent Photos of This Tour
Private Tour: Dachau Concentration Camp Tour from Munich
What You Can Expect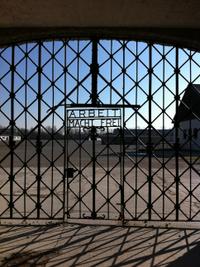 This 5-hour excursion begins with a tour guide meet and greet at München Hauptbahnhof, the main railway station in Munich. After boarding a train there, it's approximately a 30-minute ride north to Dachau.
The Dachau Concentration Camp Memorial Site was the first Nazi concentration camp in Germany during the Holocaust. It served as a model for all the other camps that followed it. See the photographs, documents, reconstructed cell blocks, crematorium, administration headquarters and much more on a tour of both the camp and museum.
Find out little-known facts about the well-known Nazis linked to this site, like Heinrich Himmler, the notorious guard who started the camp. And listen to the heart-wrenching stories of some of Dachau's 200,000 prisoners — communists, German dissidents, gay men, Jehovah's Witnesses, as well as Jewish and Polish men and women.
It's a chilling reminder of the events that took place here.
This private tour is a customized experience, so be sure to include any specific requests and feel free to ask any questions of the guide at any time.
After touring the site, return to the train station with the guide for a return trip to Munich.
April 2016
An unforgettable trip thanks to our guide Marcin who with his extensive knowledge provided us with an Historically story of how extreme the conditions the prisoners experienced and its something we will never forget
November 2015
Tour guide was excellent. Far exceeded my expectations, and I obtained the full experience of the terror and horror that went on. I had looked forward my whole life to being a witness as to what happened there and I did and one more thing off the bucket list to do!
Could not have been better I am very pleased and my wife a Jew was too!!!
October 2015
The tour of Dachau was one of the highlights of our trip to Germany!
October 2015
We booked this private tour of Dachau because we wanted to really understand the history of Dachau. There is a local tour company Viator contracted with for this tour. Adam, our tour guide picked us up at our hotel right on time. Adam escorted us to the trains to take us to Dachau. While enroute Adam told us history of the area we were traveling through. He was very knowledgeable and easy to listen to. He told us we would walk the same path that the prisoners arriving at the camp did.
Once at Dachau Adam guided us through each of the areas. He gave us an overview of what occurred in each area. He gave us plenty of time to look at photos and read the displays. He explained what was from the original camp and what was rebuilt for the memorial.
The 5 hour tour was over so quickly. We felt that the private tour gave us so much more insight and personal connection to the Memorial than going in a large group tour. Adam guided us back the main train station in Munich. He even helped us find a place for lunch before we parted ways. It was one of the most enjoyable tours we have ever taken
September 2015
We debated on whether to do the small group or the private group tour, but we are definitely glad we decided on the private tour. Our guide, Scott, met us at our hotel, and took us to the train station. Scott was very knowledgeable and answered any question we had regarding Dachau. If you are debating between the private tour and a small or large group tour, definitely choose the private tour.
September 2015
Best tour of the trip. Definitely recommend doing the private tour and our guide, Achim, is extremely knowledgeable and catered the tour based on getting to know us and what we wanted out of it.
September 2015
We had a private tour, just the two of us, with Steve who was THE BEST guide ever! My traveling companion was in a wheelchair due to an accident in Dubrovnik and Steve went out of his way to make sure that the journey to/from/during the tour was possible in a wheelchair and even pushed the wheelchair for me most of the way. What we saw was heart wrenching but it was Steve's personal stories which brought the entire Dachau experience to life and made it so meaningful. I would HIGHLY recommend spending the extra money for a private tour of Dachau and, if you are lucky, you will get Steve as your guide.
August 2015
The tour went great it was a private and we learned alot. the guide was very informative and did a great job.
August 2015
John was a wonderful tour guide. He knew so much history and was a joy to listen to throughout the day. He answered all of our questions and we never felt rushed. It was a wonderful tour where we learned a lot.
July 2015
Adam was the best tour guide we have ever encountered. He was extremely knowledgeable and friendly. Our family of five enjoyed his teachings.
Advertisement
Advertisement