See two of the palaces built by King Ludwig II of Bavaria on this private, full-day royal castle tour from Munich. Escape to the Bavarian foothills of Füssen to see the Neuschwanstein Castle, the inspiration for Disney's 'Sleeping Beauty' movie. Skip the line and enjoy a walking tour of this popular fairy tale abode. Also, see Hohenschwangau Castle, King Ludwig's childhood home. Then, enjoy a stroll around Hohenschwangau's scenic Lake Alpsee or visit nearby Linderhof Palace, modeled after the Palace of Versailles. Hotel pickup and drop-off and admission to all castles included.
Highlights
Private day tour of Hohenschwangau Castle and Neuschwanstein Castle from Munich
Explore the rooms where King Ludwig II and his royal family resided
Enjoy breathtaking views of Bavarian palaces and alpine surroundings
Take a lakeside walk along the shores of Alpsee or stop at Linderhof Castle
Hear fascinating commentary from an expert guide
Private tour itinerary can be customized to your interests
What You Can Expect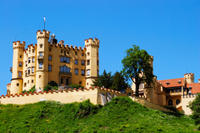 This full-day royal castle tour begins with a morning hotel pickup, followed by a 1.5-hour drive southwest, from Munich to the Bavarian foothills of Füssen, in an air-conditioned coach.
Along the way, make a stop at the famous Wies Church, an oval rococo church in Steingaden, if desired. Arrive in Hohenschwangau in time for lunch (own expense), then take a private, guided walking tour of Hohenschwangau Castle, a majestic Gothic palace that was the childhood home of King Ludwig II of Bavaria.
The next stop is one of the most popular tourist destinations in all of Germany — Neuschwanstein Castle, a 19th-century Romanesque Revival palace nestled on top of a rugged hill high above the village of Hohenschwangau. This stunning fairy tale palace was the inspiration for Disney's Sleeping Beauty and it's one of the most popular of all the castles or palaces in Europe, drawing 1.4 million visitors each year. Skip the typically long lines to get inside and enjoy a private walking tour of this medieval masterpiece. Explore rooms like Minstrel's Hall, the Byzantine Throne Room and many more. Learn about the castle's architect, King Ludwig II, and visit the terraces, grounds and gardens outside as well.
Finally, choose between a 90-minute stroll around the scenic Lake Alpsee or continue by coach for a walking tour of the Linderhof Palace, about an hour away in Ettal. Linderhof was inspired by King Ludwig's visits to the Palace of Versailles in France. It is the smallest of the three palaces built by the king and the only one which he lived to see completed. Even so, the palace and surrounding park together are one of the most artistic and stylistically complex ensembles of the 19th century — and a sight to behold.
The tour ends with a return trip to Munich.
September 2015
While you have to brave the crowds in summer - totally worth it.
August 2015
We had a wonderful day trip to the castles with our guide Carl. He was quite knowledgable and got us there on time for the tour times for both castles that they had pre-arranged for us. We were very pleased as the lines of people waiting for tickets and for the public bus to get up part of the hill were very long and had we not done this tour, we would have taken some pictures and turned around and gone somewhere else for the day. Carl got us on a private bus up the hill, and had things timed so that we were able to see everything and have a quick lunch in town as well. We would highly recommend this trip.
August 2015
Our guide was wonderful. He answered all of our questions and made sure we saw everything we wanted to see on the tour. Wonderful tour.
July 2015
I am very happy with the tour. The guide was punctual and nice. He clearly explained the tour to me as well as provided me with an overall view of the castles, their history and surrounding areas. His Spanish was very good. His suggestions about restaurants were helpful and good
July 2015
We ran into the G7 meeting which caused major road closures but the tour sent an e-mail indicating this in plenty of time to alter or cancel the trip. We decided to still go as we wanted to see the Alps and our driver was quick to help us as he was from the area and made our trip extra special by taking us on a great tour of region. Great driver..great car..great tour company.
June 2015
My family and I loved this tour. Our tour guide was phenomenal. He was super professional and gracious. He took us to a non-touristy lunch spot where we could really experience the local cuisine. He went out of his way to make us comfortable and even bought my dad an ice cream when he discovered how much my dad loves ice cream. The castle tours were terrific. If I could give this tour six stars - I would. !!!!
April 2015
Karl was a good guide. The castles are suitably incredible. Karl worked as a "fixer" on a number of occasions, navigating our way with ease. It's good to be with somebody who knows everyone there. Visiting this place could be a nightmare without a guide on a busy day, think about a personalized tour
December 2014
What is a trip to Munich without visiting Neuschwanstein Castle! Our Tour guide Carl was great and the ride to the castle could not have been better. He was very knowledgeable and catered the trip to our liking. I highly recommend this trip!
November 2014
Our driver, Karl, was teriffic. He picked us up in a beautiful S-class Mercedes and we were off an a grand adventure. His knowledge of the history of the castles and Ludwig II was exceptional. We even made a quick detour stop to an additional location along the way that added great background to our trip to the castles. Really outstanding in every way.
October 2014
Fantastic private guide. Very knowledgeable guide who was able to answer all of our questions. I give the guide an A++ grade. The tour itself was phenomenal. Definitely a 5 star plus tour.
Advertisement
Advertisement