Visit two of the most precious jewels of Bavaria on this guided, full-day tour from Munich. Travel to Linderhof Palace, King Ludwig II's hunting lodge modeled after the Palace of Versailles. Learn about the legacy of the king from an expert guide and enjoy free time to explore the castle and its surrounding park at leisure. Then escape to the foothills of the Bavarian Alps and the village of Oberammergau, famous for its performance of a Passion Play since 1634. Round-trip transportation in an air-conditioned motor coach included.
Highlights
Linderhof and Oberammergau day tour from Munich

2-hour visit to King Ludwig's Linderhof hunting lodge
Extended visit to see Linderhof's grotto and the Moorish pavilion
Sightseeing and shopping in Oberammergau, famous site of the Passion Play
Professional guide
Why Our Insiders Chose This Tour
It's the only tour that allows you plenty of time to stroll around the Rococo-style Linderhof Castle's enchanting grotto. And in Oberammergau, you'll be blown away by the intricate paintings on the houses.
Recent Photos of This Tour
What You Can Expect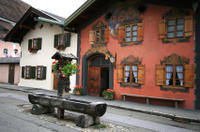 This full-day tour begins with a 75-minute drive south, from Munich to southwest Bavaria and Linderhof Palace.
Linderhof was inspired by the King Ludwig's visits to the Palace of Versailles in France. It is the smallest of the three palaces built by the king and the only one which he lived to see completed. Together, the palace and its surrounding park — including the grotto and the Moorish pavilion — are one of the most artistic and stylistically complex ensembles of the 19th century — and a sight to behold.
After exploring the castle for several hours, make a 15-minute drive to the village of Oberammergau for sightseeing and shopping. This town is famous for its production of a Passion Play, which was first performed in 1634 as a vow made by the villagers. They said if God spared them from the bubonic plague that was sweeping the region at the time, they would perform the Passion Play every ten years.
The tour ends with a return trip to central Munich.
October 2015
our guide Monica was amazing !! so much knowledge and very lovely.

August 2015
September 2014
August 2013
A real treat. The Linderhof Castle was great to see. So unlike King Ludwig II's other castles. Beautiful grounds and other amenities. Oberammergau was delightful. Not enough time to explore it however. Also we were there on a Sunday so most of the stores and shops were closed. Very picturesque.
September 2012
This started off oddly as the Linderhof tour was grouped on the same bus as those going to the Zugspitze, and there were two guides on the tour. At first we dropped the Zugspitze group at a monastery and headed to Linderhoff. We had the most wonderful guide named Uta. If you can get her on your tour, do it. She is not only a very sweet person, she is extremely knowledgeable about everything related to the tour. She made me actually feel like I was getting historical information and stories about where I was going and prepared us nicely for the trip. Despite her being older she climbed with us to the Grotto at Linderhof and the Moorish Pavillion. Obviously, if you combined the Linderhof with Neuschwanstein you missed the Moorish Pavilllion and Grotto. It was worth seeing those, particularly the Grotto. And just having the time to walk the grounds and get great shots of Linderhof from above. Highly recommended.
Roger O USA
January 2010
Time spent in Oberammergau was too short due to traffic getting there. Tours should be lengthened for days that traditionally have heavy traffic so that you have enough time to spend in Oberammergau.
Jane C United Kingdom
November 2009
A very good trip even though it rained. It was combined with a trip to the mountains, which meant we had to pick up people from a different destination when perhaps we could have spent longer in Oberammergau.
Donald K USA
October 2008
Good balance between visiting Linderhof and Oberammergau.
Valarie B USA
October 2008
Oberammergau has many neat wood carving shops. Very popular Bavarian trade, very expensive too but they do some pretty fantastic work. The Linderhof castle is the smallest but still neat to see and is on very pretty grounds. You can walk around the grotto and have a nice relaxing day. Beware of tours that charge extra for the entrance to the castles and even overcharge from the rate you'd pay if you walked up and bought them yourself when you got there. They keep from 1-3 euro on top of what you've already paid for the tour.
Beverley M United Kingdom
September 2015
The day did not begin well. It seems that although the company take bookings from Viator they also use Hotel Concierges to sell tickets up to the night before with the result that they do not know how many people will be taking any tour until they turn up.
The result being those of us going to Linderhof and not up the Mountain were turfed off the coach and had to wait for a second coach which took some time - and even then we had to rendezvous with the first coach to drop off and later collect other folks going up the Mountain.
Access to Linderhof is only by guided tour - it's good but quite brief - and no photos are allowed which is a shame when modern technology doesn't require flash. The Grotto is a steep walk but well worth seeing and despite the long delays in the morning we did get three full hours at Linderhof enough to see gardens, shop and get a snack.
The downside was we only got about 20 minutes in Oberammeragu and since the coach park is a few minutes walk from the high street this was barely enough time to snatch a photo and an ice cream. No time to explore the town because we still had to meet up with the other coach to take those people back to Munich.
Our guide was kind and helpful, the problem was obviously the company's doing and not hers, she did her best and gave us a free bottle of water as an apology for the inconvenience but I disliked the way the company lumped two trips together - I had paid for my excursion and was not happy tofind myself at the beck and call of another group.
Advertisement
Advertisement